printer friendly version
Versatile protocols
May 2009
Fieldbus & Industrial Networking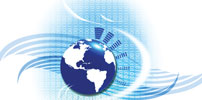 Distributed network protocol (DNP3) is a protocol that was developed to allow for flexible, secure communications between devices
To use the GPRS (GPRS/EDGE 3.5G) platform as a communication medium in machine to machine (M2M) applications is often the only cost viable option available. The costs and time delays involved in trenching, radio repeater stations and the theft of cables has forced the recognition of this as a viable and cost-effective alternative.
Applications where M2M via GPRS has been implemented very effectively are:
* Borehole monitoring and control.
* Remote pump stations and pipe lines.
* Remote automated meter reading.
* Environmental monitoring.
One very interesting application used two different network operators at each point for redundancy, using the most available operator at each location to operate a pipeline over country borders with zero downtime of data.
GPRS is an enhancement of the GSM mobile phone network that natively supports the Internet Protocol (IP). Service providers charge for GPRS usage based on the amount of data transferred rather than the duration of the session. This type of technology if correctly used, allows monitoring and control of remote sites at a very low monthly cost – the service charge.
However, most M2M applications using the GPRS platform use non-standard programmed methods to contain the amount of data transmitted for the obvious reason of controlling the data service charge. Especially if analogue values are transmitted, a lot of the options available in the DNP 3 protocol are programmed by hand. Some implementations are more user friendly, but some lead to under and/or over reporting of data. These methods can often not handle variable reporting speeds. Certain analogues, such as vibration, pressure and flow for instance, will be unchanging for a long period of time, but when it really needs reporting, will probably be under-reported.
The DNP 3 protocol is one of the most complete and versatile protocols for communicating among devices for the utility market (ie, water, electricity and gas). Combining these two will decrease service costs, enhance efficiency and increase transmission speed, and turn-around time. For example, how long will it typically take to remotely start/initiate a device or event over GPRS, and get the condition/result feedback?
Some of the requirements for devices supporting DNP 3 protocol are data storage and time stamping. This is just perfect for GPRS communication as delays due to network overloading will not result in any data loss, and the data is buffered in the source device until being accepted by the destination device.
A large amount of devices today support the DNP 3 protocol.
The device capturing the information, on which the DNP 3 protocol is then applied, is normally handled in one of the following categories:
* PLC or RTU (with direct I/O).
* Fault recorders.
* Transducers.
* Meters (ie, electricity meters).
* Relays (ie, protection relays).
* Speciality devices such as battery chargers and protocol analysers.
* Scada's and scada master.
Telemetry applications, be it for the utility markets, environmental monitoring or control, sub-station monitoring and control, remote metering or remote plants like pump stations, pipe lines or railway lines, are all applications that can leverage these technologies.
For more information contact Jaco Hoogenboezem, SCADAGroup, +27 (0)83 282 5706, jaco@scadagroup.co.za, www.scadagroup.co.za
Further reading:
Interference-free Ethernet media converter
October 2019, Phoenix Contact , Fieldbus & Industrial Networking
The new FL MC EF 660 SCRJ media converter from Phoenix Contact enables the connection of cost-effective polymer and HCS/PCF fibre technology. The optical transmission of data via fibre optics is free 
...
Read more...
---
I/O solutions with Profinet redundancy
October 2019, Turck Banner , Fieldbus & Industrial Networking
Turck's Simple IO-Link Device Integration, SIDI for short, simplifies the handling of IO-Link. As its first fieldbus module with Profinet S2 system redundancy, the company has introduced the TBEN-L5-8IOL. 
...
Read more...
---
Tektronix simplifies automotive Ethernet testing with new software
October 2019, Comtest , Fieldbus & Industrial Networking
Tektronix has released two new software packages that greatly simplify Automotive Ethernet testing, debug and protocol decode, for use with its 5 and 6 series mixed-signal oscilloscopes (MSO). Using the 
...
Read more...
---
How fieldbus systems are really selected
September 2019 , Fieldbus & Industrial Networking
The majority of users do not actively select their fieldbus at all – they select the control system vendor and whatever bus system this vendor provides will 'do the job.
Read more...
---
Fibre optic distributor for network expansion on demand
September 2019, Jasco Trading t/a Webb Industries , Fieldbus & Industrial Networking
Jasco's Webb Industries has introduced Telegärtner's new, modular rail-mount fibre optic distributor, which can be extended according to actual needs. The stackable modules allow quick and easy additions 
...
Read more...
---
Integrate IO-Link devices in Profinet
September 2019, Turck Banner , Fieldbus & Industrial Networking
Turck's simple IO-Link device integration (SIDI) simplifies the handling of IO-Link devices in Profinet engineering systems. As the devices are already integrated in the GSDML file of the master, users 
...
Read more...
---
AS-i signal transmission via fibre optic
August 2019, ifm - South Africa , Fieldbus & Industrial Networking
The new AS-i fibre optic repeater from ifm electronic enables AS-interface signal transmission via an optical medium and vice versa. This allows for considerable cable length extension in the AS-i network. 
...
Read more...
---
Next-generation IIoT gateway solutions are transforming manufacturing
Technews Industry Guide: Industrial Internet of Things & Industry 4.0, RJ Connect , Fieldbus & Industrial Networking
Smart manufacturing and digital transformation, coupled with edge intelligence, are enabling manufacturers to increase productivity, reduce downtime, and increase product quality.
Read more...
---
Cisco IIoT solutions meet the needs of industrial organisations
Technews Industry Guide: Industrial Internet of Things & Industry 4.0, Axiz , Fieldbus & Industrial Networking
Technology is constantly evolving, and so are the network infrastructures that support industrial entities.
Read more...
---
Big Data enabled by Omniflex IIoT solutions
Technews Industry Guide: Industrial Internet of Things & Industry 4.0, Omniflex Remote Monitoring Specialists , Fieldbus & Industrial Networking
Omniflex specialises in 'out-of-the-box' remote monitoring solutions based on years of industrial plant networking experience, from last mile connection to mainstream Ethernet backbones. The Teleterm 
...
Read more...
---