printer friendly version
BHP scada replacement
September 2008
SCADA/HMI

BHP Billiton's Hillside aluminium smelter replaces its extensive scada facilities
When the southern hemisphere's largest aluminium smelter, delivering 685 000 tons of product per annum, decides to replace its entire scada system while doing business as usual, there is no room for mistakes.
With the vision of being the world's leading aluminium smelter, BHP Billiton's Hillside Aluminium facility near Richards Bay in KwaZulu-Natal wanted to replace its existing VXL supervisory system. At the same time, any chosen solution needed to be compatible with BHP Billiton's other smelters at Bayside and MOZAL (MOZambique ALuminium)
Background
VXL had been the supervisory system in use since the commissioning of Hillside. It is a supervisory control HMI for the OpenVMS platform. In use since 1995, VXL is known for its ease of use and the many hardware connectivity options it affords.
The need for upgrading happened when the hardware platform in use was nearing its end-of-service date as it had been in use for over six years. The software version had been in use for over 12 years.
Furthermore, there was a need to improve diagnostic functionality, which would make fault finding and maintenance more efficient.
Hillside was already an existing customer of Wonderware solutions and was familiar with the company's level of support and product capability. The other two smelters in the group were also using Wonderware solutions and it made sense to align all three smelters to the same technology. This would allow the BHP to capitalise on existing skills and experience based on trusted technology.
"Another reason for choosing Wonderware was because of its full product offering and seamless integration with its own as well as third-party products," says Juan le Roux, project manager at Convenient Software Solutions, BHP Billiton's chosen system integrator for this project.
Solution selection
In fact, two of the third-party solutions were crucial to the successful implementation of the project, as shown in the following list:
* Wonderware's InTouch HMI/SCADA was chosen for its rapid application development and rich features such as smart symbols.
* Wonderware's Historian (formerly IndustrialSQL Server) was selected for its track record as the world's most popular realtime database and its proven performance.
* Wonderware's ActiveFactory was the historical as well as realtime data-reporting tool of choice for its flexibility.
* Software Toolbox's Top Server was selected as the I/O server for its ability to handle larger volumes of data, its full OPC compliance and ease of configuration.
* MDT's Mass AutoSave was selected to handle the backup and revision control for all InTouch applications (AutoSave together with InTouch's NAD greatly helped change management and rollout).
Solution implementation
A new tag naming convention in line with the ISA standards was implemented in order to be more descriptive of plant areas and devices. This was followed by the definition of security and alarming requirements as well as the communication method and architecture. Documentation requirements for the project were identified and developed and during this phase of the project, plant operators and production personnel were consulted to ensure an operator-friendly graphical interface and navigation screens.
A complete thin slice of the system was set up and tested before roll-out could commence.
The Hillside site consists of the treatment and logistics, carbon, cast house and substation logical process areas (see Figure 1). All of these areas are controlled by more than 230 Allan Bradley PLCs that monitor over 220 000 tags whose processes are being displayed on more than 2000 InTouch mimic diagrams.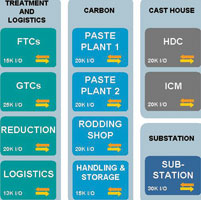 Fugure 1. Hillside's four logical process areas
The first thing to note about the system topology (see Figure 2) is the simplicity of the design. This allows for easy maintenance and deployment of new nodes. Redundancy allows for maximum up time and system availability, key factors for realtime process control.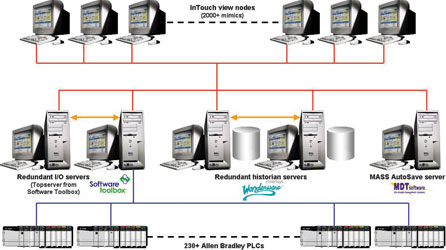 Figure 2. Hillside's topology diagram
"Thanks to the easy configuration facilities provided by the software, redundant I/O servers and historians where configured without any additional code being necessary," says Le Roux.
FAT testing, which involved automation specialists, production personnel and operators, was done on an area by area basis starting with treatment and logistics followed by carbon then cast house and lastly substation.
"Once we completed the design phase and FAT testing, we started to load all the InTouch view stations," says Le Roux. "This was followed by loading MSSQL, Wonderware Historian and Topserver onto their respective servers. Thanks to easy to follow prompts, the set up and licensing proved very easy. As we were working on a live plant, it was decided to run both old and new HMI systems in parallel. This allowed system users to report any bugs. The importance of thorough pre-commissioning testing cannot be over-emphasised; more testing results in smoother commissioning. In this case, the end result was a fully-tested and proven system with zero downtime."
Challenges
Some of the challenges that CSS faced were:
* Managing a large volume of variables – a unified tag naming convention had to be created throughout the solution, which meant that all the tags used by InTouch, Topserver and Wonderware Historian needed to be aligned. As different plant areas were implemented by various contractors, this posed a challenge to create a single standard throughout the plant without redeveloping the PLCs. According to Le Roux, this is the single most important step in a project of this nature. "If standards are clearly defined from the start less time will be spent later in the project to correct current standards," he adds.
* Coordinating with end users – in any corporation, it is difficult to re-assign skilled staff to a development team for testing without sacrificing the plant maintenance and support requirements. This requires careful management, a high degree of understanding and collaboration from all involved as well as the clear definition of roles and responsibilities if the project milestones are to be achieved.
* Development team management – managing many software developers working in a single user development environment always poses a challenge unless everyone involved can focus on their common goal and their contribution in achieving it.
Derived benefits
* Improved reporting - allows for sound business decisions based on actual fact rather than guesswork.
* Improved system diagnosis – previously, automation specialists were unable to drill down to the device level to determine PLC I/O and status. This is now available even to operators who are proactively assisting in reducing plant downtime.
* Improved standardization – bringing all of Hillside's plant areas onto the new platform has ensured a standard HMI implementation across all three BHP Billiton aluminium smelters, thereby expanding the resource pool skilled to support the applications.
* Open door for future growth – the chosen solutions provide Hillside Aluminium with virtually unlimited potential for visualising, analysing and optimising their entire aluminium smelting process to the benefit of its bottom line.
"The previous system, although very stable, was a closed environment to the users and data was only accessible through the physical nodes," says Paul S. Venter, IPS superintendent at Hillside Aluminium Southern Africa. "With the implementation of the historian information is now freely available at the users' workstations, allowing for faster response to plant events. The obscurity of the previous system was also overcome with the ability to implement enhancements far more easily than before and therefore delivering business benefit faster and at reduced cost.
"The future scalability of the scada implementation was also improved through additional functionality to include plant documentation and loop drawings. This will enhance fault-finding abilities of maintenance personnel and improved understanding of operational personnel.
"Our philosophy is to simplify and adopt rather than adapt. This implementation is aligned with that viewpoint and provides us a sustainable platform for our scada environment."
For more information contact Justin Tweedie, Wonderware Southern Africa, 0861 WONDER, justint@wonderware.co.za, www.wonderware.co.za
Credit(s)
Further reading:
IS3 partners with Izinga Integrated Solutions
September 2019, IS³ - Industry Software, Solutions & Support , News
On 24 July, IS³ – Industry Software Solutions and Support welcomed Izinga Integrated Solutions as a strategic solutions provider for AVEVA's asset performance management (APM) Solutions. Izinga is a 
...
Read more...
---
Will the IIoT kill scada, or lift it to new heights?
Technews Industry Guide: Industrial Internet of Things & Industry 4.0, Adroit Technologies , SCADA/HMI
Dave Wibberley, managing director, Adroit Technologies, shares his views on where scada is headed in the era of the Industrial Internet of Things.
Read more...
---
A technology evolution unfolds at X-Change 2019
May 2019, IS³ - Industry Software, Solutions & Support , News
IS
3
and AVEVA reimagine asset optimisation and new ways of work in tomorrow's digitally enhanced manufacturing plants.
Read more...
---
Collaborative robots
Africa Automation Fair 2019 Preview, Cobots , SCADA/HMI
Cobots is showcasing its range of collaborative robots. These robots make it simple and affordable for humans and machines to work together without a safety cage. Cobots can easily be implemented in small 
...
Read more...
---
Management overview of assets
Africa Automation Fair 2019 Preview, IS³ - Industry Software, Solutions & Support , IT in Manufacturing
IS³ is showcasing the Integrated Command and Control Centre, which can be used as a management overview of assets. This features AVEVA Software Solutions, including Predictive Analytics, AVEVA Net, Control 
...
Read more...
---
Machines that manage real-time resources
Africa Automation Fair 2019 Preview, Motion Control Systems , SCADA/HMI
iBOS Industrial is changing the way we maintain and respond to machine level events with technology that effectively manages real-time resources (people) from the machine level.    Health and safety, 
...
Read more...
---
Understanding how predictive analytics tools benefit power utility management
Technews Industry Guide: Maintenance, Reliability & Asset Optimisation 2019, IS³ - Industry Software, Solutions & Support , IT in Manufacturing
This paper reviews how predictive analytics tools can be applied to both utility operations and maintenance.
Read more...
---
Be part of the ultimate journey at X-Change 2019
March 2019, IS³ - Industry Software, Solutions & Support , News
The 4th Industrial Revolution and the New Way of Work through Edge-to-Enterprise solutions.
Read more...
---
IS³ extends portfolio to include AVEVA's Engineer, Construct and Procure software
March 2019, IS³ - Industry Software, Solutions & Support , News
IS³ - Industry Software, Solutions and Support recently signed an extension to the contract with AVEVA, which now extends its portfolio to include the Engineer, Construct and Procure software solutions. 
...
Read more...
---
New benchmark scada software platform
March 2019, Adroit Technologies , SCADA/HMI
MAPS 4, the latest scada solution for control and visualisation from Adroit Technologies, extends connectivity options, adds user tools and increases the scope of its built-in functionality. The result 
...
Read more...
---