printer friendly version
Implementing artificial intelligence in industrial manufacturing
April 2020
IT in Manufacturing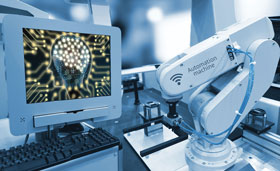 In the manufacturing arena, people and machines have a symbiotic relationship – they depend upon each other for their performance.
In the manufacturing arena, people and machines have a symbiotic relationship – they depend upon each other for their performance.
People are making better machines through the use of affordable and innovative automation solutions based on more powerful hardware and software. These enhanced machines help people to be more productive, providing more and more value along the value chain.
Artificial intelligence and the cloud vs the edge
Two technological advances that are playing a vital role in the improvement of machines are cloud computing and edge computing.
Cloud computing involves the storage, management and analysis of data that is stored remotely on a server either locally or on the Internet. Although it has proved invaluable in many circumstances, is it always the best solution for businesses – and in particular, for the production line? Recently, another promising alternative has emerged: edge computing.
Edge computing enables data storage, applications and analysis to be carried out at the edge of a machine. Data mining at the edge can be compared to a spinal reflex. Lines and devices are monitored with real-time sensors, and data at the machine level can be processed in microseconds. A machine's condition can be monitored in real time, but the data volume is limited. Real-time data processing at the edge enables an immediate response.
Industrial manufacturers need to think about the recent arrival of new solutions involving artificial intelligence (AI) and machine learning (ML). Although AI offers huge potential benefits, care needs to be exercised before incorporating it into industrial applications. So, what are the key issues involved in deploying AI and in determining how AI can improve a production line or a process, and if cloud computing or edge computing should be implemented?
Issue 1: What is your problem?
The biggest challenge that companies face is that they often don't know what problem they want to solve. Some of them are not measuring any data yet. The solution is to start collecting and cleaning data first, before even thinking about introducing AI. You can then start trying to obtain information from the data and visualising this in a smart way. This is basic data science and will help your company to start realising a range of benefits.
One difficulty is that a lot of existing data is not suitable for analysis, as it is contaminated, duplicated or scattered, or there is key information missing. There is huge potential for the use of new technology, but you can only use it if the data you are gathering is both sufficient and correct. If you are starting to think about AI, you also need to think in a broader sense about how much data you need before coming to a conclusion. You can apply AI at various levels, depending on the problem you want to solve. For instance, if you want to compare the performance of two factories, you can gather the data and put it into the cloud and then compare and analyse the data and start to draw conclusions.
At the other end of the spectrum, you might want to analyse the performance of a machine. This can be difficult in a mass production scenario. For example, a manufacturer providing parts for the automotive industry might need to generate 100 000 items per day, that need to be delivered 'just in time' to the customer, so that they can be built into cars the next day. This is a problem if it takes two weeks to analyse the quality data to discover that the product isn't meeting the specifications.
This is a completely different problem. It can't be solved in the cloud as it can take hours or days to collect the data there and analyse it. Instead, you need a solution that will run in your machine and can identify a low quality pattern before the 100 000 items are shipped, or even produced. This is where edge computing comes in.
The main challenge remains: what problem do you want to solve? The problems you face will determine what you need to do. For instance, do you need to look wide, at a lot of data? If you want to compare a large amount of data from 20 factories, this is where AI in the cloud can play a key role. If you need an immediate reaction on a bottling line for example to avoid downtime, you should consider a solution with AI at the edge.
Issue 2: How can you access and make the best use of your data?
The machines within a factory are a potential source of valuable data. But how can users access and analyse the data that a machine could provide? How can a manufacturing plant then make the most effective possible use of this data? The key questions that need to be addressed are:
• Do I have enough data – and if so, which data is the most relevant and how will it be used?
• How much will the infrastructure cost?
• What problem do I really need to solve and what increase in efficiency can be achieved by the use of cloud or edge computing?
Some manufacturing facilities might decide to send all data to the cloud. Large IT companies are promoting the cloud as the solution to everything. However this does not respond in real time to what is actually happening in the machines. One of the potential drawbacks of using cloud computing in the factory is that it can be difficult to gain a true picture of the real-time performance of equipment. There is no way of looking inside the machine to see what is happening.
However, real-time data processing at the edge enables an immediate response to an abnormal situation in a process. With AI at the edge, manufacturers can control complexity and security. With edge computing, the data and the computing resources are located close to the machines. This enables users to gain real-time information about the efficiency of different aspects of their industrial automation system. They can access intelligence within the machine, which in turn enables deep analysis to be carried out.
This information is both scalable and measurable and enables the factory to achieve a significant increase in its overall equipment effectiveness (OEE). Manufacturing companies are increasingly recognising that AI can make a major contribution to their profitability by increasing their OEE, which in turn leads to greater productivity and lower costs.
In this way, AI can contribute to direct and immediate results because the intelligence is incorporated within the machine rather than being located elsewhere. Users can focus on potential issues in the process, using the real-time data from the system and its components.
Omron's AI Controller has some pre-programmed tools that can help with simple cases of preventative maintenance. Using advanced mathematics, it can detect a problem or a deterioration in part of the equipment before a machine breaks down. However, with more complicated machines and with problems which involve more detailed use of AI, specialists with advanced skills are needed to extract the maximum value from this new technology.
Issue 3: How secure is your data?
Using the cloud can cause problems in terms of security, particularly in relation to compliance with the latest IEC 62243 cybersecurity standards. These are becoming increasingly important in industrial situations, and relate to the security, safety and integrity of the components and systems used within industrial automation programmes.
In contrast, edge computing provides another level of security, as the data resides within the machines. The whole industrial automation process can be secured using solutions such as intruder detection, video monitoring and access control systems.
Conclusion
In a traditional machine control environment, it has been impossible to program a machine to recognise microsecond skill patterns in the local data that might be entering it. The introduction of AI solutions at the edge inside the machine now provides tools that enable you to look at that data and recognise patterns within it.
Which is the most effective solution for a factory that is starting to use AI cloud computing or edge computing? Both have a valuable role to play in manufacturing, but it seems clear that in terms of using AI on the production line, edge computing really does appear to have the edge.
Credit(s)
Further reading:
Omron addresses 10 common machine safety myths
Omron Electronics Analytical Instrumentation & Environmental Monitoring
Omron, which assesses and evaluates over 3000 machines a year across the world, has seen the ways in which a lack of safety knowledge can lead to poorly functioning safety systems.
Read more...
---
Barcode reader suited for wide fields of view
Omron Electronics Data Acquisition & Telemetry
Omron's new MicroHAWK V440-F is ideal for reading multiple codes in a wide area, as well as for applications over longer distances and with minuscule barcodes.
Read more...
---
Unlock knowledge with Netilion Water Network Insights
Endress+Hauser South Africa IT in Manufacturing
With just a few clicks, an ISO 9001-certified and metrologically traceable verification can be triggered directly within the solution for all supported flowmeters.
Read more...
---
Network design for mission-critical systems
IT in Manufacturing
The network is effectively the nervous system of a modern site, allowing protection, control, monitoring, security and safety devices to intercommunicate in a quick, reliable and efficient fashion.
Read more...
---
How to achieve sustainable manufacturing
Omron Electronics Enclosures, Cabling & Connectors
The industry faces the mammoth task of developing sustainable alternatives, minimising waste while saving energy and using alternative energy sources.
Read more...
---
High-speed Ethernet up to 1 km with Gigabit Ethernet extenders
Phoenix Contact IT in Manufacturing
With Power-over-Link and Power-over-Ethernet functions, the entire Gigabit Ethernet extender network and connected PoE devices are supplied with power via the data lines.
Read more...
---
Ready for industrial network evolution?
RJ Connect Editor's Choice IT in Manufacturing
To prepare for the future, it is time for industrial networks to evolve, and Moxa is committed to helping them take the leap towards the next generation of networking.
Read more...
---
Fuel for the future
Omron Electronics Editor's Choice Electrical Power & Protection
In the coming years, hydrogen propulsion systems will be found in many different application scenarios, such as transport, heating and power generation.
Read more...
---
Are engineers equipped with 4IR skills?
Editor's Choice IT in Manufacturing
Technology has evolved exponentially in the last 10 years, much faster than the 10 years before. A gap will undoubtedly develop if technology evolves faster than our skills. Therefore, we must start immediately identifying the gaps and what 4IR skills we need to fill them.
Read more...
---
Valmet mobile maintenance app
Valmet Automation IT in Manufacturing
VMM meets industrial cybersecurity standards, follows all best practices and guidelines, and is audited by an accredited service provider.
Read more...
---