printer friendly version
Siemens extends Sinumerik Edge to include artificial intelligence
November 2019
IT in Manufacturing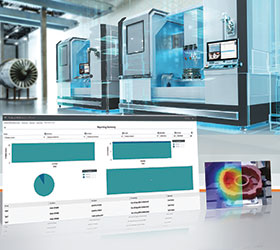 Siemens has extended its Industrial Edge offerings for the machine-oriented Sinumerik Edge to include more new applications. With the new software, the company is helping machine tool users to improve workpiece and process quality, increase machine availability, and further optimise machine processes.
With edge computing, large volumes of data can be processed locally on the machine tool. This also reduces storage and transmission costs for users, as large data volumes can be pre-processed and only the relevant data then transferred to a cloud or IT infrastructure.
Using Analyze MyWorkpiece/Vision to reduce downtimes based on artificial intelligence
At EMO 2019, Siemens presented the Analyze MyWorkpiece/Vision application for the first time. The software works with image recognition and is based on artificial intelligence. It detects whether the right workpiece is in the correct position in the machine room – and it works better than the human eye. If the workpiece is positioned correctly, processing can be started. The application can also detect wear on the tool. In addition, the application transmits the work process live via camera from the machine room and documents all image data. Analyze MyWorkpiece/Vision ensures preparation and process quality for users. By detecting tool wear, resources can be used efficiently.
The application configuration is tailored to the machine operator, meaning that users can benefit from artificial intelligence without a great deal of expert knowledge. Job setup using the application is also easy, so simple integration into the manufacturing process is possible. Analyze MyWorkpiece/Vision joins the portfolio of existing applications such as Analyze MyWorkpiece/Toolpath, Analyze MyWorkpiece/Capture and Analyze MyWorkpiece/Monitor, all of which contribute to better workpiece and process quality, helping to increase the productivity of machine tools and to reduce costs.
Increased machine productivity using artificial intelligence with Optimize MyMachining/Magazine
In the field of performance enhancement, Siemens is also presenting a new edge application. Part of the performance increase results from an optimal arrangement of tools in the magazine. The optimisation algorithm is based on artificial intelligence and runs on Sinumerik Edge. It calculates the tool arrangement in order to minimise manufacturing time. In the field of improved machine productivity, the new application adds to the Optimize MyMachining/Trochoidal application.
Protect MyMachine /3D Twin for Sinumerik One
The Sinumerik Collision Avoidance application presented at this year's EMO is an edge-based application especially for Sinumerik One. Protect MyMachine /3D Twin includes comprehensive protection of the machine and tools in terms of the current setup situation, including dynamic observation of workpiece protection. By using Sinumerik Edge the performance and productivity of the NCU is not adversely affected by additional computing performance. With Create MyVirtual Machine and Run MyVirtual Machine – both software applications for Sinumerik One for creating digital twins – computational models created in this context can be used to include in Protect MyMachine/3D Twin, which joins the existing AnalyzeMyMachine/Condition application in the field of digitalisation solutions for machine tool condition monitoring.
Edge management as a control centre
With Manage MySinumerik Edge, Siemens presents its Industrial Edge Management solution to manage edge applications for machine tools. With Manage MySinumerik Edge, all connected devices can be administered, monitored and updated centrally. In addition, applications are always distributed in the latest version efficiently and securely to Sinumerik Edge devices. Applications can be installed on Sinumerik Edge devices without adverse effects, regardless of the machine tool operating state. Edge applications can be provided both by Siemens and by third-party suppliers. Users and machine builders can also develop their own applications, tailored to the individual requirements of their machines.
Credit(s)
Further reading:
Industrial Ethernet switches reflect ongoing evolution at the IIoT 'thin edge'
January 2020 , IT in Manufacturing
Today's digital transformation strategies require data connectivity throughout the architecture to fulfil the quest for improved operations.
Read more...
---
RS Components introduces 4ZeroBox IIoT development system
January 2020, RS Components SA , IT in Manufacturing
RS Components has introduced the 4ZeroBox IIoT unit from Italian manufacturer TOI. 4ZeroBox is the hardware component of TOI's 4ZeroPlatform, a plug-and-play data gathering, processing and reporting system 
...
Read more...
---
IFS study reveals AI investments looming on the business horizon
January 2020 , IT in Manufacturing
Global enterprise applications company, IFS, has announced the findings of a research study into the attitudes and strategies towards artificial intelligence (AI) among business leaders. The study polled 
...
Read more...
---
New Mindsphere app from Siemens
January 2020, Siemens Digital Industries , IT in Manufacturing
With Predictive Services for Drive Systems, Siemens presents a standardised extension to local service agreements. Based on the new Mindsphere Predictive Service Assistance app, it makes maintenance more 
...
Read more...
---
Motion controller with integrated drive control
January 2020, Siemens Digital Industries , Motion Control & Drives
Siemens has expanded its product portfolio of technology CPUs with the Simatic Drive Controller. The new controller combines a Simatic S7-1500 controller with motion control, technology and safety functionality, 
...
Read more...
---
Schneider Electric brings digital competence to mining applications
January 2020, Schneider Electric South Africa , IT in Manufacturing
Schneider Electric is dedicated to the deployment of digital technologies in mining to address the rising pressures on business sustainability and reduced energy consumption. "The organisation has invested 
...
Read more...
---
Micromine assists mining operations in the Industry 4.0 era
January 2020 , IT in Manufacturing
Global trends such as Industry 4.0 are transforming the traditional methods deployed to extract ore from rock. Mining operations are instead looking at innovations such as automated drilling in high risk 
...
Read more...
---
11th annual MESA Africa conference
January 2020 , IT in Manufacturing
I recently attended the MESA conference held at the Zulu Inyala Country Manor.
Read more...
---
5G – the wireless network of the future
December 2019, Siemens Digital Industries , Industrial Wireless
Mobile wireless network standards, starting with 1G, have been shaping our mobile communication for years. While previous developments have focused on improved usability in the public sector, the new 
...
Read more...
---
Digital twin allows process simulations
December 2019, Siemens Digital Industries , IT in Manufacturing
The high-tech company Grenzebach's portfolio includes the simulation of material flow in complex plants in the glass industry, which it achieves using Siemens simulation solutions. Together, the two companies 
...
Read more...
---