printer friendly version
Versatile signal conditioners
April 2018
System Integration & Control Systems Design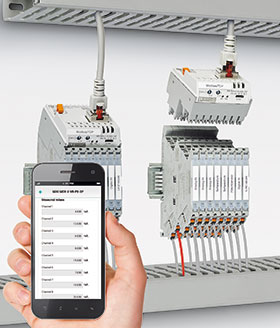 In process technology, analog signals are being transmitted in all the production processes. Electromagnetic interference and potential difference, however, adversely affect signal quality.
The products from the comprehensive signal conditioner product range from Phoenix Contact are an ideal solution to counteract this effect.
Interference-free signal transmission plays a central role in the field of measurement, control and regulation (MCR) technology. The rising number of electrically-operated components, the increasing level of miniaturisation and packing density of the devices, the growing amount of wireless communication and control devices, as well as the increasing performance of digital systems that operate at higher transmission frequencies, lead to higher levels of electromagnetic and high frequency interference in this field. This interference influences the small voltages and currents that are supplied by the sensors installed in the field. In case the user does not sufficiently consider these disturbance variables, error-free signal transmission will be affected and so will the quality of products manufactured in the customer's plant. Signal conditioners make a significant contribution to increasing signal quality. Phoenix Contact therefore offers the associated portfolio that consists of different product families. From highly compact signal conditioners to signal conditioners certified according to SIL 2, SIL 3 and PL d, right through to signal isolators for intrinsically safe circuits in the Ex area, the range of products includes the right solution for every requirement.
Measured values can be represented flexibly
In the broadest sense, the Field Analog product family comprises all the components that can be used down to the field level. The new process indicators combine the features of classical signal conditioners and the advantages of flexible display devices. The multi-functional input can be used to record different analog values such as current, voltage, thermocouples or RTDs. The input additionally supplies the sensor, if required. The two relay outputs can be used for different limit value switching functions, while the signal is forwarded to downstream systems via the analog output. Thanks to flexible setting options, the display can be adjusted to meet the requirements of the user. Indication of the measured values can be scaled as desired, and the signal can be transmitted together with the required unit or the measuring point designation.
The Field Analog product family also includes loop-powered, HART-capable process indicators in addition to multi-functional devices. These process indicators are powered from the 4...20 mA signal circuit. However, the circuit is hardly loaded because of their low voltage drop of less than 0,9 V. This is a decisive factor for explosive atmospheres because here the energy must be reduced to prevent any explosion. The HART-capable display also allows for flexible measured value representation so that the data can be scaled and visualised with the required unit. Because the process indicator is designed as a HART master, the user benefits from the HART functions of the field devices, which have not been used before. In this way, up to four additional measured values can be displayed via the HART protocol. The multi-functional process indicators as well as the HART-capable process indicators are available with IP20 protection for the control cabinet and with IP67 protection for field installation.
Extended diagnostic information via HART or programming interface
The new loop-powered temperature transmitters can be used to process two thermocouples or RTDs and to convert a scalable 4...20 mA or HART signal. A few examples of selectable functions include mean-value generation, comparison, subtraction or sensor backup. In addition, up to four values that can be freely adjusted can be forwarded to the follow-up I/Os via the HART protocol. The temperature transmitter is characterised by its high degree of accuracy, reliability and long-term stability. Extended diagnostic functions are also available via HART or the programming interface. The device increases safety and availability of the system and minimises application risks because the hardware and software of the transmitter have been developed for the SIL 2 and SIL 3 safety categories according to IEC 61508 and certified for safe operation in the Ex area. The temperature transmitter is available in two different designs: in a housing for DIN-rail mounting and for installation in a form B connecting head according to DIN 50446.
Cost-effective implementation of functional safety and explosion protection
One of the most important tasks in the production industry is reducing the risk of harm to humans and the environment. Standards like IEC 61511, IEC 61508 or EN ISO 13849 have been created to achieve this goal. The situation becomes even more complicated if explosion protection needs to be considered in addition to functional safety, or the sensor needs to be supplied additionally via the signal circuit. An expensive safety controller would be disproportionate for many applications because only a few signals need to be designed in a safety-related way. Phoenix Contact has developed the MACX Analog product family for this field of application.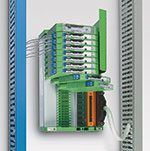 This product family consists of one-channel and two-channel signal isolators with a width of 12,5 mm for intrinsically safe circuits up to zone 0 and zone 20 that additionally boost and safeguard the transmission quality of analog signals by ensuring accurate conversion, isolation, filtering and amplification. The devices are easily configured via the DIP switches on the front or an operator interface. The free software provides additional device and monitoring functions. Status LEDs and group error messaging allow for simple diagnostics in the event of an error. The DIN rail connector to which the MACX modules are snapped not only provides for fast power bridging but also simplifies module replacement during operation in addition to wiring and system extension. Pluggable coded terminals with integrated test sockets are also easy to maintain. Low self-heating of the signal isolators results in a long service life. Versions with wide range input enable worldwide use in all power supply networks.
Simple configuration via DIP switches, software or app
If the focus is on applications without functional safety up to Ex zone 2, the highly compact signal conditioners of the MINI Analog Pro product family are the ideal choice. Modern switching technology and high electrical isolation with 3 kV test voltage and 300 V rated insulation voltage ensure optimum signal quality. The devices also feature a large operating temperature range from -40 to 70°C and an extended supply voltage range from 9,6 to 30 V DC. Easily accessible terminal points and pluggable FASTCON Pro connection terminal blocks enable quick installation, startup and maintenance. The signal and power supply circuits can be disconnected using the disconnection function. The current signals can also be measured during operation without disconnecting the current loop. Large-surface marking areas permit complete loop identification with standard marking material.
The MINI Analog Pro conditioners and the MACX devices are provided with a DIP switch for easy standard configuration. A standalone software can be used for extended configuration and monitoring via PC. All MINI Analog Pro modules have an NFC interface for wireless communication. In case of service, they can therefore be configured locally via the corresponding app. The app can also be used to retrieve module information and DIP switch settings, and to monitor the process data of the multi-functional devices.
Fast and error-free signal connection to the automation system
The comprehensive signal conditioner portfolio is supplemented by smart system cabling. The Plug-and-Play solution allows for a large number of signals from the field to be quickly linked to the automation system without errors. Two different concepts are available. The gateway for the MINI Analog Pro product family integrates up to eight field signals of any type to industrial networks while saving space and being safely electrically isolated on each channel. This increases availability of the application. Because the use of expensive signal-specific I/O cards becomes unnecessary, the costs for cabling and material are reduced considerably. Currently, gateways with connections for the Modbus/TCP, Modbus/RTU and PROFIBUS DP are available.
The Termination Carrier concept is based on a specifically developed and patented aluminium profile with built-in DIN rail shape for holding the modules of the MACX Analog and MINI Analog product families and the safe PSR coupling relays. In contrast to motherboard solutions, the Termination printed circuit board is decoupled mechanically from the interface modules and integrated safely into the profile. Thanks to mechanical decoupling, circuit path breaks can be avoided. This makes the Termination Carrier concept resistant to vibrations up to 2 g and resistant to shocks up to 15 g. The compact design and deep system connections allow for space savings of up to 30% when compared to standard commercial solutions.
For more information contact Sheree Britz, Phoenix Contact, +27 (0)11 801 8200, sbritz@phoenixcontact.co.za, www.phoenixcontact.co.za
Credit(s)
Further reading:
SCiBOTRON's quality culture the key to success
May 2020 , System Integration & Control Systems Design
The company was founded on lean principles and quickly grew into a QSE (Qualifying Small Enterprise). Ricardo Paddy, managing director and founding member, attributes one of the reasons for the company's 
...
Read more...
---
Surge protection for electro-mobility
July 2020, Phoenix Contact , IS & Ex
The market for electric cars is growing exponentially and automobile manufacturers are increasingly focusing on electro-mobility. However, surge protection also has a part to play in this technology. 
...
Read more...
---
Power supplies for building automation
June 2020, Phoenix Contact , Electrical Power & Protection
The new Step Power power supplies from Phoenix Contact are specifically tailored to the needs of modern building automation. With their comprehensive approval package, which includes the standard 
...
Read more...
---
HMIs improve operations and maintenance collaboration
June 2020, Emerson Automation Solutions , System Integration & Control Systems Design
It is essential that operators and maintenance engineers work together to resolve issues quickly, before they affect plant performance. However, coordinating actions between these departments can be challenging.  
...
Read more...
---
SLE5 series label sensor
June 2020, Turck Banner , System Integration & Control Systems Design
The small infrared light spot of Banner's new SLE5 can quickly detect the gap between opaque labels on clear or opaque backing. The 5 mm slot width and 50 mm slot depth allow precise detection of a wide 
...
Read more...
---
PC-based control technology for process automation
May 2020, Beckhoff Automation , System Integration & Control Systems Design
Progress is not based on the innovative creation of buzzwords. Unfortunately, the development of enabling technologies in recent decades did not help to raise process automation to an advanced level. 
...
Read more...
---
Improved production capacity and efficiency
May 2020, Omron Electronics , System Integration & Control Systems Design
Automation with robotics increases production of chocolate by 40%.
Read more...
---
PC-based control for Covid-19 rapid testing production lines
June 2020, Beckhoff Automation , System Integration & Control Systems Design
The rapid testing equipment production lines made by Ginolis in Qulunsalo, Finland, have proven themselves in the market for almost a decade. Because of the coronavirus pandemic, previously delivered 
...
Read more...
---
PCS Global keeps Dairymaid production on track
May 2020, PCS Global , System Integration & Control Systems Design
Commonly known as 'the smile maker', Dairymaid's ice cream has been a favourite in many South African households for the past three decades. Keeping the factory running and ensuring the quality of the 
...
Read more...
---
The efficient and easy to configure DALI-2 lighting solution
May 2020, Beckhoff Automation , System Integration & Control Systems Design
The TwinCAT 3 Lighting Solution, which is easy and convenient to configure via Excel files, simplifies all work steps from engineering to maintenance. All typical lighting controls are integrated in the 
...
Read more...
---