printer friendly version
Keeping a close eye on the plant
June 2017
Maintenance, Test & Measurement, Calibration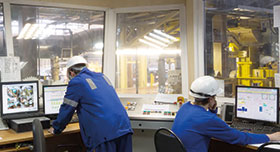 Comprehensive plant asset management (PAM) is the key to improving the overall reliability, efficiency and productivity of a manufacturing system. Realising such a goal calls for solutions that effect the complete life cycle of a plant – from system design to engineering and implementation, and from everyday operation all the way to maintenance and repair.
Vital enabling factors to reach such goals are the sensors and actors installed in a plant, and their close interaction with the respective interface components of the automation system. The functionality provided by these field devices not only determines seamless control of all processes of the plant, but it is also a vital factor to minimise plant shutdowns and keep plant availability at the highest possible level.
The technical requirement are field devices that are able to offer more than simply their core functionality. Such devices not only collect process data and take care of the functions needed for continuous process control; they also provide important diagnosis data to inform about their present operating condition, as well as mechanical wear and technical failures. To provide such information they communicate either via a conventional analog infrastructure or a modern data bus system.
Unfortunately with most process and manufacturing plants, about 85% of these additional signals provided by field devices are not being used at all. This is especially noteworthy since there are numerous solutions that allow access to such information within just about any system environment in order to achieve a considerably more efficient, economic and reliable process plant.
HART: bridging different technology generations
HART (Highway Addressable Remote Transducer) is the link between the analog and digital world. It is established on a worldwide basis and is considered to be a highly versatile bridging technology. Most importantly, HART provides an economical solution to protect existing investments by integrating proven analog field instruments into a modern automation system.
As an example, plant upgrades usually collide with limited space in the control room, while existing field devices need to stay in place. Remote I/O systems allow using HART-enabled field devices that may have been installed years ago in order to utilise their full potential.
HART communication is part of the enhanced functionality of a remote I/O component. It can be used in addition to the 4-20 mA current loop inputs of typical analog field devices for flow and pressure control, as well as the outputs of positioners, IP transducers or analog displays. At the same time, remote I/O units allow the transmission of additional information via a bus system (for example HART via Profibus). The range of information contained in such a HART signal can range from setting the parameters of the start and end position of a range all the way to comprehensive additional data informing about device status, secondary variables and the need of proactive maintenance measures.
This wide application spectrum has resulted in the development of a comprehensive range of components that are considered a vital enabling technology for advanced concepts in the field of maintenance. One typical example is the HART Loop Converter offered by Pepperl+Fuchs. It was designed to read up to four digital signals from field devices and is able to feed three of these signals in the form of an analog 4-20 mA current loop into any analog PLC. This converter allows the combination of one analog signal with multiple digital signals that are transmitted via the same wire, on top of the analog signal. In this way a pressure sensor can be enabled to provide simultaneous temperature measurements.
The HART Multiplexer from Pepperl+Fuchs is another component and the functionality of this device includes the ability to collect and store information from multiple field devices and deliver the related data to a PAM system.
HART-compatible components are also ideal for digital control of analog field devices, such as valves, via the same wiring. This allows for example to perform partial stroke tests triggered by a PAM, in order to verify the operating condition of safety valves with the intention to guarantee the safety and availability of the plant.
Wireless control without limits
While the primary advantage of HART technology is the ability to transmit digital signals via an existing analog communication infrastructure, WirelessHART offers completely different advantages. The technology is based on a wireless mesh-type network structure, consisting of devices that serve as both routers and repeaters. The resulting inherent flexibility of the network allows stable data communication even in the case of local interruptions. For example, if a particular communication path is blocked by a crane or a truck passing by, the data packages are automatically routed via another network component, which greatly contributes to improved network reliability.
WirelessHART also provides an interesting alternative to integrate tank assemblies, pipelines and other remote sub-systems of a process plant into a PAM system. For such applications, battery powered adaptors are the technical basis to establish on-demand communication that requires neither extensive power lines nor the costly installation of network cables. WirelessHART is also ideal to monitor components of a process plant that are difficult to access. For situations where a 4-20 mA loop is already installed, Pepperl+Fuchs even offers loop-powered adaptors that get their operating power directly via the current loop.
WirelessHART is typically used to monitor process parameters that are less critical to continuous plant operation, while contributing to the overall quality efficiency and availability of the process plant.
Fieldbus for more transparency
Fieldbus systems not only simplify the design of an automation system and its communication infrastructure, they are also the basis of greatly simplified installation. There is no need to run cables to each individual field device. Instead, all devices are connected via a plant-wide databus reaching from the control room all the way down to field level.
But there is an even more vital aspect: modern field devices do not only generate process data with digital precision, or convert control signals into mechanical operations, but they are also able to provide a wealth of information that offers insight into aspects like device status, efficiency or mechanical wear. Although such data, which are generated directly at field device level, do not have an effect on the production process itself, they provide comprehensive insight into the operating condition of the complete plant. A fieldbus-based automation system allows access to such data directly from the control room without requiring the installation of any additional infrastructure components.
For this purpose, a dedicated PAM system is used to read all device-specific data of a processing plant for targeted analysis. Such a system is usually installed at the maintenance station of the process plant. Its sole task is to continuously monitor all field devices by reading the information they provide related to their performance and operating condition. Such information is used for continuous and comprehensive analysis of the overall condition of the plant. With the help of a PAM system, maintenance personnel are able to detect signs of deterioration at an early stage in order to take corrective measures before they can effect plant operation. This greatly helps to avoid unscheduled plant shutdowns. In case of any alarm condition, service technicians are provided with specific information pointing out to the possible cause of the detected failure.
If the PAM has detected a problem with the network structure of the plant, the new Fieldbus Diagnostic Handheld FDH-1 from Pepperl+Fuchs comes in handy. Actually, any service technician should take such a device along whenever fieldbus-related repair or maintenance work is required. It includes a complete expert system that helps to detect problems directly on site and find out their causes. For this purpose, the handheld FDH-1 features an integrated display which states the existing problem in plain text while pointing out to possible causes and describing recommended remedies.
The FDH-1 is part of the FieldConnex line of fieldbus components from Pepperl+Fuchs which are designed to make installation, implementation and maintenance of a fieldbus infrastructure as simple and efficient as possible. The device can also be used during the installation phase of a system. It helps to check each individual fieldbus segment in order to verify and document its correct operation right from the start.
Fast and targeted maintenance
Pepperl+Fuchs also enhances the abilities of a PAM system with its Advanced Diagnostic Module which is designed to monitor the physical fieldbus layer. The functionality of this module ranges from collecting all operating parameters during implementation to real-time monitoring of devices during everyday plant operation.
Solutions such as Advanced Diagnostics point to slow changes within a fieldbus installation that would otherwise go unnoticed. They make plant operators aware of critical operating conditions, such as signal degradation or increased mechanical wear that might be the result of water intrusion in a device or a distributor on site.
This enables the maintenance personnel of a plant to react to problems before they can cause an unexpected plant shutdown by taking required steps within planned maintenance intervals. At the same time, with the support of a PAM, maintenance work can be done in a considerably faster and more targeted manner. For example, the service technician does not need to go on site to find out what might be the cause of a problem. Instead, he is provided with an alarm message including a detailed description of the problem and its possible causes. This means he already knows what kind of problem he will be facing on site and therefore knows which spare parts he needs to take along. In addition, replaced components do not require any time-consuming configuration but are provided with all required settings directly from the PAM.
Keeping an eye on the process
PAM is all about realising, knowing and predicting and the great advantage is that everything is controlled directly from the control room and without any need to investigate problems on site. This not only saves resources. It also increases plant availability and guarantees a constantly high quality level in combination with maximum efficiency. In other words: a PAM system exactly addresses the primary goals of any plant operator.
If maintenance personnel can see directly on a monitor in the control room that solid substances have accumulated in a pipe that might interfere with the flawless transportation of the process media, they can react way before the problem interferes with the production process. Keeping an eye on the temperature of conveyor belts allows realising at an early stage if a particular roller bearing starts to run hot. Closely monitoring valves and other components of a plant subject to mechanical wear allows wear-dependent exchange of parts instead of having to rely on fixed service intervals solely based on past experiences. In other words: keeping an eye on all vital process parameters results in more efficiency while reducing resources.
HART, WirelessHART and digital fieldbus systems with Advanced Diagnostics have proven to be vital key technologies that enable an efficient PAM system. Thanks to HART, there are multiple migration paths to equip an automation system with the ability to monitor a process plant in order to improve its efficiency and reliable operation.
Credit(s)
Further reading:
Sensor technology for explosion-protected areas
Pepperl+Fuchs IS & Ex
To enable customers to use Pepperl+Fuchs sensors in explosion-protected areas, the company has made sensors suitable for use in Zones 1 or 21, and Zones 2 or 22.
Read more...
---
All-in-one documenting process calibrators
Comtest Maintenance, Test & Measurement, Calibration
The multifunction calibrators perform sourcing, simulation and measurement of pressure, temperature and electrical signals.
Read more...
---
Five reasons for force measurement
WIKA Instruments Editor's Choice Maintenance, Test & Measurement, Calibration
Wika takes a closer look at the measured variable of force and gives five reasons to show why force measurement is of particular importance.
Read more...
---
High-quality contact lubricants
Vepac Electronics Maintenance, Test & Measurement, Calibration
CG53A is part of the CG series of contact lubricants, designed as an extension of the extremely popular 2X range. The main advantages of these products are reduced contact resistance, even on extremely 
...
Read more...
---
Universal code reader for optimal reliability
Pepperl+Fuchs Sensors & Transducers
Camera-based code readers have already proven their worth in reading detailed data for automated processes, with the adaptability to suit many tasks.
Read more...
---
IO-Link master with OPC UA interface
Pepperl+Fuchs Fieldbus & Industrial Networking
The combination makes data accessible beyond the central control system, for decision-makers to access without complex workarounds.
Read more...
---
Gateway connects remote I/O systems to the Profinet world
Pepperl+Fuchs Fieldbus & Industrial Networking
Up to 80 field devices can be connected to a fully occupied remote I/O system, and they communicate without a time delay.
Read more...
---
Field services – beyond break-fix to invaluable organisational insight
Schneider Electric South Africa Maintenance, Test & Measurement, Calibration
An outsourced field services team can assist organisations not only during emergencies but also by providing spares, technical support and 24/7 callout availability.
Read more...
---
Pyranometer for monitoring small-scale PV installation efficiency
GHM Messtechnik SA Electrical Power & Protection Maintenance, Test & Measurement, Calibration
The device's classification level under the ISO 9060:2018 standard guarantees accuracy, reliability, precision and compliance with reference standards.
Read more...
---
Condition monitoring on offshore oil platforms
Beckhoff Automation Maintenance, Test & Measurement, Calibration
The steel structures of an offshore platform are exposed to extreme environmental conditions throughout their entire service lives. Difficult sea conditions ranging up to freak waves and aggressive 
...
Read more...
---