printer friendly version
SAIMC: Durban branch
October 2019
SAIMC
The Durban branch's September technology meeting was opened by our COO, Johan Maartens, giving a brief overview of the reasoning behind the changes to the SAIMC's organisation. He clearly and concisely explained the benefits in terms of our ability to influence policies through formation of a Suppliers Advisory Council, with us now having representation on President Ramaphosa's working group on Industrie 4.0. The revised structure will remove the existing requirement for the majority of Council members to be ECSA Registered.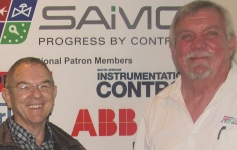 SAIMC COO, Johan Maartens (L) with branch Chairman Hennie Prinsloo.
The meeting continued with Robert Wright, MD of RJ Connect, who began his talk by observing that there is a need to look at what Industrie 4.0 can do for us in real life. There are plenty of seminars on the subject with lots of theory, but not so much about plans that exist for it to be applied or what the next step may be.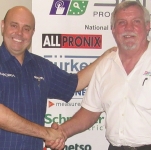 Robert Wright, RJ Connect (L) being thanked by Hennie Prisloo.
Rob focused on a practical application in which a Computer Numerically Controlled (CNC) machine's production was optimised through the use of cloud-based systems and applications. The need for using Big Data was graphically demonstrated by the huge contrast between information obtained at very different sampling rates; only the high sampling rate making determination of cutting tool life expectancy predictable so that finished product quality remained satisfactory. In most production facilities, checking the end product is not the answer to plant optimisation if use of information from within the process can reveal where an item or procedure is nearing the point of failure. No talk on this topic would be complete without discussing the need for data security, and also the cost of implementing more extensive use of cloud-based systems, both of which were brought to everyone's attention.
Hennie Prinsloo thanked Rob for his interesting and very informative talk before the large group of more than 60 adjourned to enjoy networking over food and drinks to the usual high standard of the Durban Country Club. It was gratifying to see that 13 students were among those benefiting from attending the meeting.
Kind regards,
John Owen-Ellis (Durban Branch Secretary)
Credit(s)
Further reading:
SAIMC: From the President's desk
November 2019, SAIMC , SAIMC
The end of the year is almost upon us. Have you taken the opportunity to ask yourself what has really changed for you this year? In some areas we have seen significant and exponential change. Automation 
...
Read more...
---
SAIMC: Tshwane branch
November 2019, SAIMC , News
Industry expert talks about importance of continuous learning
Learning from industry experts is a vital component of any student's training. Such an expert is Thabo Lekgowane, a robotics engineer from 
...
Read more...
---
SAIMC: Johannesburg branch
November 2019, SAIMC , SAIMC
Why use wires?
   At the technology evening on 11 September, Rudi Erasmus of Phoenix Contact walked us through when and why wireless communication is preferred to cabled communication.    Communicating 
...
Read more...
---
SAIMC: Vaal branch
November 2019, SAIMC , SAIMC
This month's presentation at the Vaal branch covered the basic principles and fundamentals of SIL. It included the common misconceptions about SIL, risks, accidents, processes, random and systemic failures 
...
Read more...
---
The technology landscape: insights from 2019 conferences
November 2019, SAIMC , Editor's Choice
Industry leaders and governmental agencies across the globe recognise technology as the cornerstone for economic development. President Cyril Ramaphosa famously posited: "The clear implication for South 
...
Read more...
---
SAIMC: From the President's desk
October 2019, SAIMC , SAIMC
It is spring again in South Africa and what a gorgeous time of year. Within the SAIMC, there is also continuous improvement, working towards our 2023 strategic goals.      
SAIMC structure changes
As the 
...
Read more...
---
SAIMC: Johannesburg branch
October 2019, SAIMC , SAIMC
The August technology evening we was hosted by Yokogawa at the Bryanston Sports Club. The theme was to find out more about the difference between a PLC and a DCS, where the PLC came from, some PLC theory, 
...
Read more...
---
SAIMC: Secunda branch
October 2019, SAIMC , SAIMC
At the technology evening on 1 August, Katlego Setwaba from Pepperl+Fuchs gave a presentation on 'Explosion protection with a focus on purge and pressurisation'.    The effects of accidental fires or 
...
Read more...
---
SAIMC: Vaal branch
October 2019, SAIMC , SAIMC
At the August Technology Evening, Busisiwe Zikalala from WIKA gave a presentation titled: Sensor protection methods.    Process sensors come in many forms. In addition to the big four: temperature, pressure, 
...
Read more...
---
SAIMC: From the President's desk
September 2019, SAIMC , SAIMC
Jobs and skills of the future are continuously at the forefront of discussions. The impact that Industry 4.0 will have on us all makes us question what the future holds. Automaton is enhancing lives, 
...
Read more...
---