printer friendly version
SAIMC: Johannesburg branch
October 2019
SAIMC
The August technology evening we was hosted by Yokogawa at the Bryanston Sports Club. The theme was to find out more about the difference between a PLC and a DCS, where the PLC came from, some PLC theory, why we use both, and some of the components of these systems.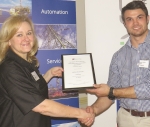 Ann de Beer (left) thanks Anton van der Linde after the presentation.
In bygone years all manufacturing processes were manual, people filling, labelling and packaging. General Motors Corporation decided they needed an automated system which could be easily programmed, easily maintained and reused in future applications. Initially PLCs were used for digital control like conveyor belts, on-off control, timers, counters etc. Now, applications for PLCs include energy management in buildings, steel making, breweries, food and beverage and countless others – but why then a DCS?
A DCS is generally a software platform for everything with enhanced databases, PID control, graphics and tags. A PLC system generally works from the field devices to a controller running on one network, the DCS can bring numerous controllers and networks together and distribute this information to engineering, HMIs, all the way up to business integration control.
We were taken through the questions you need to ask yourself before deciding on a PLC or DCS. Questions like: Will you be doing simple or complex control? What is the value of product manufactured and the cost of downtime? What does the operator need to be successful?
All this led to some lively debate and discussions of actual examples that individuals had experienced in their plants.
Ladies Tea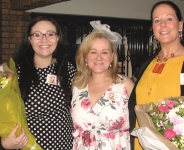 SAIMC president Annemarie van Coller (left) with Johannesburg branch chairman Ann de Beer (centre) and guest speaker Caroline Carter (right) at the ladies tea.
The Ladies Tea was held on the 23 August to celebrate woman's month. What a privilege to spend some quality time in the open air with the ladies of our industry.
Caroline Carter (marketing & customer relations manager) outdid herself with a unique outlook on 'Women as the Instruments of Measurement and Control'. She gave wonderful insight on how as the measures of control, women now influence business decisions in a traditionally male dominated industry.
SAIMC president Annemarie van Coller also addressed us with words of encouragement. It is so very important in the world we live in to motivate, encourage and support one another.
The day was a huge success and will be repeated in 2020. The branch thanks everyone for their attendance and support.
Credit(s)
Further reading:
SAIMC: From the President's desk
November 2019, SAIMC , SAIMC
The end of the year is almost upon us. Have you taken the opportunity to ask yourself what has really changed for you this year? In some areas we have seen significant and exponential change. Automation 
...
Read more...
---
SAIMC: Tshwane branch
November 2019, SAIMC , News
Industry expert talks about importance of continuous learning
Learning from industry experts is a vital component of any student's training. Such an expert is Thabo Lekgowane, a robotics engineer from 
...
Read more...
---
SAIMC: Johannesburg branch
November 2019, SAIMC , SAIMC
Why use wires?
   At the technology evening on 11 September, Rudi Erasmus of Phoenix Contact walked us through when and why wireless communication is preferred to cabled communication.    Communicating 
...
Read more...
---
SAIMC: Vaal branch
November 2019, SAIMC , SAIMC
This month's presentation at the Vaal branch covered the basic principles and fundamentals of SIL. It included the common misconceptions about SIL, risks, accidents, processes, random and systemic failures 
...
Read more...
---
The technology landscape: insights from 2019 conferences
November 2019, SAIMC , Editor's Choice
Industry leaders and governmental agencies across the globe recognise technology as the cornerstone for economic development. President Cyril Ramaphosa famously posited: "The clear implication for South 
...
Read more...
---
SAIMC: From the President's desk
October 2019, SAIMC , SAIMC
It is spring again in South Africa and what a gorgeous time of year. Within the SAIMC, there is also continuous improvement, working towards our 2023 strategic goals.      
SAIMC structure changes
As the 
...
Read more...
---
SAIMC: Secunda branch
October 2019, SAIMC , SAIMC
At the technology evening on 1 August, Katlego Setwaba from Pepperl+Fuchs gave a presentation on 'Explosion protection with a focus on purge and pressurisation'.    The effects of accidental fires or 
...
Read more...
---
SAIMC: Vaal branch
October 2019, SAIMC , SAIMC
At the August Technology Evening, Busisiwe Zikalala from WIKA gave a presentation titled: Sensor protection methods.    Process sensors come in many forms. In addition to the big four: temperature, pressure, 
...
Read more...
---
SAIMC: Durban branch
October 2019, SAIMC , SAIMC
The Durban branch's September technology meeting was opened by our COO, Johan Maartens, giving a brief overview of the reasoning behind the changes to the SAIMC's organisation. He clearly and concisely 
...
Read more...
---
SAIMC: From the President's desk
September 2019, SAIMC , SAIMC
Jobs and skills of the future are continuously at the forefront of discussions. The impact that Industry 4.0 will have on us all makes us question what the future holds. Automaton is enhancing lives, 
...
Read more...
---