printer friendly version
SAIMC: Johannesburg branch
July 2019
SAIMC
SICK of safety regulations?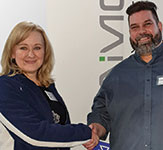 Ann de Beer thanks Stephen Eltze after the presentation.
At the May meeting of the SAIMC Johannesburg branch held at SICK Automation, Stephen Eltze brought some fun into the safety discussion. As a nation of would-be taxi drivers, jaywalkers and general disregarders of any safety culture, it was refreshing the way Stephen captured our attention. The evening started with varying slides with a series of quotes from Evil Overlord Rules, all of which questioned the conventional way of doing things, as well as learning from experience.
He got things off to an interesting start by showing pictures of a textile factory from 200 years ago, with a couple of 10 year old kids working on the looms, one of them barefoot. He then divided us into two groups to answer the following questions:
1. How can safety help to improve your image?
2. Why is safety necessary for you and your company?
Some interesting responses were forthcoming. Stephen added to these, and went on to explain the differences between directives, standards and regulations and how these contribute to safety. Since all of these come from the EU, it seems that there are people who produce directives because they need something to do, seemingly to compensate for people with little or no common sense. There are apparently
25 000 pages of regulations on how to grow cabbages.
However, there is no doubt that the objective is human safety, even if it takes around five years to get to workable regulations, after which the process iterates. We were shown how the EU standards relate to the USA standards and regulations, and also how these relate to South Africa. We are not too far behind as far as the regulations are concerned, but certainly are as far as enforcement is concerned.
Stephen also covered how machinery manufacturers are required to:
• Design machines safely.
• Provide comprehensive operating instructions.
• Prepare technical documentation.
• Issue a declaration of conformity.
• Label the machine as CE compliant.
If a South African company exports machinery, all of this has to be in the language of the destination country.
Stephen made this topic interesting, fun and interactive. Our thanks go to SICK for hosting this presentation.
Credit(s)
Further reading:
SAIMC: Secunda branch
July 2019, SAIMC , SAIMC
May Technology Evening
   On 16 May 2019 Kevin Preston from Phoenix Contact gave a very interesting and explanatory presentation on SIL (functional safety). Safety Integrity Level (SIL) is by definition 
...
Read more...
---
SAIMC: From the President's desk
July 2019, SAIMC , SAIMC
On behalf of the SAIMC, I am proud to announce that there are multiple initiatives that have progressed well within our organisation:      
Automation as an engineering discipline in South Africa
As most 
...
Read more...
---
SAIMC: Vaal branch
July 2019, SAIMC , SAIMC
The May Technical Evening was presented by Krzyszstof Lapacz from ifm – South Africa. He is responsible for business development and industrial networking. Krzyszstof gave an in-depth technical presentation 
...
Read more...
---
SAIMC: Tshwane branch
July 2019, SAIMC , SAIMC
The committee wishes to thank Nico Marneweck from Endress+Hauser for serving on the committee since the branch's inception. Unfortunately Nico's work commitments have changed and he is not available to 
...
Read more...
---
SAIMC: Durban branch
July 2019, SAIMC , SAIMC
Durban branch held its June technology meeting at the Durban Country Club on Wednesday 5th June. It was another well-attended meeting with over 45 people in attendance.    Prinesh Mari, who is a senior 
...
Read more...
---
SAIMC: From the President's desk
June 2019, SAIMC , SAIMC
We have reached the half-way point of 2019 and I am shocked at how time has just flown by for me personally. But, that is usually the result when you are fully engaged and busy with things that occupy 
...
Read more...
---
SAIMC: Durban branch
June 2019, SAIMC , SAIMC
The May technology evening was moved out a day to accommodate the public holiday on 1 May and the topic of IO-Link attracted an excellent attendance at the Durban Country Club, in spite of the disruption 
...
Read more...
---
SAIMC: Secunda branch
June 2019, SAIMC , SAIMC
On 4 April, Theo Wassenaar from Emerson Automation Solutions gave an informative presentation on 'Steam trap monitoring with pervasive sensing and plantweb insight'.    Over the years, steam traps have 
...
Read more...
---
SAIMC: Vaal branch
June 2019, SAIMC , SAIMC
At the last technology evening, Jacques Parrot, a project engineer from SICK Automation, gave an in-depth presentation on "Greenhouse phenomena and the looming legal requirements that emission producing 
...
Read more...
---
SAIMC: Johannesburg branch
June 2019, SAIMC , SAIMC
The April technology evening featured Alvin Seitz of Bürkert who outlined a fairly new flowmeter technology using surface acoustic waves (SAW). So, are SAW flowmeters the greatest thing since sliced Coriolis?
...
Read more...
---