printer friendly version
SAIMC: Durban branch
July 2019
SAIMC
Durban branch held its June technology meeting at the Durban Country Club on Wednesday 5th June. It was another well-attended meeting with over 45 people in attendance.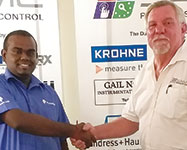 Prinesh Mari (left) being thanked by Hennie Prinsloo after the presentation.
Prinesh Mari, who is a senior electrical engineer at Proconics, gave a presentation in which he examined the underlying causes of major disasters at two hydrocarbon storage facilities.
He opened by showing a CSB Safety Video on the 2009 massive explosion at the Caribbean Petroleum, or CAPECO, terminal facility near San Juan, Puerto Rico. The incident occurred when gasoline overflowed and sprayed out from a large aboveground storage tank, forming a 107-acre vapour cloud that ignited, fortunately with no loss of life. He then compared that event with one that occurred in December 2005 at Buncefield depot in England, which had even more severe consequences.
What went wrong, and methods of how to avoid this type of calamity were discussed in detail with specific reference to:
• The application of API STANDARD 2350-2012 – Overfill Protection for Storage Tanks in Petroleum Facilities
• IEC 61511 Functional Safety – Safety instrumented systems for the process industry sector for the design and operation improvements of tank overfill protection strategies.
In the case of both disasters there were proven deficiencies in several aspects of managing, maintaining and operating those hazardous plants, which could
have been avoided if there had been adherence to good practice and relevant available standards. Prinesh dealt with those in some detail, and demonstrated their importance from the design phase throughout the lifetime of a plant.
After chairman Hennie thanked Prinesh for his interesting and relevant presentation and thanked Proconics for kindly sponsoring the meeting, everyone adjourned to enjoy some networking over good food and drinks.
Robotics takes KZN high school by storm
The Durban branch of the SAIMC has donated a First Tech Challenge starter kit to Hillcrest High School and this has caused a stir of excitement in the halls of the school and resulted in robotics being placed on the extramural curriculum. The SAIMC has pledged an amount of R20 000 initially. The project is also being supported by the local Rotary Club of Hillcrest.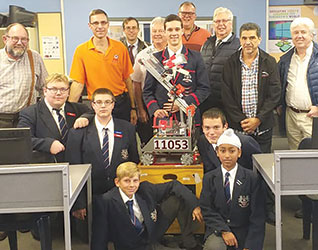 From l: Tim Attwell, Johannes de Vries, Graham Pearl, Dean Trattles, Fred Kroone, Pieter Victor, Robby Mamote, Colin Hetger, and some interested pupils.
The FIRST Tech Challenge (FTC) is designed for students in grades 7–12, who compete by designing, building and programming a robot to compete in an alliance format against other teams. The robot kit is programmed using Java, the MIT App Inventor or other Android programming systems. Teams under the guidance of coaches, mentors and volunteers are required to develop strategy and build robots based on innovative and sound engineering principles, and awards are given for the competition as well as for community outreach, design and other real world accomplishments.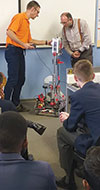 Johannes de Vries, who fits his passion for robotics and FTC in between his day job at the Electrical Engineering Department of the Tshwane University of Technology (TUT), is the chief co-ordinator of FTC in South Africa. He drives all the sponsorships and the funding, marketing and logistics of getting the teams of children together for the competitions. His passion and commitment was evident at a meeting held in May at Hillcrest High School with staff and interested students, where he demonstrated a working robot kindly lent to him by Waterkloof High School in Pretoria. Members from the Hillcrest Rotary Club were also present and they will help spread the word to other schools in the area.
The SAIMC is proud to be involved with FTC as a national sponsor. The Durban branch is also a sponsor of this project as it fits completely with its vision to educate and inspire youth in the world of control and automation. Today's students are tomorrow's engineers.
Anybody needing further information can email John Owen-Ellis at john.owen-ellis@saimc.co.za
Credit(s)
Further reading:
SAIMC: Secunda branch
July 2019, SAIMC , SAIMC
May Technology Evening
   On 16 May 2019 Kevin Preston from Phoenix Contact gave a very interesting and explanatory presentation on SIL (functional safety). Safety Integrity Level (SIL) is by definition 
...
Read more...
---
SAIMC: From the President's desk
July 2019, SAIMC , SAIMC
On behalf of the SAIMC, I am proud to announce that there are multiple initiatives that have progressed well within our organisation:      
Automation as an engineering discipline in South Africa
As most 
...
Read more...
---
SAIMC: Vaal branch
July 2019, SAIMC , SAIMC
The May Technical Evening was presented by Krzyszstof Lapacz from ifm – South Africa. He is responsible for business development and industrial networking. Krzyszstof gave an in-depth technical presentation 
...
Read more...
---
SAIMC: Tshwane branch
July 2019, SAIMC , SAIMC
The committee wishes to thank Nico Marneweck from Endress+Hauser for serving on the committee since the branch's inception. Unfortunately Nico's work commitments have changed and he is not available to 
...
Read more...
---
SAIMC: Johannesburg branch
July 2019, SAIMC , SAIMC
SICK of safety regulations?
   At the May meeting of the SAIMC Johannesburg branch held at SICK Automation, Stephen Eltze brought some fun into the safety discussion. As a nation of would-be taxi drivers, 
...
Read more...
---
SAIMC: From the President's desk
June 2019, SAIMC , SAIMC
We have reached the half-way point of 2019 and I am shocked at how time has just flown by for me personally. But, that is usually the result when you are fully engaged and busy with things that occupy 
...
Read more...
---
SAIMC: Durban branch
June 2019, SAIMC , SAIMC
The May technology evening was moved out a day to accommodate the public holiday on 1 May and the topic of IO-Link attracted an excellent attendance at the Durban Country Club, in spite of the disruption 
...
Read more...
---
SAIMC: Secunda branch
June 2019, SAIMC , SAIMC
On 4 April, Theo Wassenaar from Emerson Automation Solutions gave an informative presentation on 'Steam trap monitoring with pervasive sensing and plantweb insight'.    Over the years, steam traps have 
...
Read more...
---
SAIMC: Vaal branch
June 2019, SAIMC , SAIMC
At the last technology evening, Jacques Parrot, a project engineer from SICK Automation, gave an in-depth presentation on "Greenhouse phenomena and the looming legal requirements that emission producing 
...
Read more...
---
SAIMC: Johannesburg branch
June 2019, SAIMC , SAIMC
The April technology evening featured Alvin Seitz of Bürkert who outlined a fairly new flowmeter technology using surface acoustic waves (SAW). So, are SAW flowmeters the greatest thing since sliced Coriolis?
...
Read more...
---