printer friendly version
From the editor's desk: Edge, cloud or both?
June 2019
News
In the illusory world of digital transformation, the question of where the applications will best be hosted often triggers a lively discussion. In particular, the cloud vs. edge debate has left many wondering which direction to choose. Turns out, the answer is not as clear-cut as picking one over the other in the hope of finding a winner. It is a case of 'horses for courses' and an efficient enterprise-wide implementation may well require elements of both.
Wikipedia defines edge computing as a distributed paradigm that brings data storage and processing closer to the location where it is needed – the shop floor, for instance. Cloud computing, on the other hand, is generally considered as on-demand access to computer resources available to many different users over the Internet – the data centre.
As an Industry 4.0 platform, cloud applications offer almost unlimited scalability in terms of data storage and computing power. This makes it easy to run data mining and analytics algorithms on plant data with a view to optimising overall process and energy efficiency. It also offers older plants running legacy equipment an easy way to get started with the new technologies of the IIoT. One of the downsides of cloud-based systems is the inherent latency, which is fine for any application in which 'near' real-time response is acceptable, but not so good for machine applications that require a true real-time reaction.
A DCS is an example of an edge system (before the term became popularised), but in an IIoT context, edge computing comes into its own where the value of the system is linked to its reaction time. Artificial intelligence and machine learning are good applications.
An example of how artificial intelligence can be incorporated into machines through the use of sensors and data processing at the edge is Forpheus, Omron's ping-pong playing robot. Forpheus uses its cameras and sensors to observe the mood and movements of the opposing player, as well as the trajectory of the ball. It then rapidly analyses this data to anticipate the opponent's next shot so that it can hit the return. Through this constant assessment of a person's play, it determines their skill level and modifies its own game to present an appropriate challenge. Forpheus' objective is not to beat the other player, but to gauge their skill level and then help them to train and improve. This is an example of how smart machines could be used to assist people to make the most of their potential.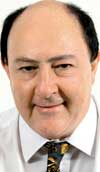 Although edge computing has a distinct advantage over the cloud in these types of application, this does not make it a substitute. For instance, predictive maintenance is a natural target for cloud deployment because there is simply no need for a 'zero latency' response. See the article 'Does edge computing have the edge?' for more on the cloud vs edge conundrum, and how the two will most likely coexist in the future.
Steven Meyer
Editor: SA Instrumentation & Control
Credit(s)
Further reading:
Emerson publishes 2019 Social Responsibility Report
July 2020, Emerson Automation Solutions , News
Emerson combines industry-leading technology and innovation to make a positive impact on employees, customers and communities around the world.
Read more...
---
FIRST Lego League goes from strength to strength
July 2020 , News
FIRST (for inspiration and recognition of science and technology) is an international organisation that aims to generate an interest in mathematics, science and technology through the use of robotics 
...
Read more...
---
Aguru announces successful Safe-Trace Contact Tracing trial at Adcock Ingram Critical Care
July 2020 , News
Aguru Business Solutions (Aguru), a company specialising in automation and digital transformation advisory and project management services, has successfully completed a Proof of Concept (PoC) trial of 
...
Read more...
---
From the editor's desk: Coronavirus pulls the trigger on digital transformation
July 2020, Technews Publishing (SA Instrumentation & Control) , News
The general consensus among economists is that the disruption to global markets caused by the coronavirus pandemic is going to result in economic upheaval of proportions not seen since the disastrous 
...
Read more...
---
Siemens South Africa joins forces with the National Ventilator project community in response to the COVID-19 pandemic
June 2020, Siemens Digital Industries , News
Siemens has been a long-standing partner of the Council for Scientific and Industrial Research (CSIR) in South Africa and have cooperated in various field of research, including manufacturing and mining. 
...
Read more...
---
Endress+Hauser Switzerland turns 60
June 2020, Endress+Hauser South Africa , News
The Swiss sales centre of Endress+Hauser is celebrating its 60th anniversary. Active in Switzerland since 1960, today the global leader in measurement instrumentation, services and solutions for industrial 
...
Read more...
---
How investing in a niche market placed Yokogawa aboard the International Space Station
June 2020, Yokogawa South Africa , News
While the world was abuzz with excitement over the revival of U.S. manned spaceflight, another equally promising space endeavour flew under the radar. On 20 May, the H-II Transfer Vehicle (HTV-9), affectionately 
...
Read more...
---
Siemens and Bentley Systems build digital twin for Indonesian petrochemical complex
June 2020, Siemens Digital Industries , News
Siemens and Bentley Systems will develop the first petrochemical digital twin in Indonesia for Chandra Asri, the country's largest integrated petrochemical complex. With over 27 year footprint, the latter 
...
Read more...
---
Hitachi ABB Power Grids commences operations
June 2020, ABB South Africa , News
In accordance with the agreement signed on 17 December 2018, Hitachi and ABB have announced the completion of all required procedures as planned and the formation of Hitachi ABB Power Grids Ltd. on 1 
...
Read more...
---
Zest grows Africa base with local partners
June 2020, Zest WEG Group , News
"The key to sustainable growth in Africa is partnering with locally owned companies which have proven track records, are technically sound, have strong market knowledge and a business culture aligned 
...
Read more...
---