printer friendly version
From the editor's desk: Printing the future
February 2019
News
3D printing – aka additive manufacturing – is the process by which material is solidified layer-on-layer to produce physical objects based on computerised models. While the idea is almost 40 years old now, it just hit its prime as a viable manufacturing technology. No longer limited to the confines of the rapid-prototyping workshop, the cost of 3D printers has come down fast, while the range of printing material continues to grow exponentially. Notably, it is now possible to print anything from human body parts through food to fine jewellery, depending on your preference as a designer.
In a production context, it is considered one of the more disruptive technologies of the Industry 4.0 era because of its potential to upset the economics of manufacturing. As prices drop and the technology becomes ubiquitous, it's been predicted that certain products will be cheaper to manufacture at, or much closer to, the point of sale. The idea is that even though the individual unit cost may be higher, this would be offset by the saving on transport and other inventory related expenses. In the automotive industry, for example, spare parts could be printed in the repair shop as and when they are required, cutting the need for inventory and supply chain management. The raw materials would, of course, have to be held on the premises, so some degree of stock holding will still exist.
Among the automation companies, Metso is one of the first movers in the field. For years, Metso Flow Control has been exploring the possibilities of the technology for manufacturing purposes. So far, this has been limited to research and development and the quick resupply of rarely used spare parts to customers around the globe. But that changed recently after the company received an urgent call from an end user having problems with the valves it currently used in a harsh gas treatment application. A new solution was needed, capable of faster cycle speeds and exceptionally long service intervals.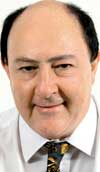 Utilising their experience with digital models and 3D printing, Metso engineers were able to produce robust new valve components for this application, custom-designed to cope with the extreme process conditions, and manufactured from materials capable of lasting the duration of the extended service intervals. This project cut to the quick of Industry 4.0 promise in an elegant combination of customer pull and technology push, which resulted in the company shipping its first ever valves fitted with printed components. To meet the radical specification, Metso used 3D printing technology to create a new, ultra-robust valve design with special emphasis placed on the sliding surfaces. For more on how they did it, see 'First Metso valves with 3D printed parts'.
Steven Meyer
Editor: SA Instrumentation & Control
Credit(s)
Further reading:
Emerson publishes 2019 Social Responsibility Report
July 2020, Emerson Automation Solutions , News
Emerson combines industry-leading technology and innovation to make a positive impact on employees, customers and communities around the world.
Read more...
---
FIRST Lego League goes from strength to strength
July 2020 , News
FIRST (for inspiration and recognition of science and technology) is an international organisation that aims to generate an interest in mathematics, science and technology through the use of robotics 
...
Read more...
---
Aguru announces successful Safe-Trace Contact Tracing trial at Adcock Ingram Critical Care
July 2020 , News
Aguru Business Solutions (Aguru), a company specialising in automation and digital transformation advisory and project management services, has successfully completed a Proof of Concept (PoC) trial of 
...
Read more...
---
From the editor's desk: Coronavirus pulls the trigger on digital transformation
July 2020, Technews Publishing (SA Instrumentation & Control) , News
The general consensus among economists is that the disruption to global markets caused by the coronavirus pandemic is going to result in economic upheaval of proportions not seen since the disastrous 
...
Read more...
---
Siemens South Africa joins forces with the National Ventilator project community in response to the COVID-19 pandemic
June 2020, Siemens Digital Industries , News
Siemens has been a long-standing partner of the Council for Scientific and Industrial Research (CSIR) in South Africa and have cooperated in various field of research, including manufacturing and mining. 
...
Read more...
---
Endress+Hauser Switzerland turns 60
June 2020, Endress+Hauser South Africa , News
The Swiss sales centre of Endress+Hauser is celebrating its 60th anniversary. Active in Switzerland since 1960, today the global leader in measurement instrumentation, services and solutions for industrial 
...
Read more...
---
How investing in a niche market placed Yokogawa aboard the International Space Station
June 2020, Yokogawa South Africa , News
While the world was abuzz with excitement over the revival of U.S. manned spaceflight, another equally promising space endeavour flew under the radar. On 20 May, the H-II Transfer Vehicle (HTV-9), affectionately 
...
Read more...
---
Siemens and Bentley Systems build digital twin for Indonesian petrochemical complex
June 2020, Siemens Digital Industries , News
Siemens and Bentley Systems will develop the first petrochemical digital twin in Indonesia for Chandra Asri, the country's largest integrated petrochemical complex. With over 27 year footprint, the latter 
...
Read more...
---
Hitachi ABB Power Grids commences operations
June 2020, ABB South Africa , News
In accordance with the agreement signed on 17 December 2018, Hitachi and ABB have announced the completion of all required procedures as planned and the formation of Hitachi ABB Power Grids Ltd. on 1 
...
Read more...
---
Zest grows Africa base with local partners
June 2020, Zest WEG Group , News
"The key to sustainable growth in Africa is partnering with locally owned companies which have proven track records, are technically sound, have strong market knowledge and a business culture aligned 
...
Read more...
---