printer friendly version
Still Profibus, now with IoT performance
November 2015
Fieldbus & Industrial Networking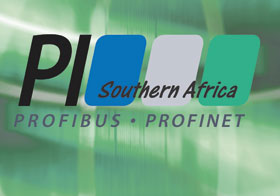 Profibus & Profinet International (PI) is the umbrella organisation that represents both the Profibus and Profinet technologies internationally.
Its mission is to show industry the benefits of fieldbus in general, and Profibus and Profinet in particular. Its chairman, Karsten Schneider, has some twenty years industrial automation experience with Siemens where he is currently still employed, but for the last three and a half years this has been as the full-time chairman of PI. He was in South Africa recently where SA Instrumentation and Control quizzed him about this new buzz in the automation community that just keeps getting louder.
"The idea of an Ethernet-based fieldbus is not new," says Schneider, "in fact, Profinet has been adopted in factory automation applications for almost ten years. What we are seeing now though is a rapid increase in interest to extend its use to process automation as well."
What is driving this growth, particularly in Western Europe, is a realisation that the ideas of Industry 4.0 (or the Industrial Internet of Things) unlock the ability for developed nations to compete with low cost manufacturers like China and Southeast Asia. For high cost manufacturers, Germany for instance, to stay competitive, they need to unlock new value across their entire supply chains. The key to this is bandwidth, but the requirement is that it must extend all the way down to the factory floor. This is where the traditional serial fieldbus architectures have reached their limits.
Profinet solves the problem as it is an open industrial Ethernet standard that uses TCP/IP and IT standards and provides real-time Ethernet communications all the way down to the lowest level of a factory. In addition to speed, Profinet also offers the advantage of being infinitely more scalable than traditional fieldbus. The limit in Profibus is 126 nodes, while in Profinet there is virtually no limit – a network of 15 000 nodes was quoted as an example.
Standard, standard and more standard
Since it is standard Ethernet, installation and monitoring of a Profinet system is simplified by the use of standard tools from the IT world. The cables are standard Ethernet (one cable for all purposes) and, unlike legacy fieldbus, there is no restriction on topology. Ring, tree, star and line (or any combination of these) are all possible, and if wireless is needed, just use standard WiFi. For network diagnostics, the simple network management protocol (SNMP) provides a standard method of getting information out of the Ethernet switches, and keeping track of the latest architecture as network expansion occurs. Since it is standard TCP/IP, remote network access is easy via a standard web server and browser, which is particularly helpful to machinery OEMs who want to avoid expensive service calls by remotely networking into the customer's installation. Best of all, as advances in IT development increase the speed of standard Ethernet, so the speed of Profinet increases in harmony.
What about device level diagnostics?
"While Profinet has been designed to offer much more than just standard Profibus functionality, the legacy Profibus profile is accommodated in the Profinet protocol," explains Schneider.
What this means is that all Profibus DP and Profibus PA systems can be switched to Profinet with a minimum of fuss, including the profiles for Profisafe and Profidrive For legacy devices with no onboard Ethernet connection, this is done through a proxy which acts as a translator i.e. Profibus on one side to the field device and Profinet on the side to the control system. As far as the device is concerned: diagnostic data, safety data and I/O data are all sent in exactly the same way as before. The translator does the conversion to TCP/IP and Profinet, which allows simultaneous data transmission from many different devices all over the same Ethernet cable.
So what must still be done?
"The gaps that we must address going forward are Ethernet extension with hazardous area certification; power over the cable; and extending the cable limit from 100 to 1000 metres," says Schneider.
These problems are being addressed by a consortium of PI member companies that includes ABB, Siemens, Yokogawa and Emerson. PI is deliberately not part of this consortium as it says that what must be developed are standard Ethernet solutions, not something that is specific to Profinet. Most DCS vendors are already also working towards Profinet connectivity directly into their control systems, but here they have the flexibility to follow their own product roadmaps and strategies.
For hazardous area applications, Profibus PA remains the solution for the foreseeable future – through a proxy translator with hazardous area approval. Wireless is another solution, but this is seen as useful for niche applications only as the standard requirement remains for cable.
According to Schneider, the full suite of Profinet solutions, including hazardous areas, will only be available about five years from now, but the benefits are already so compelling that end-users can derive significant advantage from a switch to Profinet today. Siemens, for instance, is encouraging all its customers to switch to Profinet tinyurl.com/powpc5e.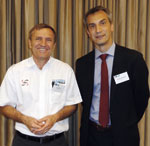 David Bean (left) pictured with Karsten Schneider.
PI SA and the South African perspective
Schneider believes that PI's biggest strength is its diverse representation through a network of country certified member organisations. It's a strategy he describes as "Think globally, act locally."
David Bean, CEO and founder of Industrial Data Xchange (IDX), is chairman of the local PI chapter – PI SA. IDX is an industrial IT company specialising in connectivity solutions, training and specialist system integration services. Profibus and Profinet are both supported at the IDX Academy, which is also certified to offer courses under the Profibus & Profinet International Certified Training Programme.
Bean believes in the benefits of Profinet adoption, but, he says, we need to understand how better to support the local end-user community in this regard. Schneider adds that the adoption of Profinet is currently very much linked to the type of local manufacturing involved. In Europe, with its high requirement for factory automation and supply chain optimisation, the adoption rate is high since there are fewer requirements for the hazardous area capability. By contrast, adoption rates in the Middle East are lower, as for now they prefer to stick to trusted Profibus PA solutions at their refineries.
In South Africa, one of the main GDP contributions is from mining and the export of raw materials. "Some of the mining houses are looking very seriously at Profinet," says Bean. "The reality at the moment though is that despite the level of interest, the global slump in commodity prices continues to delay the implementation of any projects not absolutely necessary for survival."
Despite the fact that adoption in South Africa seems linked to global commodity demand, PI SA says it is using the slowdown as an opportunity to educate the market and make sure all the necessary support structures are in place for the inevitable turnaround. At a recent strategy session with end-users, the organisation identified the key focus areas as: training, branding, technology comparisons, actual customer experience, local support, and partnering with recognised industry bodies.
PI already has a reputation as a leader in the training and support of end-users, and locally this will happen through IDX's well established training academy. Of interest though is the strategic relationship developing with the Society for Automation, Instrumentation, Measurement and Control (SAIMC www.saimc.co.za). Incumbent SAIMC president, Vinesh Maharaj, has done a stellar job of transforming the SAIMC into the accepted C&I voice of authority in South Africa. "It is important that we partner with organisations like PI," he says. "It's our responsibility as SAIMC to make our members aware of the benefits of new technologies like Profinet. We speak from a position of vendor neutrality, and as such, we are free to make direct technology comparisons based purely on application."
The SAIMC is ideally positioned to promote technologies like Profinet through the Technology Evenings hosted monthly at its countrywide network of branches. As for marketing and knowledge transfer through actual customer experience, this will be addressed in SA Instrumentation and Control through regular columns written for the South African end-user by Karsten Schneider and David Bean.
I have a feeling that local interest in Profinet will be high; it's new and exciting after all. However, I think adoption will be slow at first, not because of a lack of hazardous area certification, or any other technical limitation, but because of the pressure the global economic slowdown has placed on emerging market economies.
For more information contact David Bean, Industrial Data Xchange, +27 (0)11 548 9960, david.bean@idx.co.za, www.idx.co.za
Credit(s)
Further reading:
IO-Link portfolio for decentralised automation
Turck Banner Fieldbus & Industrial Networking
Turck Banner is expanding its extensive IO-Link portfolio with a robust IO-Link master with an M12 power supply, a compact IO-Link master in IP20, and an I/O-Hub with an additional power supply. This enables power hungry equipment such as grippers to be fed with up to 4 A of power.
Read more...
---
Intrinsically safe EtherCAT I/O modules
Beckhoff Automation Fieldbus & Industrial Networking
As a robust alternative to IP20 solutions with their elaborate housing protections, EPX modules with IP67 protection rating enable reliable data collection.
Read more...
---
Modbus probes gain support for parity options
RF Design Fieldbus & Industrial Networking
The marquee feature of firmware version 1.06 facilitates the use of odd, even, mark or space parity modes when communicating with bus probes.
Read more...
---
Compact and powerful energy monitoring unit
Opto Africa Holdings Electrical Power & Protection Fieldbus & Industrial Networking
The RIO EMU's slim form factor is ideal for 'just one more thing' retrofit jobs thanks to DIN-rail and panel-mount options.
Read more...
---
Is your manufacturing plant ready for IoT?
Editor's Choice Fieldbus & Industrial Networking IT in Manufacturing
Pockets of IoT exist in manufacturing plants today; the challenge is to fully digitalise the entire plant.
Read more...
---
Extend the life of your legacy devices
RJ Connect Fieldbus & Industrial Networking
If your serial-based machines or devices have been running for decades and helped your business grow, you might worry about how long you can still hold on to these assets. In this article, we highlight three major challenges you will face when enabling serial connectivity between your legacy devices and modern systems. We also provide expert tips to make your upgrade easy.
Read more...
---
AS-i and IO-Link power distributor for hygienic areas
Fieldbus & Industrial Networking
The special housing material and high ingress protection allow operation in areas with frequent intensive cleaning processes, for example in the food industry.
Read more...
---
Upgraded IIoT functionality for excom Ethernet I/O
Turck Banner Fieldbus & Industrial Networking
Firmware update adds functions to excom Ethernet gateways, such as webserver, HCiR and parallel access to HART devices.
Read more...
---
IO-Link master with OPC UA interface
Pepperl+Fuchs Fieldbus & Industrial Networking
The combination makes data accessible beyond the central control system, for decision-makers to access without complex workarounds.
Read more...
---
Mobile data memory for IO-Link
ifm - South Africa Fieldbus & Industrial Networking
The DSU100 is a 128 KB FRAM data carrier which serves as a storage medium in industrial environments.
Read more...
---