printer friendly version
PlantPAx provides flexibility in mining solution
January 2014
IT in Manufacturing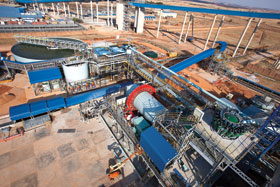 Gold Fields' South Deep Gold Mine has leaped ahead in the global drive towards environmentally sustainable mining using PlantPAx technology from Rockwell Automation. Based on standardised control modules and engineering methods developed specifically for the mining industry, Rockwell Automation has helped the mine's metallurgical plant become an industry leader in overall resource management with seamlessly integrated plant production control, visualisation and reporting.
"South Deep Gold Mine is currently Gold Fields' only operational mine in South Africa and we are planning to increase its throughput and yield. One of Gold Fields' main objectives is to use technology and innovation to enhance environmental sustainability and productivity," says Louis Oosthuizen, unit manager C&I, Gold Fields. "This new level of plant control afforded by Rockwell Automation's mining solution will help us to improve our reagent consumptions and enhance resource management – including energy and water. The solution will also enable us to make more informed business decisions, while at the same time, lowering risks of plant downtime through improved visibility and control."
Rockwell Automation developed the mining solution based on decades of domain expertise. The system provides a consistent look and feel, with common tags/descriptions and user experience, and is a more scalable and cost-effective alternative to a traditional DCS-based control solution. The mining solution using PlantPAx provides additional flexibility, managed mining-specific standards and reduced commissioning time and costs.
The new solution replaced the plant's legacy Rockwell Automation scada system originally installed in 2001. The project also required for the plant's new ball mill circuit, pebble crushing circuit, additional thickener, four leach tanks and an extra elution column to be incorporated into this single control, visualisation and reporting system.
"Because Gold Fields could not accommodate a full week's downtime, typically required for system upgrades of this nature, the main challenge was to perform the changeover while simultaneously launching the new control system, all without disrupting the plant's day-to-day operations," says Johan Buckle, lead engineer, Rockwell Automation. "Working closely with the mine's personnel, we changed over to the mining solution during the plant's normal eight hour maintenance shutdown periods, ensuring no disruptions at all."
Implementing the mining solution using PlantPAx
After gaining a complete understanding of plant operations, engineers selected which control modules to incorporate into the mining solution from a set of pre-defined mining standards. Rigid software standardisation allowed for rapid code generation, which resulted in engineers requiring significantly less time and resources to develop the new control system. "Furthermore, software standardisation means that Rockwell Automation engineers are instantly familiar with the PlantPAx technology installed at Gold Fields, without requiring extensive software familiarisation," adds Buckle.
The solution consists of a PlantPAx control system comprised of six controllers which process commands, protect and report on areas such as the plant's ball mill and elution columns. These controllers are configured to buffer up to 1000 time-stamped data entries (plant history, events and alarms) to guarantee uninterrupted data logging in the event of a network failure.
For comprehensive visualisation of plant processes, the PlantPAx visualisation software was built into the system. ViewTools, was also incorporated to provide the benefit of direct client access to the controller without the need for a path through the server. Microsoft SQL, with built-in reporting services, was installed and configured to log all plant history, events and alarms. PlantPAx-licensed software, SQX, was installed to allow the SQL to be populated directly by the controllers, and engineers created unique interfaces to support third-party field devices, such as drives and instrumentation.
"Before commissioning, engineers tested the newly configured solution against comprehensive sets of plant operation data in order to ensure that all processes, including interlocks and sequences, are correct, and to minimise the risk of teething problems," says Buckle. "Using the same plant operation data, we were able to simulate plant processes on the actual controllers for live operator training before commissioning, which further reduced risks associated with up skilling plant operators in fully operational environments."
With the SQL configured to log history, events and alarms, users are able to follow trends, trace individual entries to specific users, and keep track of analogue and digital inputs such as flow rates, temperatures and various other inputs from across the plant. All data is time stamped by the controllers to ensure data integrity.
Acknowledgement of alarms is user and time-stamped and logged, which protects operators from being reproached for ignoring essential warnings, while at the same time, improving accountability. This increases overall plant safety, especially at South Deep Gold Mine where cyanide alarms and other safety warnings are ­critical indicators.
Advanced reporting and KPIs
A series of reporting services are built into the SQL, which generates and relays comprehensive operation and production reports to management levels for corporate monitoring of key performance indicators (KPIs). Reports include information on the amount of ore processed during each 12-hour shift. Other figures include a water consumption report generated by a flowmeter which totalises hourly flow rates, while medium-voltage switchgear reporting provides information on megawatt hours used. KPIs can also be monitored from a web-based page that indicates plant statuses in colours.
"Centralising knowledge, refining reporting functionality and improving management across the mine are the main drivers behind this project. Standardisation and comprehensively managed data logging ensures that the mining solution using PlantPAx provides us with a single, highly accurate view of the plant across the whole control system," concludes Buckle.
For more information contact Johan Buckle, Rockwell Automation, +27 (0)11 654 9700, jpbuckle@ra.rockwell.com, www.rockwellautomation.co.za
Credit(s)
Further reading:
Siemens launches report on Dawn of Digitalisation and its Impact on Africa
October 2019, Siemens Digital Industries , IT in Manufacturing
Africa needs a digitalisation strategy to compete in the global economy.
Read more...
---
Integrating IT with Operations Technology - a CIO perspective
October 2019, Absolute Perspectives , IT in Manufacturing
Digitisation projects, spurred on by Industry 4.0 and technological advances, have opened up many possibilities to create new value.
Read more...
---
Rockwell Automation walks the Connected Enterprise talk
October 2019, Rockwell Automation , System Integration & Control Systems Design
The Connected Enterprise is Rockwell Automation's vision for seamless integration across all divisions of the organisation to enable more efficient decision making through access to the power of information based on real-time data.
Read more...
---
Rockwell Automation announced as Founding Member of ISA Global Cybersecurity Alliance
October 2019, Rockwell Automation , News
Production facilities can contain thousands of technologies from different vendors. Cybersecurity threats only need to exploit one of them to steal trade secrets, stop production or even harm workers. 
...
Read more...
---
The power of data
October 2019, Throughput Technologies , IT in Manufacturing
Gain access to important information with ProSoft's new OPC UA-based gateway and data logger.
Read more...
---
Securing and managing devices the modern way
October 2019 , IT in Manufacturing
Organisations of all types and sizes are bringing vast numbers of devices into their IT infrastructure and networks. Moreover, these devices are not only smartphones, wearables and tablets because the 
...
Read more...
---
Reliable gas production
September 2019, Siemens Digital Industries , IT in Manufacturing
Energy supplier uses Siemens technology for optimum information exchange.
Read more...
---
Oil and gas producer reduces downtime by 20%
September 2019, Rockwell Automation , Maintenance, Test & Measurement, Calibration
In India, the swelling middle class has created a growing market demand for petroleum products. An oil and gas producer, one of India's largest petroleum product manufacturers and distributors, with a 
...
Read more...
---
Automotive supplier relies on Siemens PLM solution
September 2019, Siemens Digital Industries , IT in Manufacturing
Küster Automotive is an internationally active family-run company and a part of Küster Holding. A full-service supplier, Küster manufactures components for the automotive industry. For its production 
...
Read more...
---
Top tips to help you implement 4IR projects that deliver value
September 2019 , Editor's Choice, IT in Manufacturing
In the just over 10 years I have spent working on IT projects in the manufacturing space, the amount of new fads and IT jargon that has to be adopted has reached the heavens, and ascended into other realms. 
...
Read more...
---