printer friendly version
Monitoring of bulk solids in storage silos
August 2012
Level Measurement & Control

The monitoring of bulk solids in storage silos for companies that mine, handle or manufacture granular products, forms a pivotal link in supply chain efficiency and directly affects production output and profits – knowing the safety stock levels accurately equals more money in the bank.
Although inventory, production and financial managers may all agree with the above statement, it does not mean that all parties have the same priorities. There are certain reoccurring challenges when it comes to silo monitoring that cause conflict between managers, the most common being: "What safety stock levels should we hold?" This dilemma arises simply because current technologies and methods being employed for silo stock monitoring were never specifically designed for the application and resulted in unreliable stock level reporting. This left managers with the task of predicting delivery and production schedules without accurate information.
Traditional methods such as ultrasonic, radar and laser level transmitters only measure a single sample point across the entire uneven surface of the stored material. Therefore readings will differ drastically depending on where the instrument is installed on top of the silo. This is true for 'dip testing' as well. Also, these traditional methods cannot always penetrate the dust cloud and many cannot measure during filling or emptying. This leads to unreliable stock level reports being sent to management, causing a tendency to hold higher levels of safety stock material to avoid shortages that would halt production. Ultimately this leads to higher than necessary production costs and reduced profitability due to the cost of the excess stock.
Two important questions to move towards more profitable safety stock levels for accurate and predictable inventory control:
1. What are the essential requirements for useful silo monitoring?
2. What are the common physical challenges that current methods cannot overcome?
Although each application is different, there are generally four requirements that are most important:
* High level of accuracy.
* Continuous measurement capability.
* Open communication system.
* Calculated mass, volume and level measures.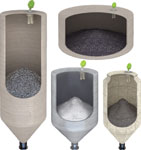 To answer the second question, consider the four most common obstacles faced when measuring stored bulk solids:
1. Suspended dust – in a typical silo there is an inherent amount of dust present in the space between the stock level and the top of the silo. The finer the stored granules, the denser the dust cloud. This can become quite severe during filling and emptying of the silo and can take hours to settle. Advanced laser technology is now widely available and able to accurately scan large uneven surfaces, however lasers cannot penetrate dust effectively and readings often require human manipulation or 'cleaning up'. Traditional ultrasonic level transmitters installed at the top of silos use a sound frequency which cannot penetrate the dust cloud sufficiently to measure the stock level accurately, in some cases not at all. Ideally an instrument that operates in the range 3-10 kHz is required. The 3D LevelScanner IIfrom Israeli based APM has electronic transducers that operate dynamically within this optimal frequency range. The instrument adjusts automatically within this range to suite the particular application and installation, ensuring penetration to the stored solid's actual surface profile.
2. Various silo shapes – businesses often utilise unique silo shapes in order to meet their particular process requirements, sometimes there are even multiple silo shapes and sizes per site. Also silos that are the same in geometry may store products of different mass properties, different dust cloud density etc. These differences create the necessity for plant managers to utilise various measuring techniques on the same plant to acquire accurate level, volume and mass readings. This reduces the reliability of measurements, increases labour costs, increases instrumentation costs and increases potential points of failure in the production process. The maintenance of this type of silo monitoring system is very difficult and expensive to manage. The 3D LevelScanner II has on-board silo/bunker manipulation firmware as well as versatile management software, allowing users to 'teach' each unit the specific application properties of each different silo under monitoring. This would include specific silo geometry, specific material density for mass measurement and mapping of small obstructions etc. One instrument for practically every silo shape and all bulk materials using a universal Windows based system for accurate inventory control.
3. Uneven measuring surface – an under-estimated challenge is the nature of stored bulk solids to pile randomly creating an extremely uneven measuring surfaces. Vastly different from measuring the level of a stored liquid which is flat. Since traditional measuring methods only measure a single point across the entire uneven surface, the readings can often be unreliable. Dip testing, single horn radar/ultrasonic and capacitance probes all only read the level at one single sample point. So depending on where the instrument is mounted, that will determine the level that is transmitted to the control centre. Because of the random accumulation of product inside the silo, the level on the right side could be vastly different from that on the left side and again different in the middle. The larger the silo the larger this difference will be and the more inaccurate the volume, mass and level readings will be. In order accurately to measure an uneven surface an instrument that can read many different points across the profile is required. The APM system has 3 integral transmitting horns and each transmit wide pulses (up to 70 degrees wide) to cover a larger surface area. The multi horn technology enables the instrument to measure approximately every 20 square centimetres of the entire surface profile. It then combines the results to give the profile of the uneven surface with an accuracy of 1-3%. The instrument then transmits an accurate volume, mass, maximum, minimum land average level, as well as a 3D image of the profile. Having the 3D graphic has the added benefit of assisting managers to curb any bridging in the silo, which improves silo maintenance scheduling.
4. Closed communication system – the 3D level scanner requires no additional outside calculations after initial installation setup, all calculations are done on-board. The RS485 communications and Modbus registers allow for easy transmission and acquisition of the readings by an existing client network. Furthermore, converting the RS485 to Ethernet allows the user to transmit and communicate via TCP/IP over 10/100 networks or even Wi-Fi.
Having continuous accurate silo stock readings allows the management team to reduce safety stock levels, plan and predict production, forecast costs and accurately measure material usage in recipes. The trick is achieving the required level of accuracy (1-3%) by measuring and combining multiple points across the surface profile. The equipment must be able to calculate the mass/volume/level readings without human interference and continuously transmit the readings using a universal communication protocol.
Credit(s)
Further reading:
Radiometric solutions in refineries
November 2019, Mecosa , Level Measurement & Control
Berthold Technologies' radiometric instruments for non-contacting level and density measurement are widely used in the oil refining industry, where customers include Exxon Mobil, Sinopec, Shell, BP, Conoco 
...
Read more...
---
Interface measurement in desalters
November 2019, Mecosa , Level Measurement & Control
Interface measurements in desalters are often regarded as non-critical, even though every drop of oil to be refined passes through the desalter. As refineries try to maximise their margins, so-called 
...
Read more...
---
Level monitoring of groundwater
October 2019, WIKA Instruments , Level Measurement & Control
Much of our drinking water is extracted from subterranean resources. Water that falls to the surface of the Earth drains not only into rivers and lakes, much of it will permeate into subterranean reservoirs. 
...
Read more...
---
Ultrasonic sensor for remote water level measurement
October 2019, Instrotech , Level Measurement & Control
Instrotech has available the Senix ToughSonic CHEM range of ultrasonic sensors, in service around the world in some of the most demanding and corrosive industrial environments. They measure a wide variety 
...
Read more...
---
Simple measurement of liquid levels
October 2019, VEGA Controls SA , Level Measurement & Control
In 2016, VEGA introduced the Vegapuls 64, its first radar level sensor for liquids that measures at a frequency of 80 GHz, which allows considerably better focusing of the radar beam. With Vegapuls 64, 
...
Read more...
---
Density compensated pressurised vessel level measurement
October 2019 , Level Measurement & Control
The traditional approach to level measurement in closed vessels such as boilers, evaporators, crystallisers or distillation columns, has been to use a conventional differential pressure (DP) transmitter 
...
Read more...
---
Kobold's new float level switches
August 2019, Instrotech , Level Measurement & Control
Kobold's M-series level switch comprises a float that slides up and down with the liquid along a guide tube. Thus, up to 4 reed contacts moulded in the guide tube are switched in a non-contacting fashion 
...
Read more...
---
Foxboro buoyancy level transmitter
August 2019, I-PAS (Industrial Process Automation Solutions) , Level Measurement & Control
Principle of operation
When an element a (displacer rod) is immersed into a liquid, according to Archimedes' Principle, the displacer will 'lose' some of its weight proportional to the level of the liquid 
...
Read more...
---
Level measurement for sanitary applications
August 2019, WIKA Instruments , Level Measurement & Control
WIKA's model FLM-H magnetostrictive sensor has been specifically designed to meet the requirements of the food and beverage, pharmaceutical and biotechnology industries. The sensor is particularly suitable 
...
Read more...
---
Water level system controls cathodic protection
August 2019, Omniflex Remote Monitoring Specialists , Level Measurement & Control
Corrosion Control Services is a leading specialist in the design, installation, commissioning and monitoring of cathodic protection. CCSL carries out works on reinforced concrete structures, historic 
...
Read more...
---