printer friendly version
Automation for profit
August 2012
System Integration & Control Systems Design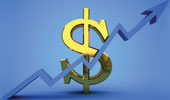 Firstly let us define what we mean by Automation? The Oxford Dictionaries Online1 suggests: "The use or introduction of automatic equipment in a manufacturing or other process or facility" and then defines automatic: "(of a device or process) working by itself with little or no direct human control".
Why Automate?
There are many reasons to consider automation – most of which, by virtue of the above definition, entail reducing or removing direct human input involvement in a machine or process.
The grounds for reducing human involvement are myriad. The entries in Table 1 could be used as a partial checklist.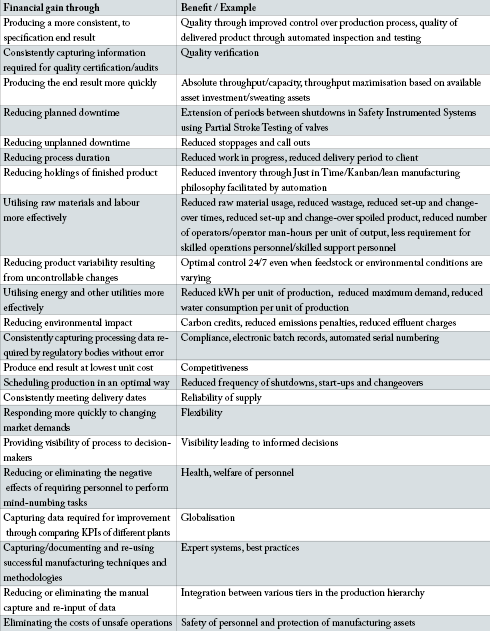 Return on Investment
Whether your project goal is to improve on-specification product, increase rate of production, or to prevent accidents (or one or more of the whole gamut of goals in between) the bottom line is that every proposed investment in automation can be evaluated in terms of profitability. It could be argued that even saving lives (safety) is driven by a profit motive.
The most common measure of profitability that your financial director or equivalent is going to use is Return on Investment (ROI), which BusinessDictionary.com2 defines as "The earning power of assets measured as the ratio of the net income (profit less depreciation) to the average capital employed (or equity capital) in a company or project.
Expressed usually as a percentage, return on investment is a measure of profitability that indicates whether or not a company is using its resources in an efficient manner."
If the ROI of a proposed project is lower than the company's cost-of-capital then the company will be better off not executing that project.
Using the above definition to calculate a project's ROI you need two numbers – in terms that we instrumentation and control people understand – output (earning power) and input (capital employed).
But can you quantify these two key numbers?
Earning power = Output
To arrive at the 'output' number for a greenfields project you need to understand all possible economic means/technologies of producing the process product. That means input from manufacturing specialists, chemical engineers and other disciplines. For a brownfields site this is more often derived through a gap analysis – What do you want to improve? What will be the nett financial effect of that improvement?
In broad brush strokes, the answer to the question 'What do you want to improve?' is generally known by the time a project cost justification kicks off. But the detail may be missing. For instance the primary goal may be to produce 500 000 widgets per day. But there are many details to consider: At what unit cost? What are the dimensional tolerances and other desired product characteristics? Are there safety issues to be addressed? Over how many shifts? With or without overtime? How cyclical is demand? What is the acceptable lead time for sales order fulfilment? What regulatory compliances are required?
Capital employed = Input
To determine the 'input' number you need a reasonably accurate costing (and hence scope) for the proposed automation project and that means evaluating: What do you have now? How will you achieve the planned improvements?
To answer the question 'What do you have now?' will require an audit of existing automation infrastructure and documentation and may require documentation of existing loops (in the absence of correct and comprehensive As-Builts). And then there are many questions to be answered: Is the existing automation infrastructure supportable? Is it based on current or outdated technology? Will it support new standards that the organisation intends to benefit from? Is it expandable? Is the process control system capable of handling more I/O? More memory? Will the new or expanded system need to interface to SAP, Oracle, Syspro or some other ERP/MES system? If so, with what acceptable latency? What will the impact be on IT infrastructure, networks, servers, architecture? Does this project impact on or is it impacted by infrastructural plans such as migration of Operating Systems to 64-Bit or to virtualisation? How will backups and data archives be handled?
Who you gonna call?
As the Ghostbusters catchphrase asks. This early stage status audit and evaluation of the scope of work to arrive at a cost estimate is time-consuming. Often the engineer or manager responsible for performing the gap analysis does not have the time to perform such in-depth work. The engineer's favourite SI is not usually up to the task because his role is normally to execute a defined C&I scope. For all but the smallest projects the company's preferred automation system vendor is not the appropriate organisation to perform this task.
For a greenfields project or a brownfields project of any substantial size there is only one logical answer to this question: This is the realm of the consultant – and in many cases a consulting organisation that can field a multi-disciplinary team.
References
1. Oxford University Press, Oxford Dictionaries Online, www.oxforddictionaries.com
2. University Press WebFinance Inc, Business Dictionary.com, www.businessdictionary.com
About the author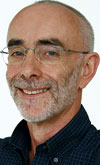 Andrew Ashton
Andrew Ashton has electrical, mechanical and business qualifications and has been active in automation and process control since the early 1980s. Since 1991 he has headed up a company that has developed formulation management systems for the food, pharmaceutical and chemical manufacturing industries and manufacturing solutions involving the integration of various communication technologies and databases. Developed systems address issues around traceability, systems integration, manufacturing efficiency and effectiveness. Andrew is a contributing editor for S A Instrumentation and Control.
Credit(s)
Further reading:
From the editor's desk: IT-OT integration becoming a must, but there are challenges
October 2019, Technews Publishing (SA Instrumentation & Control) , News
We're seeing the insecurity around digital transformation start to fade as the history of case studies builds to show how enlightened manufacturing companies have applied the ideas to rationalise their 
...
Read more...
---
The complexity of water management in mines
October 2019, Endress+Hauser , System Integration & Control Systems Design
Industries across the globe are encouraged to reuse water as much as possible, and therefore a 'zero liquid discharge' policy has already been implemented by various companies in different sectors.
Read more...
---
PC-based control platform optimises water treatment product dosing
October 2019, Beckhoff Automation , System Integration & Control Systems Design
Clean water is vital in both consumer and commercial areas, including numerous industrial applications, such as mining, petroleum refining and groundwater remediation, in addition to residential applications
Read more...
---
Rockwell Automation walks the Connected Enterprise talk
October 2019, Rockwell Automation , System Integration & Control Systems Design
The Connected Enterprise is Rockwell Automation's vision for seamless integration across all divisions of the organisation to enable more efficient decision making through access to the power of information based on real-time data.
Read more...
---
Omniflex eases mine water compliance
October 2019, Omniflex Remote Monitoring Specialists , System Integration & Control Systems Design
Water licences carry a 'Burdon of Proof' that the licence holder will not harm the environment or the water system through its activities. This covers the use of water from the system and the responsible 
...
Read more...
---
Smart Press Kit from Bosch Rexroth
October 2019, Tectra Automation , System Integration & Control Systems Design
Bosch Rexroth is setting new standards for fast and efficient pressing and joining applications with its innovative new modular Smart Press Kit. Designed to meet future industrial requirements by providing 
...
Read more...
---
Emerson expands asset management coverage
October 2019, Emerson Automation Solutions , System Integration & Control Systems Design
Emerson has expanded AMS Device Manager with HART-IP support, making it easier to connect with devices and control systems and potentially eliminate hundreds of thousands of dollars in project hardware 
...
Read more...
---
Johnson Controls introduces Verasys
October 2019 , System Integration & Control Systems Design
Johnson Controls recently introduced Verasys, a plug-and-play controls system that integrates heating, ventilation, air-conditioning and refrigeration (HVACR) equipment and controls. Verasys offers customers 
...
Read more...
---
From the editor's desk: Automation professionals need communication strategy too
September 2019, Technews Publishing (SA Instrumentation & Control) , News
Catching the eye of a potential customer has become more difficult than ever thanks to the ethos of information promiscuity that defines the 21st century. It's never been easy to stand out in a crowded 
...
Read more...
---
CSS digitises energy consumption at Hulamin for global information accessibility
September 2019, Control Software Solutions , System Integration & Control Systems Design
Energy Cybernetics was contracted by the NCPC-SA as part of the IEE programme to undertake a compressed air system optimisation (CASO) assessment to recommend compressed air system energy efficiency opportunities 
...
Read more...
---