Guided wave radar
August 2012, Level Measurement & Control

With the introduction of the plics concept in 2003, Vega realised its vision of a truly simple way to measure level and pressure. The technical advances in plant and process technology since then have put new demands on instrumentation. Vega meets those new requirements by continuously adapting and updating its measuring instruments and services. A first step in this direction was taken in 2009, when the company introduced the new Vegapuls 60 generation, a further development of the plics concept. The newly developed Vegaflex Series 80 is the latest step in the effort to make measuring instruments for process automation simpler and more user-friendly.
Vegaflex 80 sensors, which operate according to the principle of guided wave radar, offer a new level of quality for industrial level and interface measurement. Beside simple instrument selection and menu-driven setup, the focus of the new development was on reliability and measurement security.
Selecting an instrument for a particular application is now as simple as A-B-C: the Quick Setup function guides the user through all relevant settings in a few simple steps. The built-in diagnostics functions make fast servicing and maintenance possible and the self-learning signal processing ensures a steady, maintenance-free production process. The series combines intelligent electronics with mechanically robust measuring probes, process fittings and housings. It thus ensures measurement security and reliability for production systems in all industries.
Vegaflex 81, 83 and 86 – the all-rounder for liquids
Vegaflex 80 is designed especially for measuring of liquids. The guided wave radar measuring principle is now standard in the chemical and energy industries as well as in pharmaceuticals and food production. The new instruments are as versatile as the applications in liquids are diverse. From raw materials storage to production processes to storage of finished products, reliable measurement data is always delivered.
Small and large measuring ranges as well as high accuracy and repeatability are typical requirements in the area of liquid level measurement. Concrete economic factors are also gaining importance in the selection of a suitable level sensor. Today, users want to:
* Save time and money when selecting and commissioning a sensor.
* Increase the availability of the system by ensuring long operating periods.
* Optimise their production through accurate and reliable readings.
To ensure simple selection, the sensor types are clearly divided into specific areas of application. For liquids there is the universal sensor Vegaflex 81, which comes with all the necessary approvals and process fittings. For applications in the pharmaceutical and food industries there is Vegaflex 83 is optimised with hygienic fittings. And for extremely large process pressure and process temperature ranges, Vegaflex 86 is available. Series 80 sensors require only one DTM for PC-based setup. The different sensor types can be operated conveniently and simply via the new 'family DTM'.
Selecting a DTM associated with a particular sensor type is no longer necessary, and there is also a new wizard that automatically guides the user through the necessary adjustment steps. Simple entries regarding the application and the process optimise the signal processing of the sensors. By means of a switching function, the sensor can be switched from level to interface measurement; setup and commissioning are thus completed quickly and reliably in just a few steps. Long operating periods are guaranteed by the wide selection of materials available for the process fittings and housing.
The all new electronics with intelligent, self-learning functions for signal detection, data acquisition and instrument diagnostics ensures accurate and reliable measurement data. Dynamic adaptation of signal processing gives users protection against signal blackout and overfilling. The measurement data and event memories with time stamp allow time-saving diagnosis of the measuring point and facilitate preventive maintenance. Developed in compliance with IEC 61508, the electronics allows the sensor to be used in safety instrumented measuring chains according to SIL 2/3.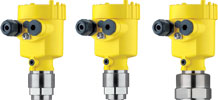 A wide variety of applications
The recent innovations are opening up many new areas of application. Reduced dead band distances of 0-50 mm and higher sampling rates of up to three measurements per second allow use in small dosing tanks or bypass applications with rapid changes in level. In addition, the measuring accuracy of ±2 mm and improved repeatability enable better utilisation of the volume of any container.
Coaxial probes have proven themselves well in liquefied gases and solvents. Available in two different diameters, they allow installation in tanks with many obstructions or very little space and ensure accurate measurement even in products with a dielectric constant of only 1,4. If the signal strength is not sufficient for a direct measurement, the measured value is reliably delivered by the new probe end tracking function.
In ammonia applications, the strong diffusion of the medium is easily kept under control by the optional glass process seal. This option now offers an economical alternative where expensive ceramic versions of the sensors were once required. It also ensures highest system reliability and a long service life.
The pharmaceutical and food industries put heavy hygienic demands on keeping sensors clean. The material used for the process fittings and housings as well as their surfaces are crucial and stainless steel is the chosen material for these applications.
The electro-polished plics housings and bare rod probes of Vegaflex 83 allow cleaning that is absolutely hygienic and leaves no residues. Plastic coated rod probes also meet the high demands on the surfaces contacting the medium. Special process fittings for the pharmaceutical and food industry allow optimal configuration of the sensors for each respective application. Food approvals according to FDA, 3A and EHEDG as well as Ex approvals according to ATEX and FM round out the selection options.
Vegaflex 82 – the specialist for bulk solids
Whether in the form of powders, granulates or pellets, bulk solids can be found in virtually every industry and level measurement is required in many tanks and containers holding these materials. The materials sometimes have a small dielectric constant and can be really difficult to measure with radar. They also tend to form build-up or generate enormous tensile forces. The tanks, sometimes huge, are pneumatically filled or fluidised and are extremely laden with dust, hardly ideal conditions for secure and reliable level measurement with radar. Nevertheless, Vegaflex 82 is designed precisely for these conditions with many innovations specially developed for bulk solids measurement and integrated into the smart electronics of this sensor.
Innovations for bulk solids measurement
If the dielectric constant of the measured product is close to the limit of what is directly measurable, Vegaflex 80 automatically switches on the probe end tracking function. It evaluates the residual energy reflected from the probe end and calculates the level from its apparent position. The product dielectric constant required for this is determined by the sensor itself beforehand under 'normal' operating conditions. This feature presents entirely new possibilities, especially with large measuring ranges. With it, reliable measurement with a dielectric constant from 1,1 upwards is possible – even in very tall silos.
Continuous evaluation of the dielectric constant can also be used for other applications. It can serve as a measure of the quality or moisture content of the medium being measured. Other process information in addition to level can thus also be obtained. If heavy build-up collects on the probe, yet another innovative feature takes effect: automatic suppression of interfering signals. This function initiates a dynamic adjustment of the signal processing and ensures high measurement accuracy despite changing process conditions.
To provide maximum flexibility in ordering and stocking sensors, automatic probe length determination was developed and implemented. This function facilitates installation of the instrument in case the probe length has to be adjusted on site. Activated simply by pressing a button in PlicsCOM or via adjustment software on a PC, the sensor determines the new probe length on its own and adapts all functions to this length.
The integrity of downstream processes is ensured by the probe monitoring function. In case of probe breakage, for example, this function informs the user immediately, enabling a rapid response to protect the production equipment and processed media.
Vegaflex Series 80 offers more than just a measurement
Series 80 has many new innovative features for high-performance level and interface measurement. Four instrument types, clearly divided into different areas of application and with multiple options for housing, process fitting and electronics, make selecting the right instrument much easier.
Simple handling with convenient Quick Setup function and automatic probe length determination makes setup and commissioning fast and cost-effective. The reduced dead-band distances for prevention of overfilling and the intelligent, self-learning electronics with dynamic adaptation to process conditions ensure measurement reliability and continuity not available previously.
When it comes to measurement integrity, diagnostics functions and asset management messages allow preventive maintenance and facilitate economical plant operation. Last but not least, the additional information about the quality of the product provides an expanded view of the process and enables optimal control.
By introducing Vegaflex Series 80, Vega has carried forward the plics tradition and made level measurement in process automation that little bit easier.
For more information contact John Groom, Vega Instruments SA, +27 (0)11 795 3249, john.groom@vega.com, www.vega.com