printer friendly version
Omniflex: a 50-year history
July 2015
News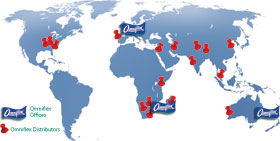 The beginning
On the 1st July 1965 a young chemical engineer and entrepreneur started an innovative industrial electronics company in Durban, South Africa. His idea was to take advantage of the newly invented transistor to make electronic modules for industrial automation, designed to replace unreliable mechanical relays.
That young engineer was John Moshal, and the company was Control Logic. Through some changes of ownership, and changes of name through the last 50 years, that company and that innovative spirit still thrive today in Omniflex.
Joined soon afterwards by Alan Murray, an innovative designer, the pair pursued their passion for developing products for the process control market. From their Durban base they launched into the sugar industry in KZN.
Conlog (short for Control Logic) quickly earned a reputation in the industrial controls market for doing its best work where direct customer interface was required. The ability to take on challenges other companies shy away from has always been and remains one of the company's strengths.
Evolution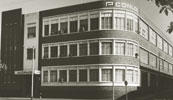 Conlog Umbilo Road circa 1976.
By 1970 Conlog was commissioning large turnkey installations throughout South Africa.
The company created a vertically integrated in-house capability covering every aspect of design and production from metal fabrication to software development. The company became a pool of innovation through early technology adoption and a can-do attitude.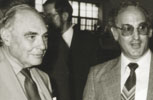 Harry Oppenheimer and John Moshal.
In order to continue to grow, Control Logic expanded its capital base in 1971, when Anglo American acquired 50% of the company.
In 1978 the Durban based company again leapt ahead with the invention of revolutionary alarm and interface technology for the Sasol 2 and 3 plants that helped establish the company as the largest local manufacturer of industrial electronics in Africa.
Using its depth of industrial experience and innovative spirit in electronics design for the harshest environments, the company diversified first into automotive electronics, by pioneering speed controls and car alarms, and later by inventing the technology necessary to launch the prepayment electricity metering sector in South Africa.
In the late 1980s, Conlog split into three divisions to focus on larger international market opportunities:
1. The original industrial division, which became Omniflex in 1996, continued to provide the technical innovations for the company's developments.
2. The automotive division became a leader in vehicle security systems with international exposure through a customer base that included Volkswagen, Toyota, Mercedes Benz and Samcor.
3. The pre-payment metering division became a world leader with its patented billing system to manage payment and recharge of meters.
Acquisition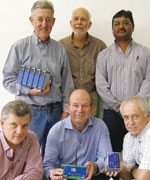 Omniflex management team.
In 1997, after the end of apartheid, when Anglo American divested from its industrial companies to focus on mining, the industrial division, the original core of the company, was acquired by engineering director David Celine with financial support from Paul Gaines, a private investor. As CEO of Omniflex today, he continues to build on the spirit of innovation that was started back in 1965.
Omniflex expertise
Remote monitoring specialists
With 50 years of experience in designing for harsh industrial environments, Omniflex today focuses on the expanding market of remote monitoring for a range of applications.
Combining experience with innovation is what Omniflex is all about. Be it radio, GSM, Ethernet plant networking, or last mile cable saving connections, all are skill sets that have been honed over the last 50 years. CONET, Omniflex's industrial local area network was developed in the early 1980s, well before the word fieldbus was even invented. The Conet network remains unmatched for distance and performance on low grade cables in harsh environments.
Omniflex's innovation also brought Internet based monitoring to the industrial space, leveraging the pervasive power and availability of GSM networks and the Internet with Data2Desktop solutions. Omniflex leads in a range of remote monitoring services for water quality and management in southern Africa.
Critical alarm and event recording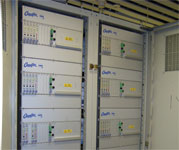 Omniflex alarm systems.
Rejecting the premise that process alarm annunciators were obsolete and being overtaken by computers, Omniflex introduced the world's first microprocessor based alarm annunciator with solid state LED lights. Omniflex is now a global leader in this technology with the first software based alarm annunciator to be assessed and approved under the EMPHASIS scheme for use in nuclear applications.
Radiological surveillance systems
Built upon the company's in-house technologies and customer service, Omniflex has established itself in the UK as the leading independent supplier of radiological surveillance systems, supplying all the major UK nuclear authorities and now expanding into nuclear medical markets such as PET centres.
Cathodic protection
Working closely with leading consultants, Omniflex's Australian office has pioneered new techniques in the field of impressed current and hybrid cathodic protection systems, to improve energy efficiency and remote management to reduce life cycle costs and reduce the environmental impact. These are now considered world leading products in this market.
Exporting to the world
Omniflex has been actively exporting products and competing with the best in class since the 1970s. Currently the company is set up with the factory and sales operation for Africa, Middle East, Asia and the Americas located in South Africa; the European sales office located in the UK; and the Asia Pacific including Hong Kong, China and Taiwan serviced from Sydney. Over 50% of the company's annual turnover is from export.
Control Logic Omniflex Time Line
1965: Control Logic founded by entrepreneur and engineer John Moshal joined by the late Alan Murray shortly after.
1965-69: Sugar Industry Market Logic Control and Alarms.
1970: Sasol business develops with supply of alarm and signal conditioner product to the Sasol Natref joint Venture.
1970: Automotive accessories development like headlight delays and cruise control.
1971: Anglo Buy 50% share in Control Logic.
1974: Introduction of Struthers Dunn PLC to South Africa for Relay Logic Control.
1975: Grootvlei Power Station alarm system for Brown Boveri, Babcock and Steinmuller.
1978: Miro-Flex first SA made logic controller.
1980s: 20 000+ critical alarm points for Sasol 2 and 3.
1980: First energy management controller for industry.
1983: First microprocessor based and LED annunciator in the world.
1983: Conet world first industrial local area network.
1985: Striker world first electronic ballast for lighting.
1986: Anglo American acquires 80% and controlling interest in Conlog.
1988: Conlog splits formally into marketing divisions Industrial, Automotive, Metering and Contract Manufacturing.
1990: First SA made PAC.
1990: World Leader in vehicle security, Toyota, VW, Samcor etc.
1992: World leader in pre-payment electricity metering.
1992: Largest surface mounting electronic facility in the southern hemisphere.
1997: Conlog Industrial Division becomes Omniflex Automation Products.
2000: Omni16 world's first annuciator for nuclear application.
2000: Preferred supplier status for nuclear industry.
2014: OMNITERM signal conditioning assessed to nuclear standards.
For more information contact Ian Loudon, Omniflex, +27 (0)31 207 7466, sales@omniflex.com, www.omniflex.com
Credit(s)
Further reading:
The IIoT edge is evolving
January 2020, Technews Publishing (SA Instrumentation & Control) , News
In its IIoT context, the edge is traditionally understood to be a kind of half-way point between the plant and the cloud. Physically hard to define, the edge acts as a repository for data collected from 
...
Read more...
---
University of London opens electronics laboratory based on Tektronix solutions
January 2020 , News
Royal Holloway, University of London, has officially opened its new Beatrice Shilling Building which includes state-of-the-art teaching laboratories in partnership with Tektronix, a leading worldwide 
...
Read more...
---
Rockwell Automation named a leader in Manufacturing Execution Systems
January 2020 , News
Rockwell Automation has announced its recognition as a leader in the Gartner Magic Quadrant for Manufacturing Execution Systems for the second consecutive year. Since the 2018 report, Rockwell Automation 
...
Read more...
---
SKF acquires industrial AI company
January 2020 , News
SKF has signed an agreement to acquire Presenso, a company that develops and deploys artificial intelligence (AI)-based predictive maintenance software. Presenso's capability enables production plants 
...
Read more...
---
Bosch Ulwazi hosts 2019 Engineer in Training function
January 2020 , News
Bosch Ulwazi's 2019 Engineer-in-Training (EIT) Conference was recently held in Mt Edgecombe. At this annual event, graduates are given an interactive platform to showcase the knowledge and skills they 
...
Read more...
---
Smart cities embrace 4IR
January 2020, Schneider Electric South Africa , News
Smart cities rely on smart grid technology that includes traditional and renewable energy sources in its mix of power supply. Driven by the advanced technology of the fourth industrial revolution (4IR), 
...
Read more...
---
North American EtherCAT Plug Fest offers opportunities
January 2020 , News
The 2019 North American EtherCAT Plug Fest recently took place in Denver, USA. Numerous well-known manufacturers of EtherCAT devices came together over two days to test the interoperability of their products 
...
Read more...
---
EM Bloemfontein offers accredited training courses
January 2020, ElectroMechanica , News
The Bloemfontein branch of supplier ElectroMechanica (EM) plans to make significant inroads in the Free State region thanks to its fully-equipped training facility, focusing mainly on automation products 
...
Read more...
---
Cummins boosts production at two glass manufacturers
January 2020 , News
Standby power systems from Cummins are providing extra protection at two glass-manufacturing facilities in Lahore, Pakistan, allowing production lines to always be on, and operations to continue seamlessly 
...
Read more...
---
Schneider Electric announces local manufacturing and reduced lead times
January 2020, Schneider Electric South Africa , News
Schneider Electric South Africa has announced that its PIX Easy Air Insulated Switchgear, previously 100% internationally manufactured, will now have a 68% local finishing process, reducing the customer 
...
Read more...
---