printer friendly version
The technology landscape: insights from 2019 conferences
November 2019
Editor's Choice
Industry leaders and governmental agencies across the globe recognise technology as the cornerstone for economic development. President Cyril Ramaphosa famously posited: "The clear implication for South Africa is that we need to move with greater focus and urgency to develop the skills, human capital, institutions and strategies required to seize the opportunities for technological change". Implementing technology as an economic development tool is a key insight arising out of the many Industry 4.0 conferences taking place in South Africa. "The jobs are here, where are the people?" was a notably frequent remark heard at technology conferences in 2019. The Accenture & WEF 2018 report 'Unlocking digital value for business and society in South Africa' contends that digital initiatives hold the key to unlocking R5 trillion of value in South Africa over the next decade.
Local and global experts shared their thoughts gathered through practice and research on how monetary and social value can be achieved.
The philosophy that underpins Industry 4.0 was initiated in Germany to specifically solve German problems, some of which were ageing infrastructure and population. The consequent inescapable question is whether other countries such as South Africa are abreast of domestic problems that require addressing, thus avoiding the pitfall of being technology-centred as opposed to focusing on economic development and social well-being. The challenge for South Africa is how to use technology to convert its unique challenges into opportunities for all. In attempting to grapple with this principle, the following propositions emerged:
Occupation and qualification flexibility in South Africa
Against the backdrop of education and training in South Africa, an innovative approach to talent development for manufacturing is nearly obligatory. A major shift from traditional qualifications and occupations to more flexible modular competency-focused capabilities for specific business needs is essential. Experimentation in piloting the future skills pipeline capacities is a greater need in this developing dynamic environment.
Cross-functional government and willing private sector in South Africa
Conflicting priorities coupled with dislocations among governmental bodies and private associations appear to be crippling the co-creation of value necessary for economic development. An integrated approach would allow the formulation of effective methodologies for emerging global developments. For example, would regulatory approval of autonomous electric vehicles sink demand for new vehicles? What would the implications be for the vehicle value chain and thus car dealers, maintenance and vehicle insurance companies? What would the scenario be for oil demand and price as the world transitions to the use of electric vehicles? Could aggregate savings from low oil prices boost annual disposal income for households? These are examples of urgent and legitimate policy and planning discourses that require co-creation and an integrated approach.
Sacrificing short term gains for long term growth
What is unequivocally clear is that sacrifices are necessary for South Africa to transcend its current impediments and bring the benefits of Industry 4.0 to bear. A focus and emphasis on the following critical areas is needed:
• Capital investment at scale.
• Private and capital alignment.
• Belief in theoretical benefit (data driven approach and not only political ideology).
• Long term profitability horizon.
• Legislative flexibility.
• Skilled labour.
• Acceptance of immediate job losses.
• Shift in consumer mentality (made in South Africa should become attractive).
To conclude, the main takeaway this year is that the discourse should not only be about technology but should include an in-depth analysis of the societal and business pain points at hand. This would render technology as a powerful tool with the promise of delivering value to South Africans and aiding in building the South Africa we all want.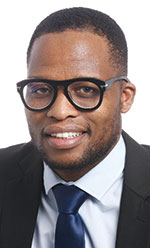 Oratile Sematle
Oratile Sematle
Oratile is the electrical and instrumentation manager at Sasol Group Technology. He holds a bachelor of science degree in electrical and electronic engineering as well an MBA from the University of Cape Town. As the former president of the Society of Automation, Instrumentation, Measurement and Control (SAIMC), he helps to drive the vision shared by council to address issues specific to the automation industry, and is partly accountable for the development of the automation engineering profession in South Africa. Oratile is a conference speaker and has spoken at engineering events such as Industry 4.0 and African Automation Fair. His ambition is to form cross-industry coalitions to tackle the social and educational problems experienced by disadvantaged communities.
Oratile Sematle,
Executive director, SAIMC
Credit(s)
Further reading:
From the President's desk
January 2020, SAIMC , SAIMC
This year, I challenge you to try something that you are truly passionate about. In 2019 I took the plunge and bought an entry level 3D printer. It changed my life completely. I am now only limited 
...
Read more...
---
SAIMC: Durban branch
January 2020, SAIMC , SAIMC
The November technology evening was on the topic of shutdown planning, which was clearly of interest and attracted an audience of over sixty members and visitors to the usual venue at the Durban Country 
...
Read more...
---
SAIMC:Vaal branch
January 2020, SAIMC , SAIMC
The year's last technical evening was sponsored by the SAIMC. Vaal branch manager Juaandré Heyneke gave an in depth presentation on the SAIMC, where he explained the goals of the organisation, both nationally 
...
Read more...
---
Case History 170
January 2020 , Editor's Choice
As mentioned in earlier articles, the integral (or I term) in the controller is a brilliant thing. It is an extremely elegant and simple solution for eliminating offset in control. However, like everything 
...
Read more...
---
SAIMC: Vaal branch
December 2019, SAIMC , SAIMC
At the last technology evening, Robert de Scande from SICK Automation gave a presentation on the subject of IO-Link. IO-Link offers new options for communication between the system control and field levels: 
...
Read more...
---
SAIMC: Durban branch
December 2019, SAIMC , SAIMC
Technology evening
At the last technology evening, Beckhoff Automation's Gareth Taylor (sales engineer, Durban) presented on the topic 'Open PC-based control technology in a world of modular process 
...
Read more...
---
SAIMC: Secunda branch
December 2019, SAIMC , SAIMC
At the technology evening on 10 October, Jacques Parrott, from SICK Automation SA gave a presentation on 'Measurement of green house gas emissions', which also touched on the issue of carbon tax. The 
...
Read more...
---
SAIMC: Johannesburg branch
December 2019, SAIMC , SAIMC
The October technology evening was hosted by Extech Safety Systems. Sales director Gary Friend presented an interesting take on the relationship between new technological advances, and the never-ending 
...
Read more...
---
SAIMC: From the President's desk
December 2019, SAIMC , SAIMC
2019 has been a year of many achievements by our members. Although the SAIMC might not be the organisation with the most members, the unselfish and hard-working team have certainly achieved more than 
...
Read more...
---
SAIMC: From the President's desk
November 2019, SAIMC , SAIMC
The end of the year is almost upon us. Have you taken the opportunity to ask yourself what has really changed for you this year? In some areas we have seen significant and exponential change. Automation 
...
Read more...
---