printer friendly version
Skyriders deploys UHP cleaning at large petchem tank
November 2019
News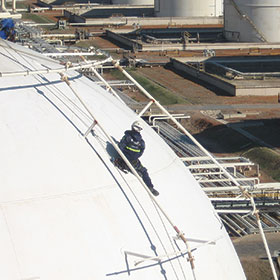 Ultra high pressure (UHP) washing is a highly-effective and environmentally-friendly cleaning method using water jets to remove old coating systems and industrial grime, without the use of potential contaminants such as detergents or grit.
Leading rope-access specialist, Skyriders, recently deployed UHP to clean the top part of a large tank, exposed to the elements and therefore subject to weathering, for a major petrochemical producer in Mpumalanga.
The scope of work was to deploy UHP at 2800 bar in order to wash the tank and prepare the surface, and then to apply a protective coating system. "The client had a documented specification for the application that we had to adhere to rigorously at all times," comments Skyriders marketing manager, Mike Zinn. "This was necessary to guarantee the integrity of the entire protective system."
Major industrial customers such as chemical plants and refineries often have separate budgets for maintenance and access. "On this specific project, for example, we were able to prove to our client that a per-square-metre rate, is inclusive of both access and maintenance, represented significant cost and time saving," adds Zinn.
Skyriders' holistic approach to access and maintenance generally translates into a 20-25% budget saving for its clients, in addition to benefits such as enhanced health and safety, and guaranteed quality of work.
The traditional means of cleaning such large tanks is grit blasting, which leaves behind a residue that itself needs to be cleaned. This sand can also pose a safety risk during the cleaning process, as the tank remains operational during maintenance so as not to impact on productivity. The high-pressure water used in UHP, on the other hand, simply evaporates.
Skyriders intends to expand the scope of its UHP service offering, as this cleaning method is ideal for major industrial structures as diverse as smokestacks, silos and storage tanks. "It is not only an important value-added service, but is an integral part of the turnkey access and maintenance solutions we can offer," concludes Zinn.
For more information contact Mike Zinn, Skyriders, +27 11 312 1418, mike@ropeaccess.co.za, www.ropeaccess.co.za
Further reading:
The IIoT edge is evolving
January 2020, Technews Publishing (SA Instrumentation & Control) , News
In its IIoT context, the edge is traditionally understood to be a kind of half-way point between the plant and the cloud. Physically hard to define, the edge acts as a repository for data collected from 
...
Read more...
---
University of London opens electronics laboratory based on Tektronix solutions
January 2020 , News
Royal Holloway, University of London, has officially opened its new Beatrice Shilling Building which includes state-of-the-art teaching laboratories in partnership with Tektronix, a leading worldwide 
...
Read more...
---
Rockwell Automation named a leader in Manufacturing Execution Systems
January 2020 , News
Rockwell Automation has announced its recognition as a leader in the Gartner Magic Quadrant for Manufacturing Execution Systems for the second consecutive year. Since the 2018 report, Rockwell Automation 
...
Read more...
---
SKF acquires industrial AI company
January 2020 , News
SKF has signed an agreement to acquire Presenso, a company that develops and deploys artificial intelligence (AI)-based predictive maintenance software. Presenso's capability enables production plants 
...
Read more...
---
Bosch Ulwazi hosts 2019 Engineer in Training function
January 2020 , News
Bosch Ulwazi's 2019 Engineer-in-Training (EIT) Conference was recently held in Mt Edgecombe. At this annual event, graduates are given an interactive platform to showcase the knowledge and skills they 
...
Read more...
---
Smart cities embrace 4IR
January 2020, Schneider Electric South Africa , News
Smart cities rely on smart grid technology that includes traditional and renewable energy sources in its mix of power supply. Driven by the advanced technology of the fourth industrial revolution (4IR), 
...
Read more...
---
North American EtherCAT Plug Fest offers opportunities
January 2020 , News
The 2019 North American EtherCAT Plug Fest recently took place in Denver, USA. Numerous well-known manufacturers of EtherCAT devices came together over two days to test the interoperability of their products 
...
Read more...
---
EM Bloemfontein offers accredited training courses
January 2020, ElectroMechanica , News
The Bloemfontein branch of supplier ElectroMechanica (EM) plans to make significant inroads in the Free State region thanks to its fully-equipped training facility, focusing mainly on automation products 
...
Read more...
---
Cummins boosts production at two glass manufacturers
January 2020 , News
Standby power systems from Cummins are providing extra protection at two glass-manufacturing facilities in Lahore, Pakistan, allowing production lines to always be on, and operations to continue seamlessly 
...
Read more...
---
Schneider Electric announces local manufacturing and reduced lead times
January 2020, Schneider Electric South Africa , News
Schneider Electric South Africa has announced that its PIX Easy Air Insulated Switchgear, previously 100% internationally manufactured, will now have a 68% local finishing process, reducing the customer 
...
Read more...
---