printer friendly version
Case history 134: Having fun with a positive lead on an integrating process
December 2013
System Integration & Control Systems Design
One of the most interesting dynamics that can be found in the industrial control world is what is known as a first order lead on an integrating process. A positive lead integrator responds to a step change with a kick followed by a typical integrator ramp. It is commonly found on back pressure control of steam dryers on paper machines, on density controls in mining applications and also on certain temperature processes. However, this strange phenomenon also appears from time to time on processes where one least expects it.
Characteristics of the phenomenon
Positive lead integrators are probably the most interesting of all the different dynamics you will ever come across, and normally the most rewarding as you can often achieve spectacular improvements in loop performances when you tune them. Most loops that one encounters with these dynamics are terribly poorly tuned, with many reacting extremely slowly to changes. In some cases, correct tuning can improve response by several thousand times – really dramatic stuff!
The problem with this type of dynamic is that very few people recognise it or have received training on how to deal with it. Like all process dynamics that incorporate leads, incorrect tuning can quickly result in instability. Operators are normally terrified of responses with leads as they tend to give a big kick, and they think the process is 'running away'.
A full description, the transfer function, and explanation of how to deal with positive lead integrators is given in my Loop Signature articles LSp2-20 and LSp2-21. However in brief, the response to a step change on the output of the controller, with the controller in manual, results in an initial rapid rise of the PV (process variable) followed by the slower integrating ramp. This can be seen clearly in Figure 1.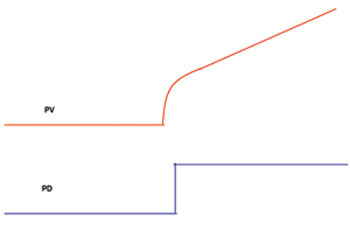 Figure 1.
In actual fact a first order lead on an integrating process actually consists of two things. The first part of the response (the lead) is actually the typical response of a common first order lag, dead time, self-regulating process, similar to a flow process, which then turns into a simple integrating process, similar to a level process.
A practical example
It sounds complicated, but it is not. The following example will show why, it is taken from some work I did recently at a chemical plant.
The particular process is the reboiler control loop on a distillation column. Figure 2 shows some of the controls on the column. Fluid is pumped from the bottom of the column and reheated through the heat exchanger from where it is fed back into the column. Basically the purpose of the temperature controller shown in the figure is to keep the temperature constant on the output of the heat exchanger. This is done by adjusting the flow of medium pressure steam passing through the other side of the heat exchanger. As can be seen the flow is actually controlled by a secondary cascade flow control loop, the set-point of which comes from the output of the temperature controller.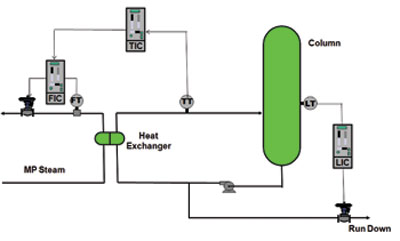 Figure 2.
I have written a lot about cascade loops in other articles, but to recap, it is in my opinion an essential control strategy that should always be employed when trying to control important slow loops like temperature and levels. The reason for this is that the secondary flow loop acts very much faster than the slow primary loop, which ensures that the correct flow is put into the process to satisfy the control requirements as demanded by the slow primary controller. To put it even more simply: It eliminates problems such as steam pressure variations, valve hysteresis, valve stickiness and other valve non-linearities.
The purpose of the level control loop is to keep the bottom level in the exchanger constant, thus keeping the volume of the pool of liquid in the bottom of the exchanger constant.
Back to our positive lead effect: in this particular case the heat exchanger has an extremely fast reaction to changes in steam flow. So if one was to make a step change on the steam flow with the temperature controller in manual there will be an initial fast rise of temperature of the fluid going through the exchanger which then passes into the column. This is the initial self-regulating effect. This hotter fluid will in turn slowly start increasing the temperature of the liquid pool in the bottom of the column, which is then passed back into the heat exchanger. As time goes by and as the liquid circulates round and round, the temperature of this pool will increase in a ramp fashion. This is the integrating effect. Thus one can now see how the overall dynamic response is initially self-regulating, but then becomes integrating.
The actual open loop test performed on the temperature control loop is shown in Figure 3, where a step change was made on the output of the controller. When one performs these tests you have to be very careful to keep the steps as small as possible so as to avoid upsetting the process too much. Large upsets can damage product quality, and possibly also upset downstream columns creating production problems. In actual fact the change of temperature as shown in the test moved the temperature only by a tiny 0,9°C (about 0,6% of the actual temperature range). The temperature PV trace appears to be 'noisy', but one cannot even see the variations on a 0-100% scaling.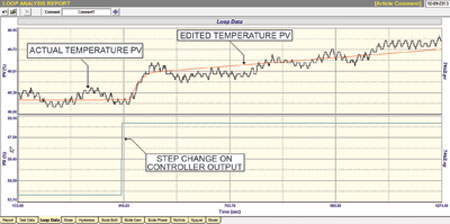 Figure 3.
The trick is in the tuning
Even the Protuner would not be able to give good tuning with these noisy fluctuations in the PV, so one has to perform a graphic edit, to produce the true response. This is shown on the red line in the figure, and the tuning is performed on the edited PV.
Now the magic of tuning a first order positive lead on an integrator is that you tune on the initial self-regulating response ie, the lead portion, and completely ignore the integrating part. This is done by windowing the self-regulating part of the response as shown in Figure 4, and tuning in that window. If you tune over the whole response, as most people do, then one gets an incredibly slow tune. This is borne out by the difference of the as-found and final tuning on this loop:
As-found tuning: P = 5,0, and I = 10,5 minutes/repeat.
The Protuner correct final tuning: P = 3,0 and I = 0,3 minutes/repeat.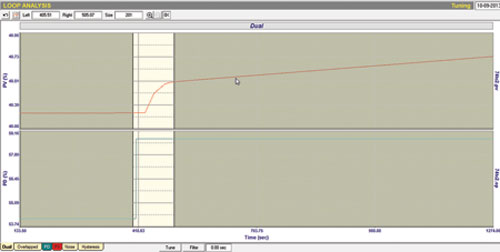 Figure 4.
This tuning is probably a hundred times faster than the original and worked incredibly well keeping the temperature at set-point within a band of ±0,1ºC under conditions of quite severe load changes. The people on site get very excited when they see how well this tuning works and I often refer to it as a lovely 'party trick'.
Just out of interest, I have optimised many reboiler temperature controls on distillation columns but in most cases there are no leads and the process is usually purely integrating. The reason that this one had such a prominent lead is due to the fact that the heat exchanger has an extremely fast response. One could say that it is probably oversized, although this is good as it allows much faster temperature control.
Michael Brown's next course series in Johannesburg will take place in April 2014. Dates will be given on his website.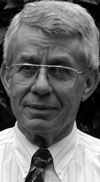 Michael Brown is a specialist in control loop optimisation with many years of experience in process control instrumentation. His main activities are consulting, and teaching practical control loop analysis and optimisation. He gives training courses which can be held in clients' plants, where students can have the added benefit of practising on live loops. His work takes him to plants all over South Africa and also to other countries. He can be contacted at Michael Brown Control Engineering cc, +27(0)82 440 7790, michael.brown@mweb.co.za, www.controlloop.co.za
Credit(s)
Further reading:
The complexity of water management in mines
October 2019, Endress+Hauser , System Integration & Control Systems Design
Industries across the globe are encouraged to reuse water as much as possible, and therefore a 'zero liquid discharge' policy has already been implemented by various companies in different sectors.
Read more...
---
PC-based control platform optimises water treatment product dosing
October 2019, Beckhoff Automation , System Integration & Control Systems Design
Clean water is vital in both consumer and commercial areas, including numerous industrial applications, such as mining, petroleum refining and groundwater remediation, in addition to residential applications
Read more...
---
Rockwell Automation walks the Connected Enterprise talk
October 2019, Rockwell Automation , System Integration & Control Systems Design
The Connected Enterprise is Rockwell Automation's vision for seamless integration across all divisions of the organisation to enable more efficient decision making through access to the power of information based on real-time data.
Read more...
---
Omniflex eases mine water compliance
October 2019, Omniflex Remote Monitoring Specialists , System Integration & Control Systems Design
Water licences carry a 'Burdon of Proof' that the licence holder will not harm the environment or the water system through its activities. This covers the use of water from the system and the responsible 
...
Read more...
---
Smart Press Kit from Bosch Rexroth
October 2019, Tectra Automation , System Integration & Control Systems Design
Bosch Rexroth is setting new standards for fast and efficient pressing and joining applications with its innovative new modular Smart Press Kit. Designed to meet future industrial requirements by providing 
...
Read more...
---
Emerson expands asset management coverage
October 2019, Emerson Automation Solutions , System Integration & Control Systems Design
Emerson has expanded AMS Device Manager with HART-IP support, making it easier to connect with devices and control systems and potentially eliminate hundreds of thousands of dollars in project hardware 
...
Read more...
---
Johnson Controls introduces Verasys
October 2019 , System Integration & Control Systems Design
Johnson Controls recently introduced Verasys, a plug-and-play controls system that integrates heating, ventilation, air-conditioning and refrigeration (HVACR) equipment and controls. Verasys offers customers 
...
Read more...
---
CSS digitises energy consumption at Hulamin for global information accessibility
September 2019, Control Software Solutions , System Integration & Control Systems Design
Energy Cybernetics was contracted by the NCPC-SA as part of the IEE programme to undertake a compressed air system optimisation (CASO) assessment to recommend compressed air system energy efficiency opportunities 
...
Read more...
---
Smart devices for Ex areas: Unbelievably simple mistakes that prevent control.
September 2019, Michael Brown Control Engineering , Editor's Choice, Motion Control & Drives
I am often astounded by finding really basic problems with controls in plants, which have operated that way for years. These problems are so basic that one can only wonder at how these controls could 
...
Read more...
---
Flexible communication across building and mobility applications
September 2019, Beckhoff Automation , System Integration & Control Systems Design
TwinCAT OPC UA connects research and innovation infrastructure on Empa campus.
Read more...
---