printer friendly version
Future-proof chair lift system
July 2019
Motion Control & Drives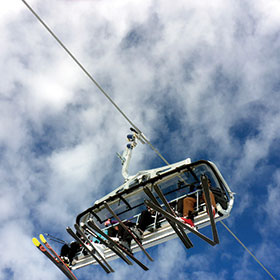 At Snow Space, a winter sports resort near Salzburg, Bergbahnen Wagrain, operates the Sonntagskogelbahn 2, a chair lift for taking skiing enthusiasts to the piste. To provide the most comfortable ride possible to the summit for the skiers, the new chair lift has been fitted with efficient Siemens drive technology by the system integrator Frey Austria. The core element in the solution is ultra-modern frequency converter technology in which the frequency converters are optimally matched to the new synchronous servo motors. The redundant design of the system increases not only the availability of the chair lift, but also the passenger safety.
At the new Sonntagskogelbahn 2, part of the Snow Space Salzburg, new innovative drive technology guarantees the comfort and the safety of the customers.
Since the 2018/2019 winter season, it has been possible to transport eight skiers to the summit in each gondola on the new high-tech Sonntagskogelbahn 2 chair lift instead of just four. This has been made possible by, amongst other things, the use of modern Siemens drive technology, which has dispensed with a transmission between the electric motor and the pulley. Comfort is increased by precision speed control with encoder feedback. This is the first time this combination has been used. It makes transmission maintenance a thing of the past and offers optimum control options, and it also differentiates the Sonntagskogelbahn 2 from the other chair lifts.
At the heart of the drive for the new ski lift are redundant Sinamics S120 Cabinet Modules-2 from Siemens. Synchronous motor (90 pole) from Doppelmayr.
Ultra-modern, new drive technology
The gearless drive solution, consisting of a synchronous motor (90 pole) from Doppelmayr and two Sinamics S120 Cabinet Modules-2 redundant frequency converter cabinets, form the technical heart of the chair lift. The system comprises two Sinamics S120 Active-Line Modules and two recently developed S120 Chassis-2 Motor Modules. The most significant benefits of these new devices are the smaller footprint, the sturdy overall design, and efficient operation combined with easier service. In addition to this, there is a considerable reduction in weight – ultimately each of the Sinamics S120 Chassis-2 has a reduced weight, from 450 kg down to 160 kg.
The sturdy overall construction of the frequency converters also significantly reduces the derating and the noise generated by the motors. The control is provided by a fail-safe Simatic S7-1500F controller combined with a distributed I/O Simatic ET 200S. Frey uses a TP-700B touch panel to operate the system. Frey is Siemens' solutions partner from Innsbruck and is responsible for the electrical engineering solution for the drive, automation and visualisation, as well as the system engineering. The engineering for the whole solution is completed in the Siemens engineering framework, the Totally Integrated Automation (TIA) portal.
Redundant system design for maximum safety
The Sonntagskogelbahn 2 has two identical direct motors arranged concentrically and vertically above each other. They are mechanically connected to each other via a central shaft. Two Sinamics S120 power supplies and two Sinamics S120 Chassis-2 motor modules can be alternately connected to each other so that the required double redundancy is provided not only for modular drive but also for drive control. "If a part fails, the operators are still able to run the system empty to ensure the safety of people in the lift," explains Karl Prammer, CEO at Frey.
Project success launches future plans
"The Sonntagskogelbahn 2 is currently the most innovative chair lift we operate here," says Wolfgang Hettegger, CTO at Snow Space Salzburg. The chair lift transports approximately 3600 people in 38 gondolas per hour up over 200 metres to the Sonntagskogel – around 25 percent more passengers than the previous arrangement. It is therefore understandable that the next two projects are already on the drawing board – the Sonntagskogel 3 and the Flying Mozart.
For more information contact Jennifer Naidoo, Siemens Digital Industries, +27 11 652 2795, jennifer.naidoo@siemens.com, www.siemens.co.za
Credit(s)
Further reading:
New XTS functionality enables novel solutions in machine building
November 2019, Beckhoff Automation , Motion Control & Drives
XTS is a smart transport system of magnetically driven movers that travel along tracks consisting of motor modules and guide rails. A Beckhoff Industrial PC is able to control the movers independently 
...
Read more...
---
Intelligent data glasses support production
November 2019, Siemens Digital Industries , IT in Manufacturing
Augmented Reality (AR) has arrived in the workplace: for the last three years, a consortium of six companies and institutions chaired by Siemens has been researching the use of augmented reality (AR) 
...
Read more...
---
VinFast deploys Siemens technology to deliver cars ahead of schedule
November 2019, Siemens Digital Industries , System Integration & Control Systems Design
VinFast, Vietnam's first volume car manufacturer, has successfully produced its first cars ahead of schedule using Siemens' portfolio of integrated software and hardware. By deploying its portfolio, Siemens 
...
Read more...
---
Couplings for high torque applications
November 2019, SKF South Africa , Motion Control & Drives
Available in a variety of configurations, SKF's range of Disc Couplings provide affordable, lubrication-free service in medium to high torque applications that require torsional rigidity. These innovative 
...
Read more...
---
Belting for food applications
November 2019, Bearing Man Group t/a BMG , Motion Control & Drives
BMG's Light Materials Handling division supplies and supports a comprehensive range of belting products suitable for the food processing, bottling and packaging sectors. "New to BMG's range of belting 
...
Read more...
---
Siemens launches report on Dawn of Digitalisation and its Impact on Africa
October 2019, Siemens Digital Industries , IT in Manufacturing
Africa needs a digitalisation strategy to compete in the global economy.
Read more...
---
Sawmills and sugar mills underpin growth for SEW-Eurodrive
October 2019, SEW-Eurodrive , Motion Control & Drives
Ageing sawmills and sugar mills in KwaZulu-Natal represent a significant growth opportunity for SEW-Eurodrive to introduce its latest energy-efficient technology. This is an increasing trend as both the 
...
Read more...
---
Smart devices for Ex areas: Unbelievably simple mistakes that prevent control.
September 2019, Michael Brown Control Engineering , Editor's Choice, Motion Control & Drives
I am often astounded by finding really basic problems with controls in plants, which have operated that way for years. These problems are so basic that one can only wonder at how these controls could 
...
Read more...
---
Siemens South Africa puts Smart City vision into action
September 2019, Siemens Digital Industries , News
Fourteen months ago, Siemens installed a microgrid at its headquarters in Midrand and data shows it is using 50% less supplied energy, drawing it from solar resources instead. By extracting energy off 
...
Read more...
---
Reliable gas production
September 2019, Siemens Digital Industries , IT in Manufacturing
Energy supplier uses Siemens technology for optimum information exchange.
Read more...
---