printer friendly version
Intelligent industrial devices for automation
July 2019
IT in Manufacturing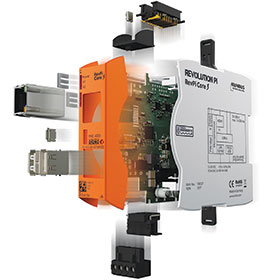 RS Components has introduced Kunbus to its supplier portfolio, a specialist developer of intelligent communications modules, including fieldbus and industrial Ethernet based devices for a range of automation markets. The Kunbus products include 14 new lines including industrial computers, PLCs and data acquisition and HMI devices. A key series from Kunbus is the Revolution Pi series of open source and modular industrial PCs, based on the well established Raspberry Pi platform.
This innovative and reliable modular system, which meets the EN61131-2 international standard for PLCs, offers a series of central processing units including the RevPi Connect, RevPi Core and RevPi Core 3. Installed in DIN-rail housings, all the products come with USB, Ethernet and HDMI connections and are based around the Raspberry Pi Compute module, making them highly compatible with the Raspberry Pi model 3 or Raspberry Pi B+. Depending on application requirements, these base modules can be expanded seamlessly using the appropriate digital or analog I/O modules, as well as fieldbus gateways to connect them to an industrial network.
For example, due to its open platform concept, the RevPi Connect gateway provides users with maximum freedom when implementing IIoT projects, including full root rights. Implemented as a DIN-rail PC, or purely as a small control unit, the system uses a specially modified version of the Raspbian operating system with a real-time patch, as well as supporting common IIoT protocols such as MQTT and OPC UA. Individual applications can be programmed using a range of languages including Node-RED, Python, or directly in C.
The RevPi Connect can also be upgraded with Profinet, Ethernet IP, EtherCAT, Modbus TCP and Modbus RTU functionality without the use of expansion modules. The product's Ethernet interfaces enable it to be integrated within IT and automation networks and transmit data from the production environment up to the cloud, for example.
"The Kunbus Revolution Pi is an innovative series of communication modules based on Raspberry Pi computing technology," said portfolio manager, James Milne. "This exciting open-source and highly modular platform can provide many of our customers with an inexpensive way of connecting up their automation processes and enabling them to reap the benefits of IIoT."
Credit(s)
Further reading:
Siemens launches report on Dawn of Digitalisation and its Impact on Africa
October 2019, Siemens Digital Industries , IT in Manufacturing
Africa needs a digitalisation strategy to compete in the global economy.
Read more...
---
Integrating IT with Operations Technology - a CIO perspective
October 2019, Absolute Perspectives , IT in Manufacturing
Digitisation projects, spurred on by Industry 4.0 and technological advances, have opened up many possibilities to create new value.
Read more...
---
The power of data
October 2019, Throughput Technologies , IT in Manufacturing
Gain access to important information with ProSoft's new OPC UA-based gateway and data logger.
Read more...
---
Securing and managing devices the modern way
October 2019 , IT in Manufacturing
Organisations of all types and sizes are bringing vast numbers of devices into their IT infrastructure and networks. Moreover, these devices are not only smartphones, wearables and tablets because the 
...
Read more...
---
RS adds food grade maintenance line
October 2019, RS Components SA , Maintenance, Test & Measurement, Calibration
RS Components has launched a new range of food grade maintenance products for use in the food processing and catering sector. All RS Pro food grade products are registered with the NSF (National Sanitisation 
...
Read more...
---
RS introduces new MakerBot Method 3D printer
October 2019, RS Components SA , News
RS Components has introduced the latest version of the MakerBot 3D printer – the MakerBot Method – which has been designed to bridge the gap between industrial and desktop 3D printing. The unit targets 
...
Read more...
---
RS announces availability of interconnection solutions from HARTING
October 2019, RS Components SA , Enclosures, Cabling & Connectors
RS Components has extended its industrial connector portfolio with new solutions from HARTING, including the recently launched Han 1A connector. The new Han 1A is a significantly smaller connector than 
...
Read more...
---
Reliable gas production
September 2019, Siemens Digital Industries , IT in Manufacturing
Energy supplier uses Siemens technology for optimum information exchange.
Read more...
---
Automotive supplier relies on Siemens PLM solution
September 2019, Siemens Digital Industries , IT in Manufacturing
Küster Automotive is an internationally active family-run company and a part of Küster Holding. A full-service supplier, Küster manufactures components for the automotive industry. For its production 
...
Read more...
---
Top tips to help you implement 4IR projects that deliver value
September 2019 , Editor's Choice, IT in Manufacturing
In the just over 10 years I have spent working on IT projects in the manufacturing space, the amount of new fads and IT jargon that has to be adopted has reached the heavens, and ascended into other realms. 
...
Read more...
---