printer friendly version
Systematic flow metering
July 2019
Flow Measurement & Control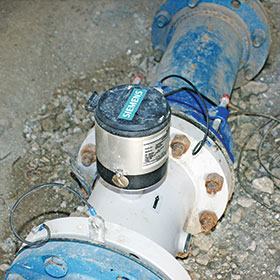 Aguas de Saltillo, the water utility company which serves the Mexican city of Saltillo, is responsible for supplying drinking water to a population of around 850 000. To ensure a reliable supply to this arid desert city, the company relies on a water network which draws from several reservoirs with the aid of process instrumentation from Siemens. The Sitrans F M MAG 8000 electromagnetic flowmeters used here are outstandingly robust, durable and reliable, as well as requiring minimal maintenance. Over a hundred of these devices have now been installed in the Aguas de Saltillo network.
Water makes up between 50 and 60% of the human body, covers around two thirds the surface of our planet, and is vital to all forms of life. Ensuring a reliable and good supply of water is essential, but can pose a particular challenge in dry regions. This is true of Saltillo on the edge of the Zapalinamé mountain range. Keeping the bustling economy of the almost million strong city running despite the blistering temperatures and low rainfall is an ingenious and secure water supply system devised by Aguas de Saltillo, together with modern process instrumentation technology from Siemens.
Electromagnetic instead of mechanical
The Saltillo water network is divided into sectors to ensure the optimum management of water distribution from the various reservoirs. Pressure and flow instrumentation has been installed at every inlet to serve several purposes including leak detection, pressure level control, quantification of water losses and measurement data recording. Initially, Aguas de Saltillo selected mechanical meters, but it was not long before this technology proved uneconomical and unreliable.
On the advice of on-site experts, JAR Electronics, the utility company decided to test the Siemens IP68 protection rated battery powered Sitrans F M MAG 8000 electromagnetic flowmeter. This solution comes with the option of a radiometric pressure transmitter and a wireless GSM/GPRS communication module. This facility allows measurement data to be accessed remotely without the need to visit the site. During the test phase, the MAG 8000 accessed the flow and pressure values every five minutes. This data was then transmitted once a day to the OPC server, from where it was accessible to the customer at any time. Its high protection rating meant that the Sitrans F M MAG 8000 was able to withstand even the most adverse of conditions. It even continued to measure reliably in the event of flash flooding.
Test passed with flying colours
Aguas de Saltillo was so impressed by the results of the test that the utility company opted to replace all the existing mechanical meters with Sitrans components, now numbering over a hundred. Juan Diego Bravo Ruiz, chief of Telecontrol and Telemetry for Aguas de Saltillo, summed up the benefits of the newly installed system: "Including the MAG 8000 with GSM as part of our WNS project has greatly benefitted the city of Saltillo. With the consistently accurate flow data we receive from these devices, we are able to make more educated decisions to better protect our water supply, which means we can better protect our people too."
For more information contact Jennifer Naidoo, Siemens Digital Industries, +27 11 652 2795, jennifer.naidoo@siemens.com, www.siemens.co.za
Credit(s)
Further reading:
Self-cleaning flow indicator for liquids
November 2019, Instrotech , Flow Measurement & Control
To check the flow processes in pipeline systems and for insight into the interior of process pipes, many flow indicators are used in which the flowing medium sets a rotor turning and thus to a large extent 
...
Read more...
---
Intelligent data glasses support production
November 2019, Siemens Digital Industries , IT in Manufacturing
Augmented Reality (AR) has arrived in the workplace: for the last three years, a consortium of six companies and institutions chaired by Siemens has been researching the use of augmented reality (AR) 
...
Read more...
---
VinFast deploys Siemens technology to deliver cars ahead of schedule
November 2019, Siemens Digital Industries , System Integration & Control Systems Design
VinFast, Vietnam's first volume car manufacturer, has successfully produced its first cars ahead of schedule using Siemens' portfolio of integrated software and hardware. By deploying its portfolio, Siemens 
...
Read more...
---
Siemens launches report on Dawn of Digitalisation and its Impact on Africa
October 2019, Siemens Digital Industries , IT in Manufacturing
Africa needs a digitalisation strategy to compete in the global economy.
Read more...
---
Clamp-on ultrasonic flow measurement
October 2019, Instrotech , Flow Measurement & Control
Kobold's portable DUC-MP and the stationary DUC-MF are designed for continuous flow measurement. They are highly accurate and drift-free operating flowmeters for liquids in filled pipes. The devices are 
...
Read more...
---
Siemens South Africa puts Smart City vision into action
September 2019, Siemens Digital Industries , News
Fourteen months ago, Siemens installed a microgrid at its headquarters in Midrand and data shows it is using 50% less supplied energy, drawing it from solar resources instead. By extracting energy off 
...
Read more...
---
Reliable gas production
September 2019, Siemens Digital Industries , IT in Manufacturing
Energy supplier uses Siemens technology for optimum information exchange.
Read more...
---
Automotive supplier relies on Siemens PLM solution
September 2019, Siemens Digital Industries , IT in Manufacturing
Küster Automotive is an internationally active family-run company and a part of Küster Holding. A full-service supplier, Küster manufactures components for the automotive industry. For its production 
...
Read more...
---
Kobold's electromagnetic flowmeter
September 2019, Instrotech , Flow Measurement & Control
Instrotech now offers Kobold's new electromagnetic flowmeter model EPS with a standard accuracy of 0,3% of reading. The newly developed, microprocessor-controlled converter guarantees the high accuracy 
...
Read more...
---
Siemens launches the Digital Enterprise Series
August 2019, Siemens Digital Industries , News
The digital transformation of the producing economy is gaining momentum. It enables new opportunities for value creation, innovative business models and trendsetting forms of cooperation. Now is the time 
...
Read more...
---