printer friendly version
Guaranteed power protection
July 2019
Electrical Power & Protection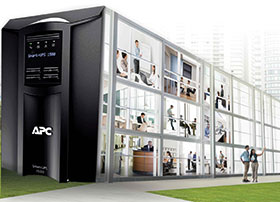 During energy month, it may be time to assess what equipment in your office or data centre is critical to keep online. Adopting smart uninterruptible power supply (UPS) technology has become the preferred course of action to take, especially in South Africa, where blackouts occur frequently.
Downtime caused by power outages is frustrating for anyone but can be financially crippling for a business or organisation. Every year, millions of rands are lost due to downtime caused by power disruptions that could have been prevented by a UPS. Small to medium-sized businesses may be most at financial risk due to a limited ability to generate revenue during downtime.
Schneider Electric's UPS offers guaranteed power protection for connected electronics. When power is interrupted, or fluctuates outside safe levels, the UPS will instantly provide clean battery backup power and surge protection for plugged-in, sensitive equipment. It can be selected for home, office or even data centres and configured to provide a reliable source of power.
Selection criteria
When selecting a UPS, electronics have both maximum watt ratings and maximum VA (volt-ampere) ratings. Neither rating may be exceeded by attached equipment. Watts measure real power drawn by the equipment, while volt-amps are the product of the voltage applied to the equipment times the current drawn by the equipment.
For computers and UPS units, watt and VA ratings can differ significantly. The ratio of watts to VA is called the power factor and is expressed either as a number or a percentage. When sizing a UPS for your specific requirements, the power factor matters most. Generally, your UPS should have an output watt capacity 20-25% higher than the total power drawn by any attached equipment.
Three-phase power protection, with fully integrated solutions, is needed for enterprise-wide networks, data centres, mission critical systems and industrial manufacturing processes.
How much runtime do you need to support your attached equipment?
That depends on what you intend to backup with your UPS. Runtime refers to the amount of time a UPS will be able to power its attached equipment in the event of a power disruption. The more equipment you have plugged in to your UPS, the less runtime you will have, so it is important to make sure your UPS is only providing backup power to your most critical equipment.
Selecting features
Schneider Electric offers the following features on its range of APC UPSs:
• Basic: user-replaceable batteries; surge-only outlets; building wiring fault indicator; transformer-block spaced outlets; automatic self-test.
• Enhanced: automatic voltage regulation; pure sine-wave output on battery; SmartSlot; scalable runtime; power conditioning.
• Advanced: adjustable voltage transfer points; temperature-compensated battery charging; intelligent battery management; predictive failure notifications; plug-and-play external batteries.
Schneider Electric South Africa is leading the digital transformation of energy management and automation in homes, buildings, data centres, infrastructure and industries. It provides UPS power supply for home, data centres and industrial environments. UPS power supply provides protection from power surges, blackouts (load shedding) and unpredictable weather conditions.
For more information contact Prisca Mashanda, Schneider Electric South Africa, +27 11 254 6400,  prisca.mashanda@se.com,  www.se.com/za
Credit(s)
Further reading:
Power supplies for building automation
June 2020, Phoenix Contact , Electrical Power & Protection
The new Step Power power supplies from Phoenix Contact are specifically tailored to the needs of modern building automation. With their comprehensive approval package, which includes the standard 
...
Read more...
---
Skid-mounted dry-type transformer
June 2020 , Electrical Power & Protection
In a specialised application on a coal mine, Trafo Power Solutions recently supplied a dry-type transformer mounted on a mobile skid. "The harsh environment of a coal mine required us to specially 
...
Read more...
---
Customised transformers for renewables and beyond
June 2020 , Electrical Power & Protection
A focus on application engineering allows Trafo Power Solutions to supply customised dry-type transformers for a range of sectors including renewable energy. "We begin at the proposal stage by engaging 
...
Read more...
---
Electrical certificate of compliance (COC) for instrumentation: non-hazardous installations
June 2020, Everest Equipment & Control , Electrical Power & Protection
An instrument and control installation's scope of work often never makes a request for a certificate of compliance: it is assumed to be an electrical function and hence many installations are non-compliant. 
...
Read more...
---
Five tips to manage energy use while staying at home
May 2020 , Electrical Power & Protection
Covid-19 continues to impact many aspects of our lives. Many are now required to stay at home in an effort to curb the spread of the pandemic. One of the many implications of staying at home will be the 
...
Read more...
---
Holistic approach to energy security
April 2020 , Electrical Power & Protection
As South Africans settle into the routine and inconvenience of load shedding and planning their activities around shifting electricity supply, it is businesses that are taking the biggest hit through 
...
Read more...
---
Save energy costs with highly-efficient Delta VFDs
April 2020, ElectroMechanica , Electrical Power & Protection
Customers can realise significant savings on their total energy costs by replacing older motor starters with energy-efficient Delta variable frequency drives (VFDs), distributed locally by ElectroMechanica 
...
Read more...
---
Utility made easy
April 2020, Schneider Electric South Africa , Electrical Power & Protection
In recognition of the growing demand for reliable power provision, Schneider Electric strives to assist network operators to deliver electricity safely and efficiently. The company's Advanced Distribution 
...
Read more...
---
Specialised transformers for renewable energy projects
April 2020, Zest WEG Group , Electrical Power & Protection
Zest WEG's local transformer manufacturing facility has supplied 36 specialised photovoltaic (PV) transformers to a solar energy generation plant in the Northern Cape. According to sales team leader, 
...
Read more...
---
Meeting the needs of the mining industry
April 2020, Varispeed (Div of Hudaco Trading) , Electrical Power & Protection
Both above and below ground, Varispeed keeps the interests of its customers top of mind, all the time. The company was recently approached by a platinum mine in South Africa to assist with a robust application. 
...
Read more...
---