printer friendly version
How the food and beverage industry could benefit from blockchain
Technews Industry Guide: Industrial Internet of Things & Industry 4.0
IT in Manufacturing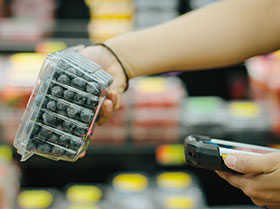 Advances in blockchain technology could enable the food and beverage industry (F&B) to enhance traceability. In the US alone, food recalls and food-borne illnesses cost some $77 billion per annum, including discarded products, loss of revenue, damage to corporate reputations and healthcare costs. Better traceability could significantly reduce these.
"Blockchain comes into its own when the data needs to be highly secure, or if smart contracts are to be managed," says Marc Ramsay, VP Industry Business Unit, Schneider Electric South Africa. "If an F&B manufacturer is handing off a finished product to a logistics company, which then delivers it to a retailer that stores it within a cold storage facility, the F&B stakeholders want to make sure that the logistics company does not damage the product and that it gets to its destination on time.
"Blockchain technology gives F&B organisations the ability to be much more precise in how they track their goods, and could simplify the execution (invoice/payment) of supply contracts. When an issue occurs, they can be more accurate about what needs to be removed and what can be kept in the food distribution pipeline.
"Verifications could all be dealt with within blockchain through smart contracts. At the IIoT level, sensors could be placed on transportation devices, such as pallets and packages, allowing variables like temperature and vibration levels to be monitored and the data stored in the blockchain.
"Stakeholders would then have real-time visibility into the stipulations of that contract and whether or not any of the agreed rules had been breached. This powerful tool provides traceability, security, transparency and real-time access to contracts that affect the upstream and downstream supply chain."
Blockchain process unpacked
In a blockchain process, networks of computers use consensus mechanisms and cryptography to allow each participant on the network (or along the supply chain) to update a distributed ledger in a highly secure manner, without a central authority. (For a hacker to breach one of the blocks in the chain would be difficult; to breach all the links at the same time would be nearly impossible.)
In a private blockchain, this can be complemented by access rights rules, defined by each ­participant of the blockchain based solution, making it is difficult to access the ledger data without the proper access rights. Moreover, some blockchain technologies have 'smart contracts' capability, which allows defined rules to be executed on the data in a secure way.
As a result, the level of trust built into such a system is high. When working within a trusted system, the time and cost associated with lengthy back and forth business processes is reduced. The ability to track movements across the various stages of a product lifecycle become much more acute, thereby improving the efficiency of the entire supply chain, i.e. defective products can be quickly traced and loss of revenue or damage to reputation limited.
More work to be done
"Although the use of blockchain in this type of application is still in the experimental and pilot stages, Schneider Electric is prototyping new ways to leverage its expertise in plant automation and process control to build and develop solutions that improve traceability across product life cycles," concludes Ramsay. "By partnering with blockchain technology specialists, such as Microsoft and IBM, we are assessing its contribution to the development of blockchain-based solutions that will support a multitude of key manufacturing and process industry requirements."
For more information contact Prisca Mashanda, Schneider Electric SA, +27 11 254 6400, prisca.mashanda@se.com, www.se.com/za
Credit(s)
Further reading:
TeSys Giga with digital innovation
Schneider Electric South Africa Electrical Power & Protection
Schneider Electric has announced the release of the new generation of TeSys Giga series motor starters.
Read more...
---
What does digitalisation mean for food product safety?
Endress+Hauser South Africa IT in Manufacturing
Product safety remains a vital topic for achieving food security across the globe. To date, many manufacturers still question whether digitalisation can help reduce the effort involved in process optimisation, production monitoring and system installation.
Read more...
---
Digital twins enhance asset productivity in oil and gas applications
IT in Manufacturing
The ability to continue through various production cycles with zero unplanned downtime means that practical efficiencies using digitisation are essential.
Read more...
---
IaaS – paying for the experience but not the assets
Schneider Electric South Africa IT in Manufacturing
Infrastructure-as-a-Service has emerged as a feasible option that maintains crucial infrastructure such as IT, power consumption and business continuity while organisations focus on their core business.
Read more...
---
Siemens extends Xcelerator portfolio
Siemens South Africa IT in Manufacturing
Siemens Digital Industries has announced the release of NX Automation Designer software and NX Industrial Electrical Design software, a new suite of solutions that provide a central design application for industrial, electrical and automation design.
Read more...
---
Intelligent automation for Industry 4.0
IT in Manufacturing
Jumo smartWARE Evaluation is a software solution that allows browser-based process data analysis via customised dashboards.
Read more...
---
Schneider boosts next generation TeSys Giga offering with digital innovation
Schneider Electric South Africa Electrical Power & Protection
Schneider Electric has announced the release of the new generation of TeSys Giga series motor starters.
Read more...
---
Simplifying the management of hybrid IT environments
Schneider Electric South Africa IT in Manufacturing
With the ongoing move towards hybrid cloud environments there comes an extra layer of complexity; nothing is ever as simple as it seems.
Read more...
---
Server engine for increasing machine learning requirements
Beckhoff Automation IT in Manufacturing
TwinCAT Machine Learning offers further inference engine.
Read more...
---
OPC Classic data connectivity notice
Moore Process Controls IT in Manufacturing
During June, Microsoft released a security update that changed how the Windows operating system enforces DCOM security. As a result, OPC communications relying on DCOM may stop working when the Windows changes start to be enforced in 2022.
Read more...
---