printer friendly version
RS Components introduces new Power over Ethernet injectors
June 2019
Electrical Power & Protection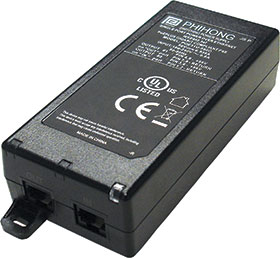 RS Components has announced availability of a new selection of Power over Ethernet (PoE) single-port mid-span power injectors manufactured by Phihong, a leader in advanced power solutions and a specialist in PoE technology.
Designed to deliver increased flexibility, PoE technology integrates power and data over an Ethernet cable. By integrating power into a standard LAN infrastructure, the technology can enable highly scalable and flexible networking, enabling the placement of powered network devices where they are needed and not necessarily near a power source. PoE technology targets an extensive series of applications and enables power to be supplied to devices such as IP telephones, security cameras, IP print servers and wireless LAN access points including Bluetooth and WiMax.
Midspan power injectors deliver additional power capability and can be used in combination with either a non-PoE switch or a PoE switch already in place in a network that is potentially operating at full capacity. Midspan solutions can cost substantially less than a new PoE-enabled switch, and come in single or multi-port options.
Offering a wide selection of power ratings from15.4-60 W, the Phihong PoE midspan power injectors also feature: compliance with either IEEE802.3AF, AT or BT, depending on the selected model; Gigabit Ethernet compatibility; universal input from 90-264 VAC and protection features including over current and over voltage.
Credit(s)
Further reading:
RS adds food grade maintenance line
October 2019, RS Components SA , Maintenance, Test & Measurement, Calibration
RS Components has launched a new range of food grade maintenance products for use in the food processing and catering sector. All RS Pro food grade products are registered with the NSF (National Sanitisation 
...
Read more...
---
WEG IE3 compliant motor control and protection
October 2019, Zest WEG Group , Electrical Power & Protection
The increased move towards the use of IE3 electric motors has made it increasingly important that the most appropriate starting method be selected to ensure optimum performance. With this move it is essential 
...
Read more...
---
Electronic monitoring devices from EM
October 2019, ElectroMechanica , Electrical Power & Protection
A comprehensive range of electronic monitoring and timing devices in different formats for ease of use and retrofit purposes is available from ElectroMechanica (EM). The ElectroDev units are suited to 
...
Read more...
---
Integrated earth leakage protection
October 2019, Schneider Electric South Africa , Electrical Power & Protection
Schneider Electric has announced the introduction of integrated earth leakage protection for its Compact NSX and NSXm moulded circuit breaker ranges. "The award-winning Compact NSX moulded case circuit 
...
Read more...
---
Batteries in motive power applications
October 2019, Comtest , Electrical Power & Protection
When discussing motive power applications, the initial thought is that their batteries must be similar to transportation batteries. After all, this equipment is 'motive' just like a car or truck. However, 
...
Read more...
---
Better transformer design improves safety
October 2019 , Electrical Power & Protection
As electricity utilities and users worldwide look to become more safety conscious and efficient in their use of electrical energy, it is important to leverage the improvements that have been made in the 
...
Read more...
---
Stakeless ground loop tester
October 2019, Comtest , Electrical Power & Protection
Testing the grounding components of equipment in hard to reach spaces, including areas that are indoors or fully paved and do not permit driving auxiliary test stakes, is always challenging. Comtest is 
...
Read more...
---
RS introduces new MakerBot Method 3D printer
October 2019, RS Components SA , News
RS Components has introduced the latest version of the MakerBot 3D printer – the MakerBot Method – which has been designed to bridge the gap between industrial and desktop 3D printing. The unit targets 
...
Read more...
---
RS announces availability of interconnection solutions from HARTING
October 2019, RS Components SA , Enclosures, Cabling & Connectors
RS Components has extended its industrial connector portfolio with new solutions from HARTING, including the recently launched Han 1A connector. The new Han 1A is a significantly smaller connector than 
...
Read more...
---
Cut the complexity of panel design
September 2019, ElectroMechanica , Electrical Power & Protection
A low-voltage electrical distribution system design to reduce the complexities often associated with panel design is available from leading local supplier ElectroMechanica (EM). Quadro+ from Hager combines 
...
Read more...
---