printer friendly version
Thinking industry further
May 2019
IT in Manufacturing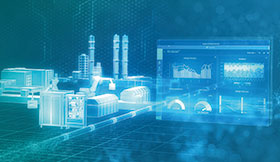 At Hannover Messe, Siemens has presented numerous additions to its Digital Enterprise portfolio for the next level of digital transformation in the discrete and process industries. "Through the integration of cutting-edge technologies into our portfolio, we can help industrial companies to benefit from rapidly growing data volumes in wide-ranging new ways," explained Siemens board member, Klaus Helmrich. "With the use of technologies such as artificial intelligence, edge computing and additive manufacturing, we are paving the way for the future of industry."
Under the slogan: 'Digital Enterprise – Thinking industry further!' Siemens demonstrated how companies of any size can use industry-specific solutions to increase their flexibility and productivity and to develop new business models.
The basis for these cutting-edge technologies is the availability of data. Through digital twins that map and link together all the steps of industrial manufacturing in a virtual world, comprehensive data pools can be created. One example is a new module with an integrated AI-capable chip for the Simatic S7-1500 controller: through the use of machine learning algorithms, robot-based handling processes can be optimised, for example. For the learning process, artificial intelligence (AI) requires large volumes of data. And this data is only available if processes have been digitalised and linked together seamlessly. With Industrial Edge, Siemens has extended its Digital Enterprise automation platforms – Simatic and Sinumerik – to include a data processing solution on the shop floor. With its scalable concept extending from the floor to the MindSphere open, cloud-based IoT operating system, Siemens is creating a manufacturing renaissance.
At the booth, Siemens used a showcase from automotive manufacturing to demonstrate how the use of cloud and edge-based data analysis, together with other cutting-edge technologies such as additive manufacturing and autonomous manufacturing systems, create new opportunities for the efficient and flexible production of electric cars and batteries. "Siemens is supporting the automotive industry with software and automation systems for the transformation to e-mobility," explained Helmrich. "This helps to meet today's challenges, such as the growing demand for customised products."
Digitalisation cannot be implemented without protecting industrial plants from cyberattacks. In future, AI and edge computing will also improve security, since data analysis can be used to detect cyber threats quickly and reliably.
For process automation, Siemens broke new ground at the Hannover Messe and introduced an innovative new process control system. With Simatic PCS neo, the company presented a brand new system software package, which offers the process industry new opportunities in the age of digitalisation. This includes global web-based cooperation in engineering and operations as well as unique usability with a seamless object-oriented data model and open system architecture. In addition, it offers the option of scalability from small process modules through to the largest process plants in the world.
Visitors to the 'Future Area' of the booth discovered where the integration of these cutting-edge technologies is leading – to a much stronger link between OT and IT. Through the convergence of these technology areas, increasing volumes of data from industrial development and manufacturing will in future be linked with other data from areas such as logistics or purchasing. As a result, a large amount of information will be transferred from the central to the control level.
In order to provide cross-sector data transfer and to increase flexibility and productivity, a wide-ranging, powerful communication infrastructure is required. The new 5G communication standard creates exciting prospects here. High data rates, reliable high-performance broadband transmission and ultra-short latency periods support considerable increases in efficiency and flexibility in industrial value creation – especially for Industry 4.0 applications. Siemens has used this new communication standard from the outset and is supporting standardisation and industrial implementation through the development of an appropriate portfolio. It is also running its own research projects for Industrial 5G and establishing several 5G interoperability test centres running under actual OT conditions. This includes the evaluation and testing of available industrial standards, such as Profinet and Time Sensitive Networking (TSN).
"We support our customers on the path to digitalisation, from consulting on strategies for industrial digitalisation through to supporting in the implementation and optimisation of digital solutions," concludes Helmrich. "Together we determine the existing level of digitalisation at the relevant company, and from there we develop a transformation strategy together with a roadmap."
For more information contact Jennifer Naidoo, Siemens Digital Industries, +27 11 652 2795, jennifer.naidoo@siemens.com, www.siemens.co.za
Credit(s)
Further reading:
Navigate the fourth industrial revolution with PricewaterhouseCoopers
November 2019 , IT in Manufacturing
Using the building blocks of 4IR to transform business processes into manufacturing advantages requires a holistic approach.
Read more...
---
Artificial intelligence in manufacturing – a practical and simplified view
November 2019, Altron Bytes Systems Integration , IT in Manufacturing
Looking at and interpreting data generated during the manufacturing process to find ways to reduce waste, improve quality and increase yield is not new. However, the increased use of digital technologies 
...
Read more...
---
Intelligent data glasses support production
November 2019, Siemens Digital Industries , IT in Manufacturing
Augmented Reality (AR) has arrived in the workplace: for the last three years, a consortium of six companies and institutions chaired by Siemens has been researching the use of augmented reality (AR) 
...
Read more...
---
VinFast deploys Siemens technology to deliver cars ahead of schedule
November 2019, Siemens Digital Industries , System Integration & Control Systems Design
VinFast, Vietnam's first volume car manufacturer, has successfully produced its first cars ahead of schedule using Siemens' portfolio of integrated software and hardware. By deploying its portfolio, Siemens 
...
Read more...
---
Siemens launches report on Dawn of Digitalisation and its Impact on Africa
October 2019, Siemens Digital Industries , IT in Manufacturing
Africa needs a digitalisation strategy to compete in the global economy.
Read more...
---
Integrating IT with Operations Technology - a CIO perspective
October 2019, Absolute Perspectives , IT in Manufacturing
Digitisation projects, spurred on by Industry 4.0 and technological advances, have opened up many possibilities to create new value.
Read more...
---
Real-time data increases metal recovery at Peñasquito mine
November 2019 , IT in Manufacturing
At a recent OSIsoft User Conference in California, ARC Advisory Group had an opportunity to learn about a related project at Newmont Goldcorp's flagship Peñasquito gold, silver, zinc, and lead mine in 
...
Read more...
---
The power of data
October 2019, Throughput Technologies , IT in Manufacturing
Gain access to important information with ProSoft's new OPC UA-based gateway and data logger.
Read more...
---
Securing and managing devices the modern way
October 2019 , IT in Manufacturing
Organisations of all types and sizes are bringing vast numbers of devices into their IT infrastructure and networks. Moreover, these devices are not only smartphones, wearables and tablets because the 
...
Read more...
---
Siemens South Africa puts Smart City vision into action
September 2019, Siemens Digital Industries , News
Fourteen months ago, Siemens installed a microgrid at its headquarters in Midrand and data shows it is using 50% less supplied energy, drawing it from solar resources instead. By extracting energy off 
...
Read more...
---