printer friendly version
Cathay Industrial Biotech benefits from Siemens technology
May 2019
IT in Manufacturing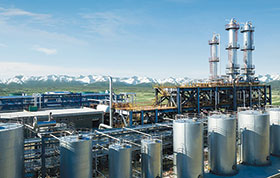 Cathay Industrial Biotech (Cathay) is China's leader in the field of bio-manufacturing. Its areas of expertise include producing polyamide from biomass, which takes place in a totally digital plant using laboratory, automation and control technology from Siemens. Extensive plant-wide digitalisation and automation have simplified research and maintenance, while also increasing the yield. This has enabled Cathay to produce polyamide and fibre using a method that is both sustainable and ecological.
Polyamide is required across a range of areas, including the manufacture of clothing, shoes and automotive components. Traditionally, polyamide is synthesised from fossil fuels in petrochemical plants. Cathay is taking a completely new approach using renewable biomass, or corn to be more precise. But the process required is a complex one, due largely to the organisms used. Digitalisation can open up wide-ranging opportunities in this field. "With big data, we can learn more about the laws guiding production," says Liu Xiucai, chairman and CEO of Cathay. "The efficiency of bio-manufacturing can only be improved by integrating the whole production chain with hardware and software control, collecting, processing and analysing data automatically, and then feeding the results back to production."
Integrated solution for integrated digitalisation
The digitalisation solution required to make this possible comes from Siemens. Using Simatic Sipat software with Process Analytical Technology (PAT), the researchers at Cathay investigate microorganisms best suited to industrial production. The plant engineering software Comos enables the construction of a digital twin. The Simit simulation software is then used to test and optimise the systems. The Simatic PCS 7 process control system secures stable production. The MES Simatic IT is responsible for ensuring stable production processes by sending out electronic work orders and evaluating and recording the quality. Using the XHQ operational intelligence software, Cathay can acquire information from all systems and create detailed reports and dashboards for further optimistion. Siemens also provides smart sensors, process instruments as well as LV and MV electrical equipment for the new plant, and supports Cathay with technical services and system integration.
Ideally placed for the future
This integrated solution provides Cathay with the benefits of real-time feedback from production, a minimised maintenance workload, simplified troubleshooting and fixing of faults, as well as automation of many of its production steps. With these advances, the factory is setting new standards on many levels. Not only is it an ultra-modern production facility, it is also a trailblazer for the future of biotechnology: "Biotechnology can be used to manufacture better materials and also for mass production," concludes Liu.
For more information contact Jennifer Naidoo, Siemens Digital Industries, +27 11 652 2795, jennifer.naidoo@siemens.com, www.siemens.co.za
Credit(s)
Further reading:
Navigate the fourth industrial revolution with PricewaterhouseCoopers
November 2019 , IT in Manufacturing
Using the building blocks of 4IR to transform business processes into manufacturing advantages requires a holistic approach.
Read more...
---
Artificial intelligence in manufacturing – a practical and simplified view
November 2019, Altron Bytes Systems Integration , IT in Manufacturing
Looking at and interpreting data generated during the manufacturing process to find ways to reduce waste, improve quality and increase yield is not new. However, the increased use of digital technologies 
...
Read more...
---
Intelligent data glasses support production
November 2019, Siemens Digital Industries , IT in Manufacturing
Augmented Reality (AR) has arrived in the workplace: for the last three years, a consortium of six companies and institutions chaired by Siemens has been researching the use of augmented reality (AR) 
...
Read more...
---
VinFast deploys Siemens technology to deliver cars ahead of schedule
November 2019, Siemens Digital Industries , System Integration & Control Systems Design
VinFast, Vietnam's first volume car manufacturer, has successfully produced its first cars ahead of schedule using Siemens' portfolio of integrated software and hardware. By deploying its portfolio, Siemens 
...
Read more...
---
Siemens launches report on Dawn of Digitalisation and its Impact on Africa
October 2019, Siemens Digital Industries , IT in Manufacturing
Africa needs a digitalisation strategy to compete in the global economy.
Read more...
---
Integrating IT with Operations Technology - a CIO perspective
October 2019, Absolute Perspectives , IT in Manufacturing
Digitisation projects, spurred on by Industry 4.0 and technological advances, have opened up many possibilities to create new value.
Read more...
---
Real-time data increases metal recovery at Peñasquito mine
November 2019 , IT in Manufacturing
At a recent OSIsoft User Conference in California, ARC Advisory Group had an opportunity to learn about a related project at Newmont Goldcorp's flagship Peñasquito gold, silver, zinc, and lead mine in 
...
Read more...
---
The power of data
October 2019, Throughput Technologies , IT in Manufacturing
Gain access to important information with ProSoft's new OPC UA-based gateway and data logger.
Read more...
---
Securing and managing devices the modern way
October 2019 , IT in Manufacturing
Organisations of all types and sizes are bringing vast numbers of devices into their IT infrastructure and networks. Moreover, these devices are not only smartphones, wearables and tablets because the 
...
Read more...
---
Siemens South Africa puts Smart City vision into action
September 2019, Siemens Digital Industries , News
Fourteen months ago, Siemens installed a microgrid at its headquarters in Midrand and data shows it is using 50% less supplied energy, drawing it from solar resources instead. By extracting energy off 
...
Read more...
---