printer friendly version
Yokogawa to release compact new IIoT sensors outside Japan
March 2019
Sensors & Transducers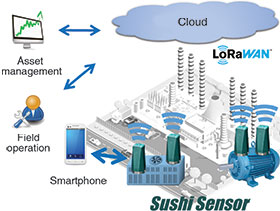 Yokogawa has announced that it will release the Sushi Sensor, an OpreX brand wireless solution, in markets other than Japan, starting with Europe (shipping in March 2019). Already available in Japan, the Sushi Sensor is a compact wireless device with integrated sensing and communication functions that is intended for use in the monitoring of plant equipment, vibration and surface temperature. Optimised for IIoT applications, the Sushi Sensor enables the online monitoring of equipment operating conditions, which helps to improve equipment maintenance and prevent failures by detecting signs of abnormalities at an early stage.
Development background
As manufacturers strive to improve productivity and the efficiency of their plant maintenance operations, they have a growing need for solutions that facilitate the collection of equipment data. This is driving demand for wireless sensors that are easier and cheaper to install than conventional wired devices.
To detect signs of equipment abnormalities at an early stage and prevent unexpected equipment failures, it is essential to frequently measure the vibration and surface temperature of plant equipment such as compressors, pumps, and motors, and to enable the monitoring of such data online. Although crucial equipment may already be continuously monitored by using wired sensors, this may be difficult with many other types of equipment due to the high initial cost and the challenges of wiring devices in difficult to access locations. Such equipment must be inspected during operator rounds or periodic inspections. Therefore, there is an increasing need for wireless vibration and temperature sensors that can be installed easily and at a low cost, to improve maintenance efficiency.
To meet this need, Yokogawa has developed the Sushi Sensor, a compact wireless device that measures vibration and temperature and uses LoRaWAN, a low-power wide-area (LPWA) wireless data communication protocol that is attracting considerable interest among developers for use in IIoT applications*1. Yokogawa released the Sushi Sensor in the Japan market in March 2018, and has already established a solid track record with this device. Yokogawa also offers field wireless systems that comply with the proven and highly reliable ISA100 Wireless*2 standard and help to ensure stable and safe plant operations. The European release of the Sushi Sensor is set for 2019, with other regions following after that, giving our customers in these markets a greater range of optimum solutions to choose from.
Features
Easy installation and setup
The compact wireless sensor complies with the LoRaWAN communication standard for long-distance communications, and thus needs no repeaters. It is also battery-powered, eliminating the need for an external power supply. Being compact and lightweight, this sensor can easily be mounted on all kinds of plant equipment. In addition, the sensor supports near-field radio communication, which allows sensor setting and sensor condition monitoring from a smartphone via a dedicated app.
Excellent environmental resistance
Although vibration and temperature sensors for IIoT applications are commercially available, most of them were designed for indoor use. Yokogawa's compact wireless Sushi Sensor is environmentally robust and is well suited for installation in harsh plant locations.
Monitoring via on premise or the cloud server
Data collected by the Sushi Sensor can be monitored either from an on premise server or a cloud-based server via a LoRaWAN gateway. From the on premise server, or any device in a remote location that can access the cloud server, operators and maintenance staff can monitor the vibration and surface temperature of equipment throughout a plant.
For the monitoring of equipment operating conditions, the compact wireless sensor with integrated sensing and communication functions collects vibration and surface temperature data and transmits this via a LoRaWAN gateway.
Applications
The sensors are designed to measure the vibration and temperature of plant equipment such as compressors, pumps, motors, fans and conveyors in the oil and gas, chemicals, electrical power, pulp and paper, pharmaceuticals, food and water industries.
For more information contact Yuvisti Ramgulam, Yokogawa South Africa, +27 11 831 6300, yuvisti.ramgulam@za.yokogawa.com, www.yokogawa.com/za
Credit(s)
Further reading:
AI takes control of chemical plant for 35 days
Yokogawa South Africa News
Yokogawa Electric and JSR successfully put into practical use a next-generation control technology that takes into account quality, yield, energy savings, and sudden disturbances.
Read more...
---
Remote monitoring keeps cherries cool
Sensors & Transducers News
The innovative and adaptable nature of the NviroSense system allows for various applications to be added on as per the client's requirements.
Read more...
---
Tiny transmitter for Memosens sensors
Mecosa Sensors & Transducers
In keeping with the use of Memosens sensors in tough environments, the MT201N transmitter is equipped with a sturdy, sealed housing.
Read more...
---
Long-range laser distance sensors
ASSTech Process Electronics + Instrumentation Sensors & Transducers
As a result of intensive R&D, these transit time sensors emit very short light pulses in the nanosecond range, with signals that are statistically evaluated to determine the distance to the object.
Read more...
---
Sensors train many eyes on FMCGs
VEGA Controls SA Editor's Choice Sensors & Transducers
Profit margins on consumer goods are small, which makes it all the more important for producers to have smooth, efficient operating processes.
Read more...
---
Ultrasonic sensors enable automatic stacking turf harvester
Instrotech Sensors & Transducers
The AutoStack, and now the AutoStack II, use an automated Ultra Steer system to guide the harvester with precision while the operator watches over all aspects of the harvesting process.
Read more...
---
Condition monitoring sensor with IO-Link
Turck Banner Sensors & Transducers
Continuously records humidity and temperature in production and storage areas, and outputs the values via IO-Link or as a switching signal.
Read more...
---
Concentration and viscosity measurements from raw materials to finished products
Sensors & Transducers
Learn more about Anton Paar's various solutions through these seven application reports, which cover just a fraction of the company's portfolio.
Read more...
---
2D/3D profile sensor for weld seam tracking
ASSTech Process Electronics + Instrumentation Sensors & Transducers
Supporting software can evaluate two- and three-dimensional data from smart cameras, vision systems, profile sensors and IPCs with profile sensors.
Read more...
---
Fibre-optic position sensor
ifm - South Africa Sensors & Transducers
With ifm's new OCF sensor, fingernails and DIN-rails will remain intact during assembly and disassembly, and screwdrivers can stay in the toolbox.
Read more...
---