printer friendly version
Power supply protects against hour-long power failures
February 2019
Electrical Power & Protection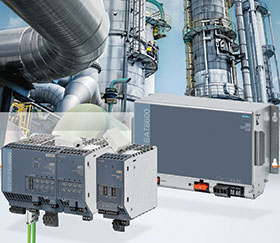 Siemens has upgraded its Sitop PSU8600 power supply system with the addition of new supplementary modules to transform it into an uninterruptible DC power supply. To achieve this, the new DC UPS module UPS8600 uses the energy stored in BAT8600 battery modules to keep the system up and running in the event of a power failure, and it extends the previous bridging times enabled by the buffer modules from minutes to hours. The PSU8600 has up to 36 outputs capable of being adjusted between 4 and 28 volts, and all of these can be buffered in the event of a power failure. To maximise buffering time for important loads, it is also possible to selectively shut down certain outputs. The Sitop PSU8600 is particularly suitable for use in applications that place stringent demands on reliability and simple integration, such as the automotive, food or pharmaceutical industries, and in the field of plant and special-purpose machinery building. The enhanced availability with the new UPS8600 makes the power supply ideally suited also for process applications such as in the chemical, oil and gas industries.
The DC UPS module can be simply integrated into the system network of the Sitop PSU8600 using the System Clip Link. The battery module is installed by means of wall mounting outside the network and connected to the UPS8600 over a plus and minus wire and the two wires of the Energy Storage Link. This allows the system to automatically detect the battery type and diagnose the battery charge status. The smart battery management system permits temperature-led charging, which helps to extend the service life of the battery. The battery modules are fitted with lead or lithium iron phosphate batteries with a capacity of 380 Wh and 264 Wh respectively. Users are able to connect up to five BAT8600 battery modules to one UPS8600 to increase the mains power failure bridging time. The BAT8600 battery module using lithium technology offers a particularly long service life, even at higher ambient temperatures.
The supply is able to communicate with practically any automation system at any time through the base module, which has Profinet and OPC UA capability. Users can respond directly to messages and diagnostic information about the operating mode (mains or buffer operation), charge status, buffer readiness, or the need to change a battery. Integration in the network allows several PCs to be safely powered down with the UPS8600.
Engineering takes place through the TIA Portal, while diagnostic functions use WinCC Faceplates or the Simatic PCS 7 Library. For open integration over Ethernet or OPC UA, new software is currently in preparation to enable convenient system-independent engineering, operation and observation.
For more information contact Jennifer Naidoo, Siemens Digital Factory and Process Industries and Drives, +27 11 652 2795, jennifer.naidoo@siemens.com, www.siemens.co.za
Credit(s)
Further reading:
Latest power monitoring device
November 2019, ElectroMechanica , Electrical Power & Protection
A new panel-mounted power monitoring device (PMD) from Socomec has been launched locally by ElectroMechanica (EM). The Socomec DIRIS A-40 has been designed for measuring, monitoring, and reporting electrical 
...
Read more...
---
Intelligent data glasses support production
November 2019, Siemens Digital Industries , IT in Manufacturing
Augmented Reality (AR) has arrived in the workplace: for the last three years, a consortium of six companies and institutions chaired by Siemens has been researching the use of augmented reality (AR) 
...
Read more...
---
VinFast deploys Siemens technology to deliver cars ahead of schedule
November 2019, Siemens Digital Industries , System Integration & Control Systems Design
VinFast, Vietnam's first volume car manufacturer, has successfully produced its first cars ahead of schedule using Siemens' portfolio of integrated software and hardware. By deploying its portfolio, Siemens 
...
Read more...
---
Siemens launches report on Dawn of Digitalisation and its Impact on Africa
October 2019, Siemens Digital Industries , IT in Manufacturing
Africa needs a digitalisation strategy to compete in the global economy.
Read more...
---
WEG IE3 compliant motor control and protection
October 2019, Zest WEG Group , Electrical Power & Protection
The increased move towards the use of IE3 electric motors has made it increasingly important that the most appropriate starting method be selected to ensure optimum performance. With this move it is essential 
...
Read more...
---
Electronic monitoring devices from EM
October 2019, ElectroMechanica , Electrical Power & Protection
A comprehensive range of electronic monitoring and timing devices in different formats for ease of use and retrofit purposes is available from ElectroMechanica (EM). The ElectroDev units are suited to 
...
Read more...
---
Integrated earth leakage protection
October 2019, Schneider Electric South Africa , Electrical Power & Protection
Schneider Electric has announced the introduction of integrated earth leakage protection for its Compact NSX and NSXm moulded circuit breaker ranges. "The award-winning Compact NSX moulded case circuit 
...
Read more...
---
Batteries in motive power applications
October 2019, Comtest , Electrical Power & Protection
When discussing motive power applications, the initial thought is that their batteries must be similar to transportation batteries. After all, this equipment is 'motive' just like a car or truck. However, 
...
Read more...
---
Better transformer design improves safety
October 2019 , Electrical Power & Protection
As electricity utilities and users worldwide look to become more safety conscious and efficient in their use of electrical energy, it is important to leverage the improvements that have been made in the 
...
Read more...
---
Stakeless ground loop tester
October 2019, Comtest , Electrical Power & Protection
Testing the grounding components of equipment in hard to reach spaces, including areas that are indoors or fully paved and do not permit driving auxiliary test stakes, is always challenging. Comtest is 
...
Read more...
---