printer friendly version
Simple connection of converters supports cloud-based applications
February 2019
IT in Manufacturing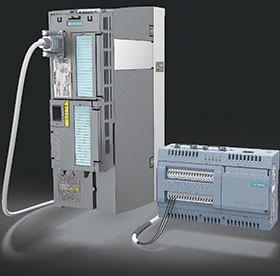 The new Sinamics Connect 300 from Siemens provides a simple plug-and-play solution for integrating converters of the Sinamics family into the IT world. The new solution is suitable for low-voltage converters and supports cloud-based digitalisation solutions.
MindSphere applications such as Analyze MyDrives can now be used directly via Sinamics Connect 300. Sinamics Connect 300 is an IoT gateway with its own dedicated LAN connection. The converter is connected directly to the Sinamics Connect 300 terminal block. Parameters, operating data and statuses are being transmitted over universal serial interface protocol and can be retrieved at any time. No modifications are necessary to the hardware or firmware of drives used with Sinamics Connect 300, nor do PLC programs need to be adjusted. Commissioning takes place conveniently and simply using a web server user interface. Sinamics Connect 300 does not bring about any changes to the data and signal flow of the machine automation, nor does it place any additional load on the fieldbus of the machine or plant. This makes the use of Sinamics Connect 300 completely independent of the automation and enables rapid, trouble-free and low-cost commissioning. The simultaneous connection of up to eight drives opens up outstanding economies of scale, and the Sinamics Connect 300 is also highly suited for machine users looking to directly upgrade heterogeneous legacy machine fleets in brown field projects.
Analyze MyDrives now also available for the latest MindSphere version
The MindSphere app Analyze MyDrives is being prepared for use with the latest MindSphere version. Analyze MyDrives allows operators to monitor the drive components of their machines. The app collates and evaluates all the operating data, and can be used to analyse and visualise any parameters, or to define the threshold values and work area. By continuously monitoring power consumption, torque and frequency, it enables the determination of actual maintenance requirements. As a result, machine operators are informed about any critical operating statuses within the drive train, and machine builders are able to offer servicing tailored to actual needs. Regular machine maintenance performed generally at predefined intervals is no longer required, enhancing machine capacity utilisation and productivity while reducing maintenance intervals and downtimes. The analysis of operating data also enables predictive maintenance and so reduces the risk of unscheduled costs, allowing all optimisation potential to be channelled into energy-saving measures.
For more information contact Jennifer Naidoo, Siemens Digital Factory and Process Industries and Drives, +27 11 652 2795, jennifer.naidoo@siemens.com, www.siemens.co.za
Credit(s)
Further reading:
Navigate the fourth industrial revolution with PricewaterhouseCoopers
November 2019 , IT in Manufacturing
Using the building blocks of 4IR to transform business processes into manufacturing advantages requires a holistic approach.
Read more...
---
Artificial intelligence in manufacturing – a practical and simplified view
November 2019, Altron Bytes Systems Integration , IT in Manufacturing
Looking at and interpreting data generated during the manufacturing process to find ways to reduce waste, improve quality and increase yield is not new. However, the increased use of digital technologies 
...
Read more...
---
Intelligent data glasses support production
November 2019, Siemens Digital Industries , IT in Manufacturing
Augmented Reality (AR) has arrived in the workplace: for the last three years, a consortium of six companies and institutions chaired by Siemens has been researching the use of augmented reality (AR) 
...
Read more...
---
VinFast deploys Siemens technology to deliver cars ahead of schedule
November 2019, Siemens Digital Industries , System Integration & Control Systems Design
VinFast, Vietnam's first volume car manufacturer, has successfully produced its first cars ahead of schedule using Siemens' portfolio of integrated software and hardware. By deploying its portfolio, Siemens 
...
Read more...
---
Siemens launches report on Dawn of Digitalisation and its Impact on Africa
October 2019, Siemens Digital Industries , IT in Manufacturing
Africa needs a digitalisation strategy to compete in the global economy.
Read more...
---
Integrating IT with Operations Technology - a CIO perspective
October 2019, Absolute Perspectives , IT in Manufacturing
Digitisation projects, spurred on by Industry 4.0 and technological advances, have opened up many possibilities to create new value.
Read more...
---
Real-time data increases metal recovery at Peñasquito mine
November 2019 , IT in Manufacturing
At a recent OSIsoft User Conference in California, ARC Advisory Group had an opportunity to learn about a related project at Newmont Goldcorp's flagship Peñasquito gold, silver, zinc, and lead mine in 
...
Read more...
---
The power of data
October 2019, Throughput Technologies , IT in Manufacturing
Gain access to important information with ProSoft's new OPC UA-based gateway and data logger.
Read more...
---
Securing and managing devices the modern way
October 2019 , IT in Manufacturing
Organisations of all types and sizes are bringing vast numbers of devices into their IT infrastructure and networks. Moreover, these devices are not only smartphones, wearables and tablets because the 
...
Read more...
---
Siemens South Africa puts Smart City vision into action
September 2019, Siemens Digital Industries , News
Fourteen months ago, Siemens installed a microgrid at its headquarters in Midrand and data shows it is using 50% less supplied energy, drawing it from solar resources instead. By extracting energy off 
...
Read more...
---