printer friendly version
IR thermocouple offers noise immunity
January 2019
Temperature Measurement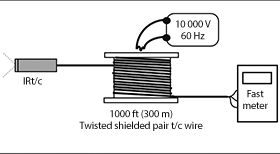 With twisted shielded pair thermocouple extension wire, an Exergen IRt/c can be mounted as far as 300 metres from the readout device, even in harsh electrically noisy environments. The extraordinary noise suppression characteristics designed into the unit make this possible, without using a transmitter. The housing is electrically isolated from the signal leads and is connected to the shielded ground of the extension cable. For long distances, the twisted shielded extension cable should be used, and the shield connected to a good electrical ground.
A demonstration test was performed with a 300 m coil of twisted shielded pair of extension wire, with 30 m unwound, connecting an Exergen IRt/c to a fast (100 msec response) A/D conversion module and a computer. As a noise generator, a 60 Hz 10 000 volt transformer and spark generator was set up to spark within 6 inches (15 cm) of the wire. The test results showed less than 0,1°C of noise error for any relative positioning of the wire, spark and transformer.
Credit(s)
Further reading:
Bimetal thermometer with switch contacts
December 2019, WIKA Instruments , Temperature Measurement
WIKA's model TGS55 is a stainless steel bimetal thermometer which offers high reliability and long service life. Wherever the process temperature has to be indicated on-site and, at the same time, circuits 
...
Read more...
---
Infrared monitoring of kiln shells extends refractory life
December 2019 , Temperature Measurement
Extending the life of a kiln refractory as well as preventing disastrous failures requires a good understanding of the condition of the refractory material.
Read more...
---
Thermocouples in gasification reactors
November 2019, WIKA Instruments , Temperature Measurement
Gasification reactors, due to their harsh process conditions, place high demands on the instruments used there. Many manufacturers have reacted to this and adapted their products accordingly, but what 
...
Read more...
---
Hotspot detection in pressboard manufacturing applications
October 2019, R&C Instrumentation , Temperature Measurement
In the building industry, there is a product used that is commonly referred to as pressboard, also known as chipboard. Sheets of pressboard are typically 1,2 m x 2,4 m in size and are used in the construction 
...
Read more...
---
Pair temperature probes with different cable lengths
October 2019, ASSTech Process Electronics + Instrumentation , Temperature Measurement
In heat meters for heating systems, two paired temperature probes are usually used for symmetrical installation. These must have identical cable lengths to comply with the legal regulations. Now, Jumo 
...
Read more...
---
IR thermometers in the steel industry
September 2019, R&C Instrumentation , Temperature Measurement
In many foundry applications, temperature readings show whether processes are operating within their proper ranges, whether a reheater is too cold or too hot, whether a stand needs adjusting, or how much 
...
Read more...
---
Compact IR camera with industrial accessories
September 2019, Comtest , Temperature Measurement
Comtest has announced an addition to the Optris Compact line of IR cameras – Xi 80 and Xi 400 – with new industrial accessories for use in harsh conditions. The range has a modular design and as a result, 
...
Read more...
---
IR measurement optimises plastic stationary and rotary thermoforming
August 2019, R&C Instrumentation , Temperature Measurement
Background
Thermoforming is the process by which a thermoplastic sheet is made soft and pliable by heating, and bi-axially deformed by being forced into a three-dimensional shape. This process may take 
...
Read more...
---
Temperature profiling in aluminium heat treatment
July 2019, R&C Instrumentation , Temperature Measurement
Many high volume production foundries use continuous furnaces for the heat treatment of castings. Cylinder heads, wheels, suspension components and many other aluminium alloy products are placed in wire 
...
Read more...
---
Speeding up the inkjet drying process
July 2019, Temperature Controls , Temperature Measurement
For high speed printing processes, the limiting factor for the productivity of the equipment is usually ink drying time. To maximise printing speed without quality loss, it is important to be able to 
...
Read more...
---