printer friendly version
Siemens launches Distributed Energy System for Africa
December 2018
Electrical Power & Protection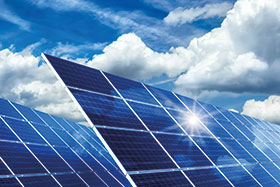 Africa's energy transition is happening now. Population and economic growth are major factors that play a role in increased energy consumption and the evolving energy landscape. The era of the Internet of Energy (IoE) means that industry is identifying new ways to drive and optimise its own conversion to clean, renewable power generation and supply, and because the need to rely on large power plants for energy is diminishing, Microgrids are being implemented to ensure reliable and sustainable energy when outages occur, and even when too much pressure is placed on the national grid.
To this end, Siemens has launched a one of a kind, end-to-end Distributed Energy System (DES) at its head office in Midrand, as a solution to tackle Africa's energy transition. The launch took place after an interactive discussion between Sabine Dall'Omo, Siemens CEO for Southern and Eastern Africa and media partner CNBC Africa as well key industry players, around the role that Distributed Energy Systems plays in Africa's energy transition.
The system is built around a 1 MW PV-solar plant strategically positioned throughout the Siemens Park campus that takes full advantage of the African sun. Captured solar power is then integrated into the Sicam Microgrid Controller. Excess energy is stored in a 140 kWh Siestorage installation, with the entire system monitored, visualised and controlled via the IIoT energy platform – Monet.
Combining efforts from local and global company experts, this is the first Siemens DES solution of its kind in Africa, and is in line with the company's goal to achieve carbon neutrality by 2030 through energy efficiency, decentralised energy systems, and the purchasing of clean electricity.
The project provides a showcase to current and prospective customers on a proven Siemens solution that will help them save energy, cut costs, lower carbon emissions and ensure uninterrupted power. "Microgrids and DES solutions are ideal for Africa because they are designed for a specific purpose, be it communities or industry," says Dall'Omo. "But it also means you can have diverse power supplies, such as solar or wind during the day, then switch over to other forms of generation like biomass when the conditions for renewables are poor."
The Sicam 8000 Microgrid Controller is the intelligence behind the system that stabilises the Siemens campus grid in case of an outage and allows for cost-optimised energy consumption. It took home the Digital Solution of the Year award at the Africa Utility Week Industry Gala Awards.
Solutions in Africa for Africa
The challenges currently facing Africa's energy sector are urging private businesses, communities and educational institutions to curtail their dependence on the traditional, centralised model of linear power generation and delivery, and to identify efficient power generation solutions.
"The DES is designed to provide uninterrupted power and ensure a steady and reliable electricity supply for the continent's growing demand," explains Dall'Omo. "Industry, hospitals, corporate parks and small communities, for example, can also improve their energy costs and operations by adapting similar strategies and implementing DESs.
"This system will drive down our organisations energy costs and cut carbon emissions. We have already reduced the energy demand from the national grid by approximately 40% compared to previous years and more savings are expected with further optimisation."
In a next step, the system will be connected with the Siemens Desigo CC Building Management System and Smart Metering network in the buildings.
For more information contact Keshin Govender, Siemens South Africa, +27 11 652 2412, keshin.govender@siemens.com, www.siemens.co.za
Credit(s)
Further reading:
Latest power monitoring device
November 2019, ElectroMechanica , Electrical Power & Protection
A new panel-mounted power monitoring device (PMD) from Socomec has been launched locally by ElectroMechanica (EM). The Socomec DIRIS A-40 has been designed for measuring, monitoring, and reporting electrical 
...
Read more...
---
Intelligent data glasses support production
November 2019, Siemens Digital Industries , IT in Manufacturing
Augmented Reality (AR) has arrived in the workplace: for the last three years, a consortium of six companies and institutions chaired by Siemens has been researching the use of augmented reality (AR) 
...
Read more...
---
VinFast deploys Siemens technology to deliver cars ahead of schedule
November 2019, Siemens Digital Industries , System Integration & Control Systems Design
VinFast, Vietnam's first volume car manufacturer, has successfully produced its first cars ahead of schedule using Siemens' portfolio of integrated software and hardware. By deploying its portfolio, Siemens 
...
Read more...
---
Siemens launches report on Dawn of Digitalisation and its Impact on Africa
October 2019, Siemens Digital Industries , IT in Manufacturing
Africa needs a digitalisation strategy to compete in the global economy.
Read more...
---
WEG IE3 compliant motor control and protection
October 2019, Zest WEG Group , Electrical Power & Protection
The increased move towards the use of IE3 electric motors has made it increasingly important that the most appropriate starting method be selected to ensure optimum performance. With this move it is essential 
...
Read more...
---
Electronic monitoring devices from EM
October 2019, ElectroMechanica , Electrical Power & Protection
A comprehensive range of electronic monitoring and timing devices in different formats for ease of use and retrofit purposes is available from ElectroMechanica (EM). The ElectroDev units are suited to 
...
Read more...
---
Integrated earth leakage protection
October 2019, Schneider Electric South Africa , Electrical Power & Protection
Schneider Electric has announced the introduction of integrated earth leakage protection for its Compact NSX and NSXm moulded circuit breaker ranges. "The award-winning Compact NSX moulded case circuit 
...
Read more...
---
Batteries in motive power applications
October 2019, Comtest , Electrical Power & Protection
When discussing motive power applications, the initial thought is that their batteries must be similar to transportation batteries. After all, this equipment is 'motive' just like a car or truck. However, 
...
Read more...
---
Better transformer design improves safety
October 2019 , Electrical Power & Protection
As electricity utilities and users worldwide look to become more safety conscious and efficient in their use of electrical energy, it is important to leverage the improvements that have been made in the 
...
Read more...
---
Stakeless ground loop tester
October 2019, Comtest , Electrical Power & Protection
Testing the grounding components of equipment in hard to reach spaces, including areas that are indoors or fully paved and do not permit driving auxiliary test stakes, is always challenging. Comtest is 
...
Read more...
---