printer friendly version
Advanced data management from Siemens
November 2018
IT in Manufacturing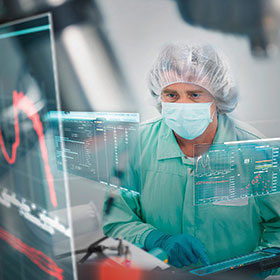 Siemens is innovating its data management software for process analytical technology (PAT) with Simatic Sipat version 5.1, which allows users to monitor and control the quality of their products in real-time during manufacturing. The latest version features a web-based user-friendly datamining application to transform massive amounts of data into tabular and graphical data information. Moreover, the new charting capabilities deliver an instant view on data correlation, shortening end user investigation time. Simatic Sipat 5.1 helps companies in the pharmaceutical, food and beverage and fine chemicals industries to shorten time to market and improve product quality.
With the web-enabled Simatic Sipat Dataminer application, data from multiple Sipat data sources and versions can easily be collected, while the intuitive search capabilities and the instant preview of the query results in a comprehensive data retrieval process. Moreover, by applying the data alignment capabilities on this data the end user will have large data volumes correctly aligned within a matter of a seconds, as well as an in-depth data analysis created in tabular or graphical format. The Dataminer delivers a global view on local data.
Additionally, the graphical object of the Dataminer delivers capabilities to zoom into parts of the graph, to compare data points over multiple and different graph types in order to give more insight to the end user. With each dataset plotted on the chart, the metadata (e.g. collector settings, diagnostic info, active alarms) can be consulted. These new charting capabilities (e.g. Spectral Heat Map) deliver an instant view on data correlation, shortening investigation time.
About Sipat
Simatic Sipat is a scalable and modular software solution that enables companies to extend their quality assurance activities on a step-by-step basis within the scope of the PAT initiative. With PAT, product development and production processes can be monitored, controlled and optimised by measuring the critical-to-quality attributes of raw materials, process materials and procedures. This continuous monitoring of product quality can prevent deviations from specifications and therefore reduce production costs. In addition, it allows for real-time release testing, so quality inspections on final products can be reduced or completely eliminated.
For more information contact Jennifer Naidoo, Siemens Digital Factory and Process Industries and Drives, +27 11 652 2795, jennifer.naidoo@siemens.com, www.siemens.co.za
Credit(s)
Further reading:
Navigate the fourth industrial revolution with PricewaterhouseCoopers
November 2019 , IT in Manufacturing
Using the building blocks of 4IR to transform business processes into manufacturing advantages requires a holistic approach.
Read more...
---
Artificial intelligence in manufacturing – a practical and simplified view
November 2019, Altron Bytes Systems Integration , IT in Manufacturing
Looking at and interpreting data generated during the manufacturing process to find ways to reduce waste, improve quality and increase yield is not new. However, the increased use of digital technologies 
...
Read more...
---
Intelligent data glasses support production
November 2019, Siemens Digital Industries , IT in Manufacturing
Augmented Reality (AR) has arrived in the workplace: for the last three years, a consortium of six companies and institutions chaired by Siemens has been researching the use of augmented reality (AR) 
...
Read more...
---
VinFast deploys Siemens technology to deliver cars ahead of schedule
November 2019, Siemens Digital Industries , System Integration & Control Systems Design
VinFast, Vietnam's first volume car manufacturer, has successfully produced its first cars ahead of schedule using Siemens' portfolio of integrated software and hardware. By deploying its portfolio, Siemens 
...
Read more...
---
Siemens launches report on Dawn of Digitalisation and its Impact on Africa
October 2019, Siemens Digital Industries , IT in Manufacturing
Africa needs a digitalisation strategy to compete in the global economy.
Read more...
---
Integrating IT with Operations Technology - a CIO perspective
October 2019, Absolute Perspectives , IT in Manufacturing
Digitisation projects, spurred on by Industry 4.0 and technological advances, have opened up many possibilities to create new value.
Read more...
---
Real-time data increases metal recovery at Peñasquito mine
November 2019 , IT in Manufacturing
At a recent OSIsoft User Conference in California, ARC Advisory Group had an opportunity to learn about a related project at Newmont Goldcorp's flagship Peñasquito gold, silver, zinc, and lead mine in 
...
Read more...
---
The power of data
October 2019, Throughput Technologies , IT in Manufacturing
Gain access to important information with ProSoft's new OPC UA-based gateway and data logger.
Read more...
---
Securing and managing devices the modern way
October 2019 , IT in Manufacturing
Organisations of all types and sizes are bringing vast numbers of devices into their IT infrastructure and networks. Moreover, these devices are not only smartphones, wearables and tablets because the 
...
Read more...
---
Siemens South Africa puts Smart City vision into action
September 2019, Siemens Digital Industries , News
Fourteen months ago, Siemens installed a microgrid at its headquarters in Midrand and data shows it is using 50% less supplied energy, drawing it from solar resources instead. By extracting energy off 
...
Read more...
---