printer friendly version
Medium-voltage switchgear that doesn't require SF6
November 2018
Electrical Power & Protection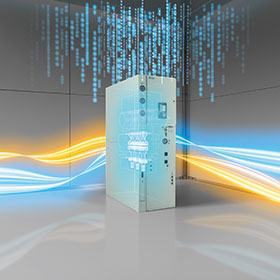 At this year's Hannover Messe, Siemens presented another medium-voltage switchgear that doesn't require SF6 as the insulating gas, the 8DAB 12. The system uses clean air consisting only of the natural constituents of ambient air as the insulating gas. The switchgear is a new addition to the 8DA and 8DB product family and also works with the proven vacuum switching technology. A vacuum-interrupter unit handles switching and arc extinguishing, while the natural gas insulates the current-carrying conductors inside the housing of the metal-encapsulated gas-insulated switchgear (GIS). This type-tested system is used to switch high currents at the primary distribution level. The single-pole encapsulated 8DAB 12 is a SF6-free medium-voltage switchgear in the Siemens blue GIS portfolio. Switches and switchgear that use SF6 as the insulating, switching, and extinguishing gas remain an important part of the Siemens portfolio.
"With the addition of the 8DAB 12, we're systematically expanding our portfolio of medium-voltage switchgear," says Stephan May, CEO of the Siemens Medium Voltage and Systems business unit. "We'll continue to offer our customers proven vacuum switching technology and single-pole switchgear encapsulation. They can now select the characteristics of the insulating gases used, depending on their requirements. The functionality and dimensions remain the same as the switchgear in our 8DA series." The new blue GIS portfolio is Siemens' answer to the market requirements of customers who want to use both the proven properties of GIS systems in their power grids as well as a non-chemical insulating medium. The blue GIS portfolio represents Siemens' work with insulating media that contain no fluorine gases and meet all the strictest safety and environmental standards.
In recent years, the company has intensively researched alternative insulating materials and technologies that approximate the properties of SF6-based gas mixtures and simultaneously ensure safe and economical switchgear operation. The gas contained in the 8DAB 12 medium-voltage switchgear consists exclusively of natural constituents of the ambient air with no chemical additives. These constituents are, for example, nitrogen (N2) and oxygen (O2). The 8DAB 12 is a gas-insulated medium-voltage switchgear that works with the proven vacuum switching technology, so the operator benefits from all the advantages of this technology: no maintenance, compact design, high operating and personal safety, and high availability. Clean air provides the added benefits of easier handling during installation and recycling. In addition, it is not necessary to report the quantity of gas used.
Siemens has been using its vacuum interruption technology in its medium-voltage switchgear for more than 40 years. It is also used in high-voltage systems and recently in switchgear up to 145 kV as well. With vacuum switching technology, when the contacts open the switching arc burns in a metal vapour plasma between the contacts inside the vacuum extinction chamber. The metal vapour condenses back onto the contacts after the arc is extinguished. No decomposition products occur, and the arc doesn't affect the surrounding insulation. This means that natural gases that aren't suitable for extinguishing arcs can be used to insulate the current-carrying conductors.
For more information contact Jennifer Naidoo, Siemens Digital Factory and Process Industries and Drives, +27 11 652 2795, jennifer.naidoo@siemens.com, www.siemens.co.za
Credit(s)
Further reading:
Latest power monitoring device
November 2019, ElectroMechanica , Electrical Power & Protection
A new panel-mounted power monitoring device (PMD) from Socomec has been launched locally by ElectroMechanica (EM). The Socomec DIRIS A-40 has been designed for measuring, monitoring, and reporting electrical 
...
Read more...
---
Intelligent data glasses support production
November 2019, Siemens Digital Industries , IT in Manufacturing
Augmented Reality (AR) has arrived in the workplace: for the last three years, a consortium of six companies and institutions chaired by Siemens has been researching the use of augmented reality (AR) 
...
Read more...
---
VinFast deploys Siemens technology to deliver cars ahead of schedule
November 2019, Siemens Digital Industries , System Integration & Control Systems Design
VinFast, Vietnam's first volume car manufacturer, has successfully produced its first cars ahead of schedule using Siemens' portfolio of integrated software and hardware. By deploying its portfolio, Siemens 
...
Read more...
---
Siemens launches report on Dawn of Digitalisation and its Impact on Africa
October 2019, Siemens Digital Industries , IT in Manufacturing
Africa needs a digitalisation strategy to compete in the global economy.
Read more...
---
WEG IE3 compliant motor control and protection
October 2019, Zest WEG Group , Electrical Power & Protection
The increased move towards the use of IE3 electric motors has made it increasingly important that the most appropriate starting method be selected to ensure optimum performance. With this move it is essential 
...
Read more...
---
Electronic monitoring devices from EM
October 2019, ElectroMechanica , Electrical Power & Protection
A comprehensive range of electronic monitoring and timing devices in different formats for ease of use and retrofit purposes is available from ElectroMechanica (EM). The ElectroDev units are suited to 
...
Read more...
---
Integrated earth leakage protection
October 2019, Schneider Electric South Africa , Electrical Power & Protection
Schneider Electric has announced the introduction of integrated earth leakage protection for its Compact NSX and NSXm moulded circuit breaker ranges. "The award-winning Compact NSX moulded case circuit 
...
Read more...
---
Batteries in motive power applications
October 2019, Comtest , Electrical Power & Protection
When discussing motive power applications, the initial thought is that their batteries must be similar to transportation batteries. After all, this equipment is 'motive' just like a car or truck. However, 
...
Read more...
---
Better transformer design improves safety
October 2019 , Electrical Power & Protection
As electricity utilities and users worldwide look to become more safety conscious and efficient in their use of electrical energy, it is important to leverage the improvements that have been made in the 
...
Read more...
---
Stakeless ground loop tester
October 2019, Comtest , Electrical Power & Protection
Testing the grounding components of equipment in hard to reach spaces, including areas that are indoors or fully paved and do not permit driving auxiliary test stakes, is always challenging. Comtest is 
...
Read more...
---