printer friendly version
TUT team prepares SunChaser 3 for the 2018 Solar Challenge
November 2018
News
RS Components partnered with The Tshwane University of Technology (TUT) for the Sasol Solar Challenge ten-year anniversary race. With the experience gained in previous races, the team was determined to reduce the gap to the world's leading teams through investigation and application of the best designs.
In an interview, team leader, Johannes de Vries, said the team would manufacture most of its mechanical components at the institution, and believes that they are now better equipped and more knowledgeable about the requirements and expectations of the race.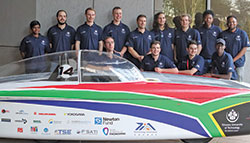 The TUT team with SunChaser 3.
"This year is definitely different, because of the more demanding regulations in terms of the solar panel size reduction," he explained. "Now, there is more focus on reducing the weight of the car since there is less energy available. It will be smaller in size and more aerodynamic compared to previous models. We also experienced that the more we work on the design the more we gain better clarity and understanding of how to improve the design. I am confident that we are well resourced for this year's race and believe that we are well placed to challenge the other teams.
RS Components is focused on inspiring the next generation of engineers by supporting university programmes that are aimed at increasing an interest in STEM (science, technology, engineering and mathematics) careers, and creating an ecosystem where innovation and engineering talent can thrive. The TUT Solar Car project encourages engineering students to experiment with innovative new technologies and broaden their knowledge with practical skills that tackle real-world challenges.
RS sponsored various components and tools to the TUT team to help construct and get SunChaser 3 on the road. "We're extremely proud of the calibre of the engineers and technicians that are being developed in South Africa," said Brian Andrew, managing director of RS Components in sub-Saharan Africa. "Our role is to give them access to the tools, components and resources they require to design, build and maintain the innovations of tomorrow. We wish the TUT team all the best for the future."
For more information contact RS Components SA, +27 11 691 9300, sales.za@rs-components.com, www.rsonline.co.za
Credit(s)
Further reading:
From the editor's desk: IT-OT integration becoming a must, but there are challenges
October 2019, Technews Publishing (SA Instrumentation & Control) , News
We're seeing the insecurity around digital transformation start to fade as the history of case studies builds to show how enlightened manufacturing companies have applied the ideas to rationalise their 
...
Read more...
---
Rockwell Automation announced as Founding Member of ISA Global Cybersecurity Alliance
October 2019, Rockwell Automation , News
Production facilities can contain thousands of technologies from different vendors. Cybersecurity threats only need to exploit one of them to steal trade secrets, stop production or even harm workers. 
...
Read more...
---
Emerson helps complete first Caspian subsea project
October 2019, Emerson Automation Solutions , News
Emerson has completed its $48 million contract for automation systems and cloud engineering software-as-a-service for the Shah Deniz 2 project in Azerbaijan and is fulfilling an ongoing five-year services 
...
Read more...
---
Ham-Let smart valve nominated for IoT award
October 2019, Fluid Systems Africa , News
In another remarkable achievement for the Ham-Let Group, its state-of-the art IoTH800 was nominated for best product award at the First Industry Of Things World Award 2019. The Ham-Let Internet-of-Things 
...
Read more...
---
BMG emphasises Hallite hydraulic and pneumatic seals
October 2019, Bearing Man Group t/a BMG , News
BMG supplies an extensive range of hydraulic and pneumatic seals and sealing solutions for demanding environments, and is also the distributor for Hallite Seals International within central and southern 
...
Read more...
---
KZN Expo brings industrial technology solutions under one roof for diverse exhibitor base
October 2019, Specialised Exhibitions Montgomery , News
Once again proving that it's the definitive platform for its 145+ exhibitors to showcase their industrial technology solutions, the KwaZulu-Natal Industrial Technology Exhibition (KITE) attracted a captive 
...
Read more...
---
Cummins stirs interest in pump-engine product line
October 2019 , News
Cummins recently hosted a highly successful seminar in both Dubai and at its Power Hub in Waterfall City, Johannesburg, to introduce end users and OEMs to its range of high-quality engines for the pumps 
...
Read more...
---
KZN a key growth area for Bearings International
October 2019 , News
The Bearings International (BI) Durban branch stocks a wide range of bearings, electric motors, gearboxes, lubricants, seals, tools, and power transmission products for a range of industries. These include 
...
Read more...
---
Trafo supplies transformers for data centre application
October 2019 , News
Trafo Power Solutions recently supplied two 2000 kVA 11,6 kV/415 V dry-type transformers to a large data centre in Cape Town. Manufactured under stringent quality control conditions at Italian transformer 
...
Read more...
---
BMG and AAC partner in Jeppestown clean up
October 2019, Bearing Man Group t/a BMG , News
The joy of teamwork is clearly evident in the partnership between engineering specialists, BMG and entrepreneurs, Agri Arts & Construction (AAC). "Through this match made in Jeppestown, home to both companies, 
...
Read more...
---