Flexible controller technology removes project roadblocks
October 2018
PLCs, DCSs & Controllers

printer friendly version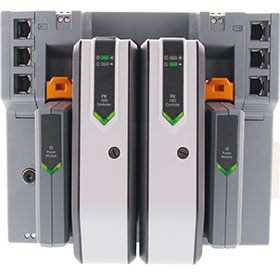 Emerson's latest capital project technology enables chemical, life sciences, oil and gas, and other industrial manufacturers to scale automation, simplifying project execution. As capital projects grew in scale and complexity in the last 25 years, process industry organisations experienced unforeseen cost overruns and schedule delays, resulting in billions of dollars in losses annually. Project teams responded by adopting modular construction strategies: multiple vendors across the globe working on different elements of a project and then integrating on site. While modularity simplified construction, it added complexities to onsite integration. Different process units using different control strategies and automation technologies increased project complexity.
To help organisations achieve on time and on budget execution, Emerson launched the Project Certainty initiative to transform capital project execution by defining project goals and adopting high-impact strategies that eliminate costs, reduce complexity, and accommodate late changes.
With the launch of the DeltaV PK controller, the company has now taken the next step by innovating flexible technologies to ensure project success. More powerful and versatile than previous versions, the new controller is tailored to streamline execution of capital projects. The DeltaV PK Controller is designed specifically to assist industries relying on complex, non-integrated PLCs to simplify capital projects. The DeltaV PK is a revolution in automation for capital projects efficiency.
Powerful, standalone and easily integrated
The controller can operate as a standalone and later be merged into a DeltaV DCS, eliminating onsite integration challenges. OEM modular construction can easily be merged into a DeltaV DCS on site without complex data mapping.
With a built-in OPC UA server and Ethernet connectivity, the controller can securely connects to the IIoT, cloud-based analytics and third-party software, without adding footprint, additional hardware, or reengineering. Whether standalone or fully merged, the DeltaV PK Controller delivers the features of a full-scale DCS, including batch production, recipe management, execution and historisation.
Emerson is committed to delivering flexible solutions, helping organisations adapt technology to projects rather than adapting projects to available technology. The DeltaV PK Controller facilitates the promise of modular construction, ensuring that efficiencies gained in construction are not lost during commissioning and start-up.
For more information contact Rob Smith, Emerson Automation Solutions, +27 11 451 3700, rob.smith@emerson.com, www.emerson.com
Credit(s)
Further reading:
Emerson selected as Industrial IoT company of the year
February 2019, Emerson Automation Solutions , News
Emerson has been named the 'Industrial IoT Company of the Year' by IoT Breakthrough for the second year in a row. The honour recognises Emerson's innovation and leadership in driving IIoT technologies 
...
Read more...
---
ABB unveils latest DCS upgrade
February 2019, ABB South Africa , PLCs, DCSs & Controllers
Originally launched in 1994, Freelance is ABB's DCS solution for process industries. It combines the advantages of a DCS with the PLC, and is characterised by ease-of-use, scalability, flexibility and 
...
Read more...
---
Emerson drives faster response times
February 2019, Emerson Automation Solutions , Maintenance, Test & Measurement, Calibration
Emerson has released AMS Inspection Rounds, a new application for the AMS Trex Device Communicator that will make it easier for operations teams to capture, report and respond to abnormal plant conditions 
...
Read more...
---
RS Components launches PLCnext controller
February 2019, RS Components SA , PLCs, DCSs & Controllers
RS Components has introduced the first programmable logic controller to be based upon Phoenix Contact's PLCnext Technology open control platform. Aimed at distributed modular control applications in industrial 
...
Read more...
---
Emerson to buy General Electric's Intelligent Platforms business
December 2018, Emerson Automation Solutions , News
Emerson has announced that it has agreed to acquire Intelligent Platforms, a division of General Electric. Intelligent Platforms' programmable logic controller (PLC) technology will enable Emerson to 
...
Read more...
---
Emerson's compact new hygienic transmitters
December 2018, Emerson Automation Solutions , Temperature Measurement
Emerson has unveiled a new line of compact transmitters. Designed specifically for hygienic applications in the food and beverage industry, they will enable manufacturers to minimise downtime and lower 
...
Read more...
---
Emerson opens flow calibration centre for Middle East and Africa
October 2018, Emerson Automation Solutions , News
Emerson has recently opened the Middle East and Africa Flow Service Centre at its Dubai campus. The facility will operate as a service centre for customers in the Middle East and Africa, offering internationally 
...
Read more...
---
Emerson empowers top quartile performance in manufacturing
October 2018, Emerson Automation Solutions , IT in Manufacturing
Plantweb digital ecosystem provides new mobility and decision-support technologies.
Read more...
---
Leak detection ensures seal ­integrity for packages
October 2018, Emerson Automation Solutions , Analytical Instrumentation & Environmental Monitoring
In response to industry demand for increased quality in food and beverages at every level, Emerson has introduced the Rosemount CT4215 food and beverage leak detection system. The CT4215 is a quantum 
...
Read more...
---
PC-based control ensures high quality sporting goods
September 2018, Beckhoff Automation , PLCs, DCSs & Controllers
ADC fills market niche with standardised and highly precise testing systems.
Read more...
---