Tectra Automation resolves flight simulator challenges
October 2018
System Integration & Control Systems Design

printer friendly version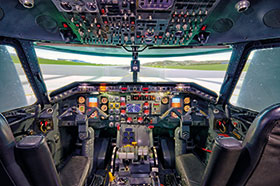 Simex, a South African company specialising in the fabrication and upgrading of flight training devices like flight simulators, contracted Tectra Automation to upgrade software, supply new hardware, and adjust and convert a portion of the motion logic control across a number of flight simulators. The conversions, implemented for software compatibility purposes, pertain to the controls directing inflight aircraft angles, roll and pitch.
The simulators benefitting from the upgrades are the Embraer 120 and the King Air 200, 350 and 1900, located at Lanseria airport, and a generic twin-piston simulator, based on a Piper Seneca V, at Port Alfred airport in the Eastern Cape. All force-feel and control-loading equipment and componentry used for the simulator upgrades are Bosch Rexroth engineered.
Under-resourced componentry and a software upgrade
The Embraer 120, an FNPTII (flight navigation and procedures trainer) fixed-base simulator, which is used for imitation training and proficiency checks, experienced compatibility issues with the motor program and motion logic controller (MLC) device. As the components are Bosch Rexroth, Simex approached Tectra Automation in Johannesburg for assistance. The fault lay in under-resourced componentry (known as CML) for a program contained within the MLC, which Tectra Automation resolved by replacing the existing CML25 with a CML45 and adjusting the software programming.
Wiets Pretorius, electric drives and controls manager at Tectra Automaton, verified the fault, provided and installed the correct hardware and adjusted the software to ensure compatibility. Commissioning was conducted jointly by Simex and Tectra Automation, and subsequently reconstructed and approved by the South African Civil Aviation Authority (SACAA), the aviation industry regulator in South Africa. "All of this was completed within standard industry time expectations and to our exact requirements," comments, Leon Postma, simulation engineer at Simex.
Based on the successful conclusion of the Embraer 120 project, Simex again contracted Tectra Automation, this time for two other simulator projects, both of which are ongoing. The Port Alfred-based generic twin-piston simulator had been upgraded with new motors and requires higher grade firmware and the King Air three-way simulator (200, 350 and 1900) involves work on its control loading.
The firmware upgrade for the twin-piston simulator however, proved to be incompatible with the PLC, leading to a PLC firmware upgrade. This entailed motor parameter checking and adaption to the motor programming to correct an inverted analog signal – both of which were conducted remotely.
Tectra Automation also supplied all the required Bosch Rexroth equipment and components for the control loading of the King Air 200, 350 and 1900 simulator, which can be adapted to duplicate the aeroplane cockpits of any of the three aircraft types through the use of interchangeable panels.
All Bosch Rexroth hardware has been delivered to site and Tectra Automation is on standby to assist with commissioning, once Simex has completed the installation. "For all of these projects, which first began in 2017, we have not experienced any unsolvable challenges subsequent to Tectra Automation's involvement," concludes Postma. "The service we have received exceeds even the high quality of the Bosch Rexroth equipment they represent, if one could draw a quality comparison."
For more information contact Wiets Pretorius, Tectra Automation, +27 11 971 9400, wiets.pretorius@tectra.co.za, www.hytecgroup.co.za
Credit(s)
Further reading:
Rockwell Automation upgrades control at Mozal Aluminium
February 2019, Rockwell Automation , System Integration & Control Systems Design
Rockwell Automation has migrated the control systems at Mozal Aluminium's furnace assembly and ladle cleaning shop to its modern DCS based on the PlantPAx design standard.
Read more...
---
EtherCAT measurement modules extended
February 2019, Beckhoff Automation , System Integration & Control Systems Design
System-integrated precision measurement technology for efficient machines and test benches.
Read more...
---
Bosch Rexroth introduces latest transfer system
February 2019, Tectra Automation , Motion Control & Drives
By optimising existing components and integrating new modules into its TS 5 conveyor system for heavy loads, Bosch Rexroth has enhanced its already impressive flexibility to meet the requirements of an 
...
Read more...
---
KVM Tech focuses on product excellence and superior support
January 2019 , System Integration & Control Systems Design
The intellectual property of KVM Tech was acquired by Alwyn Rautenbach in 2010 and a short while later current MD, Reghardt Rautenbach, joined the company. The intervening years have seen the company 
...
Read more...
---
Integrated control solution for car heater manufacturing
January 2019, Beckhoff Automation , System Integration & Control Systems Design
TwinCAT CNC automates dispensing system used in the automotive industry.
Read more...
---
Black Rock Mine Operations
January 2019, IS³ - Industry Software, Solutions & Support , System Integration & Control Systems Design
Performance excellence through enhanced decision making and real-time management in a ­centralised control environment.
Read more...
---
Ultrasonic sensors for the OEM business
January 2019, Turck Banner , System Integration & Control Systems Design
Turck has expanded its ultrasonic sensor family with the introduction of the RU50 Eco series for price-sensitive OEM projects. The company was able to develop an ultrasonic sensor based on the latest 
...
Read more...
---
Pre-assembled panel systems for pumping applications
January 2019, ElectroMechanica , System Integration & Control Systems Design
A complete range of robust pre-assembled irrigation and solar pump panel systems are available from ElectroMechanica (EM) for a wide range of pumping applications. "These solutions are designed not only 
...
Read more...
---
PSY extends its offerings
December 2018, PSY International , System Integration & Control Systems Design
PSY International, a recognised systems integrator for a number of well-known international brands, was recently appointed as an integrator for AC/DC. Paul Young, a director of PSY International, explains 
...
Read more...
---
Craft breweries benefit from digitalisation with modular Siemens automation
December 2018, Siemens Digital Factory & Process Indust. & Drives , System Integration & Control Systems Design
Deutsche Beverage Technology (Deutsche Beverage) supplies turnkey engineering solutions for breweries, with its main customer base in the high-growth craft beer sector.
Read more...
---