printer friendly version
Quint Power DIN-mount power supplies from RS Components
October 2018
Electrical Power & Protection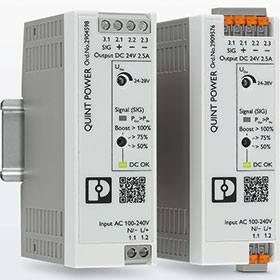 RS Components now stocks the latest Phoenix Contact Quint Power DIN-rail power supplies, giving easy access to the innovative features and flexibility of these space-saving PSUs.
The fourth generation of Quint Power covers ratings up to 100 W, with 24 V output voltage and 1,3 A, 2,5 A, and 3,8 A nominal current ratings. They are the first members of the Quint Power family below 100 W to feature Phoenix Contact's dynamic boost technology, which can supply up to 200% of nominal maximum current for up to five seconds to start loads that place high short-term initial demand.
In addition, the 1,3 A and 2,5 A models also support static boost that allows 25% over-current at any time for five seconds, to handle short-term peaks.
Further value-added features include preventive function monitoring, which warns of critical operating states before errors occur, and configurable signalling of DC OK or selectable power thresholds that let users adapt output-parameter monitoring to suit the application. The wide AC input range of 85-264 V, and DC range of 8-350 V, gives flexibility to power the units from various sources, such as the main AC line in any geographical market, or a DC bus, battery bank or industrial power supply.
The supplies have an ambient operating-temperature range of -25 to 70°C, allowing use in a wide variety of environments. Their slim and flat 90 mm-high design saves space inside enclosures, while efficiency of over 93% prevents excessive heat and helps cut energy consumption.
Credit(s)
Further reading:
RS adds food grade maintenance line
October 2019, RS Components SA , Maintenance, Test & Measurement, Calibration
RS Components has launched a new range of food grade maintenance products for use in the food processing and catering sector. All RS Pro food grade products are registered with the NSF (National Sanitisation 
...
Read more...
---
WEG IE3 compliant motor control and protection
October 2019, Zest WEG Group , Electrical Power & Protection
The increased move towards the use of IE3 electric motors has made it increasingly important that the most appropriate starting method be selected to ensure optimum performance. With this move it is essential 
...
Read more...
---
Electronic monitoring devices from EM
October 2019, ElectroMechanica , Electrical Power & Protection
A comprehensive range of electronic monitoring and timing devices in different formats for ease of use and retrofit purposes is available from ElectroMechanica (EM). The ElectroDev units are suited to 
...
Read more...
---
Integrated earth leakage protection
October 2019, Schneider Electric South Africa , Electrical Power & Protection
Schneider Electric has announced the introduction of integrated earth leakage protection for its Compact NSX and NSXm moulded circuit breaker ranges. "The award-winning Compact NSX moulded case circuit 
...
Read more...
---
Batteries in motive power applications
October 2019, Comtest , Electrical Power & Protection
When discussing motive power applications, the initial thought is that their batteries must be similar to transportation batteries. After all, this equipment is 'motive' just like a car or truck. However, 
...
Read more...
---
Better transformer design improves safety
October 2019 , Electrical Power & Protection
As electricity utilities and users worldwide look to become more safety conscious and efficient in their use of electrical energy, it is important to leverage the improvements that have been made in the 
...
Read more...
---
Stakeless ground loop tester
October 2019, Comtest , Electrical Power & Protection
Testing the grounding components of equipment in hard to reach spaces, including areas that are indoors or fully paved and do not permit driving auxiliary test stakes, is always challenging. Comtest is 
...
Read more...
---
RS introduces new MakerBot Method 3D printer
October 2019, RS Components SA , News
RS Components has introduced the latest version of the MakerBot 3D printer – the MakerBot Method – which has been designed to bridge the gap between industrial and desktop 3D printing. The unit targets 
...
Read more...
---
RS announces availability of interconnection solutions from HARTING
October 2019, RS Components SA , Enclosures, Cabling & Connectors
RS Components has extended its industrial connector portfolio with new solutions from HARTING, including the recently launched Han 1A connector. The new Han 1A is a significantly smaller connector than 
...
Read more...
---
Cut the complexity of panel design
September 2019, ElectroMechanica , Electrical Power & Protection
A low-voltage electrical distribution system design to reduce the complexities often associated with panel design is available from leading local supplier ElectroMechanica (EM). Quadro+ from Hager combines 
...
Read more...
---