New infrared sensor for online thickness gauges
October 2018
Sensors & Transducers

printer friendly version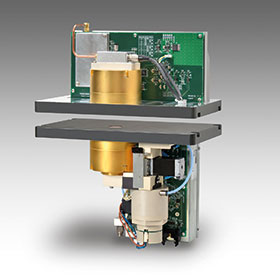 Yokogawa has announced the WG51S2 infrared sensor for the Webfrex NV online thickness gauge to measure and control the thickness of films and sheets with greater accuracy than before.
Thickness gauges are used on film and sheet production lines to measure and control film and sheet thickness. Various kinds of plastic film have been developed for packaging, including highly functional film that can preserve the quality of packaged contents and film that can be printed with vivid colours to improve the attractiveness.
With its unique optical system consisting of a frequency-modulated light source and dual-integrating spheres, and its digital lock-in amplifier circuit for weak-signal detection, the WG51S2 offers significantly improved accuracy and measurement stability. It is suitable for use with thin films (10 to 300 μm). With 20 μm thick polypropylene film, the sensor achieves its maximum accuracy of 0,1 μm. It can be used for a variety of applications including transparent, opaque, and foamed films. As the WG51S2 has been optimised for reliable on-line measurement, it is much less affected by film pass-line fluctuation or disturbance infrared light, and precise measurement is assured even with fast moving film.
Conventional sensors are equipped with a motor for rotating the filter and the motor needs to be replaced periodically. The WG51S2 uses a frequency-modulated light source with no consumable mechanical parts. The light source is the only part that needs to be replaced, and it is designed for easy replacement requiring no adjustment. With already installed Webfrex NV systems, upgrades to the new WG51S2 sensor can be done without having to change the frame that houses the sensor.
For more information contact Christie Cronje, Yokogawa South Africa, +27 11 831 6300, christie.cronje@za.yokogawa.com, www.yokogawa.com/za
Credit(s)
Further reading:
Large German fertiliser manufacturer reduces costs thanks to SICK Automation
February 2019, SICK Automation Southern Africa , Sensors & Transducers
Available agricultural land in Europe is limited. As a result, large quantities of fertiliser are used in order to increase yields. Producing fertiliser, however, is an energy-intensive process which 
...
Read more...
---
Traceability for tobacco manufacturer
February 2019, SICK Automation Southern Africa , Sensors & Transducers
SICK Automation South Africa recently installed 120 image-based 2D barcode readers across multiple scanning stations in a South African tobacco manufacturing plant. The cigarette manufacturer was looking 
...
Read more...
---
Hygienic limit switches for processes
February 2019, Morton Controls , Sensors & Transducers
Process and storage vessels incorporate limit switches to prevent overfilling of a tank or vessel (full indicator) or dry running of a pump (empty indicator). Anderson-Negele's NCS series are ideally 
...
Read more...
---
A new standard for digital ­inclination measurement
February 2019 , Sensors & Transducers
A new standard for digital inclination measurement has been set with the latest digital protractors from Stabila. Both the Tech 500 DP and Tech 1000 DP are manufactured exclusively in Germany, the main 
...
Read more...
---
Bromide sensor for water disinfection
February 2019, ASSTech Process Electronics + Instrumentation , Sensors & Transducers
With the expansion of its product range of membrane-covered amperometric digital sensors for liquid analysis, ASSTech now has available the Jumo tec-Line Br bromide sensor for general water disinfection 
...
Read more...
---
Yokogawa releases two new liquid analysis products for monitoring
February 2019, Yokogawa South Africa , Analytical Instrumentation & Environmental Monitoring
Sencom 4.0 additions enable flexible design and improve maintenance efficiency.
Read more...
---
Wenglor expands optical sensor range
February 2019, ASSTech Process Electronics + Instrumentation , Sensors & Transducers
Wenglor's PNG/smart generation of photoelectronic sensors is distinguished by a combination of performance and communication. An aligned optical axis and a balanced switching point, as well as large switching 
...
Read more...
---
Yokogawa adds OpreX redundancy
February 2019, Yokogawa South Africa , IT in Manufacturing
Yokogawa has announced a platform that enables software packages to run on general-purpose computers in a redundant configuration, which has been added to its OpreX Control and Safety System family. This 
...
Read more...
---
Four questions to ask when ­choosing a vision solution
February 2019, Turck Banner , Sensors & Transducers
Many users find vision systems challenging and it can be difficult to know where to start, but there are some simple steps that can help to match the right vision solution to an application. This article 
...
Read more...
---
Intelligent valve sensor
February 2019, ifm Electronic RSA , Sensors & Transducers
The intelligent valve sensor for pneumatic quarter-turn actuators from ifm electronic features 360° position monitoring to allow precise and continuous scrutiny of the valve condition. Problems such as 
...
Read more...
---