Enhanced IoT security technology for manufacturing site networks
October 2018
IT in Manufacturing

printer friendly version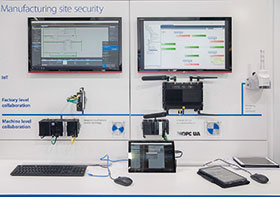 Omron Corporation and Cisco Systems have agreed to collaborate by integrating Cisco's leading networking and security technology into Omron PLCs, designed to deliver reliability under extreme conditions at manufacturing plants. Through this collaboration, the two companies will enhance the security of today's increasingly intelligent IIoT-enabled manufacturing sites by helping to ensure safe and secure production.
As the IIoT becomes increasingly widespread, the number of connected devices is expected to reach 50 billion by 2020. Moreover, manufacturers around the world are working to strengthen their global competitiveness and corporate value by improving their manufacturing capabilities. The industry is also rising to the challenge of making manufacturing sites intelligent through the active use of digital technologies. At the same time, manufacturing sites are facing more serious threats than ever before, as evidenced by reported cases of disrupted production due to ransomware and other malware attacks.
Furthermore, customers and the market are demanding higher levels of quality and safety through more stringent regulations on food and pharmaceutical products, as well as traceability to ensure the quality of individual components in the electronic parts industry. Manufacturers face significant challenges in continuing to improve their capabilities while addressing the above issues in the manufacturing environment and fulfilling their corporate social responsibility.
Omron and Cisco will work together to construct a secure environment where PLCs, as core automation components, provide security authentication for three discreet elements, namely people at manufacturing sites, devices connected to machinery and production lines, and data exchanged. By integrating Cisco's globally proven network and security expertise with Omron's controller technology, which brings together control and information, the companies will contribute to advances in manufacturing by enabling the safe and secure use of the IIoT at manufacturing sites.
Prior to forming this technological partnership, Omron developed the Machine Automation Controller NJ Series, the flagship PLC that comes standard with the OPC UA server and is compliant with the security enabled global communications standard. The new PLCs enable secure data communication with software and devices supporting OPC UA.
In addition, by combining Omron's PLCs with Cisco's network and security technology, the companies will expand the range of solutions available for the authentication of people and devices.
Credit(s)
Further reading:
Digital Enterprise offering with ­future technologies for Industry 4.0
February 2019, Siemens Digital Factory & Process Indust. & Drives , IT in Manufacturing
By expanding its Digital Enterprise portfolio and integrating future technologies, Siemens is driving forward the digital transformation of the discrete and process industries.
Read more...
---
Improved supply chain efficiency and energy saving at Namibia Breweries
February 2019, IS³ - Industry Software, Solutions & Support , IT in Manufacturing
Established in 1920, Namibia Breweries is one of the leading beverage manufacturing companies in Namibia and southern Africa. Today, with the stated vision to be the 'most progressive and inspiring company', 
...
Read more...
---
Operators step into the future
February 2019, SKF South Africa , IT in Manufacturing
Recognising the increasingly vital role that technology plays in business, SKF continues to move with the Industry 4.0 tide. In line with its 'World Class Manufacturing' initiative, SKF has implemented 
...
Read more...
---
Spresense platform brings sound and vision to IoT devices
February 2019, RS Components SA , IT in Manufacturing
RS Components has boosted opportunities to create smarter IoT devices by introducing Sony Spresense, featuring Arm Cortex-M4F performance and extensive sensing, audio, and imaging capabilities. The low-power 
...
Read more...
---
Towards the Smart Factory
February 2019, Omron Electronics , IT in Manufacturing
With much of the reported paradigm of Industry 4.0 resting on self-configuration of machinery and production lines, Omron's Victor Marquess looks at what can already be achieved to get on the path to 
...
Read more...
---
Unobtrusive approach to digitalisation
February 2019, Parker Hannifin Sales Company South , IT in Manufacturing
As Industry 4.0 continues to unfold, increasing numbers of manufacturers, big and small, are seeking the best opportunities to increase the automation of their industrial processes and improve productivity. 
...
Read more...
---
Enhanced intelligence at the edge
February 2019, RJ Connect , IT in Manufacturing
A new computing model that helps create autonomous edge nodes is changing the IIoT landscape. Edge nodes are data-aggregation points in an IIoT system, where the physical world of sensors and actuators 
...
Read more...
---
Simple connection of converters supports cloud-based applications
February 2019, Siemens Digital Factory & Process Indust. & Drives , IT in Manufacturing
The new Sinamics Connect 300 from Siemens provides a simple plug-and-play solution for integrating converters of the Sinamics family into the IT world. The new solution is suitable for low-voltage converters 
...
Read more...
---
Yokogawa adds OpreX redundancy
February 2019, Yokogawa South Africa , IT in Manufacturing
Yokogawa has announced a platform that enables software packages to run on general-purpose computers in a redundant configuration, which has been added to its OpreX Control and Safety System family. This 
...
Read more...
---
One machine control over EtherCAT
February 2019, Omron Electronics , Motion Control & Drives
Manufacturing is changing. Production lines need to be increasingly flexible to cope with shorter production runs, more varied products and tighter deadlines. Manufacturers are addressing these challenges 
...
Read more...
---