Extensive range of automation components available through Metal Work Pneumatic South Africa
October 2018
News

printer friendly version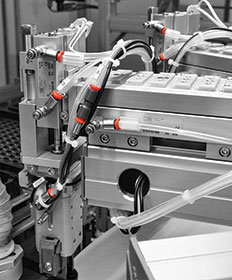 Metal Work Pneumatic S.p.a. Italy was, for many years, represented by various companies in South Africa. Recognising the need to consolidate its efforts and offer the local market a common point of contact, the company approached Johan Bester in 2017, with a view to launching a local subsidiary.
After filing the necessary documentation, Metal Work Pneumatic South Africa was launched in August 2017 and began trading in January 2018. Bester, who has been involved in the automation industry for over 22 years, says that while this is a relatively new local operation, it is able to leverage the experience, capacity and capabilities of over 1400 employees worldwide in 46 countries.
With its head office in Riverhorse Valley in Durban, Bester says the company plans to expand into the other provinces and simultaneously appoint distribution partners outside South Africa: "We have already appointed two main distributors in South Africa, one being Peninsula Pneumatics in Paarden Eiland. In addition to selling through distributors, we have a direct sales force and a trade counter which allows walk-in customers to buy directly from us in Durban. We have instituted an open door policy, which means that anybody is welcome to pop in and ask for a tour of our facilities at any time during working hours – from the media to suppliers, to potential customers."
Providing a range of pneumatic and electric actuators, control components, air preparation equipment, fittings, tubing and various other accessories, together with several bespoke products, the organisation focuses on a number of strategic business practices that include lean thinking and a culture of continuous improvement. The company attacks waste through the value chain and employs the Kaizen (change for better) philosophy which increases flexibility and competitiveness through its people.
"We work together for a common purpose and use strict quality control, accompanied by the right products for the task at an affordable price," says Bester. "We maintain constant contact with customers to identify, assess and meet their needs. More than 80% of our product range is manufactured in-house at the state-of-the-art facilities in Brescia, Italy."
Metal Work Pneumatic S.p.a holds a number of certifications, including ISO 9001 (1992), ISO 14001 (2000), OHS 18001 (2007), as well as certification by Dekra and accreditation by TGA.
Training at the company is continuous. "We dedicate more than 5000 hours of ongoing training to our employees to ensure that they are completely up-to-date on the latest product iterations," explains Bester. "We have a base of international trainers who travel around to the various Metal Work Pneumatic subsidiaries specifically to provide technical and new product training as required. Since the company releases up to 50 new products a year, this training happens on a frequent basis. I am also involved in providing in-house sales training to our employees."
The fact that the company provides components for the entire industrial automation market, combined with its cumulative and collective team application knowledge, means that all industries are served. "In a nutshell, wherever increased production and automation is required we can provide automation componentry," concludes Bester.
For more information contact Johan Bester, Metal Work Pneumatic South Africa, +27 31 569 1584, johanb@metalworkpneumatic.co.za, www.metalworkpneumatic.co.za
Credit(s)
Further reading:
From the editor's desk: Printing the future
February 2019, Technews Publishing (SA Instrumentation & Control) , News
3D printing – aka additive manufacturing – is the process by which material is solidified layer-on-layer to produce physical objects based on computerised models. While the idea is almost 40 years old 
...
Read more...
---
Siemens and MineSense to develop real-time ore grade measurement solution
February 2019, Siemens Digital Factory & Process Indust. & Drives , News
With ore grades declining, plus added pressures such as rising energy costs and water restrictions, it is increasingly difficult for mining companies to fulfil customer demand by delivering material on 
...
Read more...
---
ABB to power Europe's largest electric car battery factory
February 2019, ABB South Africa , News
LG Chem has selected ABB to provide a substation for Europe's largest electric car battery factory in Poland. Key equipment supplies include transformers, surge arrestors and gas insulated switchgear 
...
Read more...
---
Emerson selected as Industrial IoT company of the year
February 2019, Emerson Automation Solutions , News
Emerson has been named the 'Industrial IoT Company of the Year' by IoT Breakthrough for the second year in a row. The honour recognises Emerson's innovation and leadership in driving IIoT technologies 
...
Read more...
---
New efforts bring hope for Industry 4.0-ready SA workforce
February 2019, Reed Exhibitions , News
Industry 4.0 – smart new automation tools and technologies – are rapidly changing the face of manufacturing and industry around the world. Without a concerted effort to change industry processes and infrastructure, 
...
Read more...
---
Klaus Endress turns 70
February 2019, Endress+Hauser , News
Klaus Endress, current President of the Supervisory Board of the Endress+Hauser Group, who also served for many years as CEO, celebrated his 70th birthday on 9 December 2018. He was born in 1948, the 
...
Read more...
---
Adrian Buddingh joins Rittal South Africa as managing director
February 2019, Rittal , News
Effective as of 1 January, Rittal South Africa is pleased to welcome Adrian Buddingh as the subsidiary's new managing director. Buddingh's engineering expertise, knowledge of the industry and passion 
...
Read more...
---
IoT.nxt delivers results at schools in the USA
February 2019, IoT.nxt , News
Energy cost savings are already being realised at several schools in Florida, USA, that chose IoT.nxt's solution to deliver energy optimisation and reduce consumption. Since installation started in September, 
...
Read more...
---
IS³ - Industry Software, Solutions and Support extends portfolio to AVEVA's Engineer, Construct and Procure Software Solutions
February 2019, IS³ - Industry Software, Solutions & Support , News
IS³ has recently signed an extension to the contract with AVEVA, which now extends its portfolio to include AVEVA's Engineer, Construct and Procure Software Solutions. AVEVA is a global leader in engineering 
...
Read more...
---
Trialling of dry sorter coal-beneficiation solution targeted for 2019
February 2019 , News
Mounting stress on South Africa's water resources, combined with growing concerns about the environmental impact of mining operations, make Aury Africa's dry sorting technology ideal for environmentally-conscious 
...
Read more...
---