SA researchers tune CERN's computers for Higgs experiments
October 2018
News

printer friendly version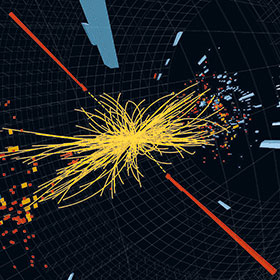 The global CERN collaboration in Switzerland has found a missing piece in the enduring puzzle known as the Standard Model in Physics. Observation of the Higgs boson's decay to bottom quarks marks an event that further validates the Standard Model, which is to physics what DNA is to bioscience. The observation fills a gap in the understanding of the Higgs sector; something that could ultimately reveal new physics should unexplained differences to Standard Model predictions ever occur.
The discovery was made possible thanks to the immensely powerful computer systems that process the data streams which pour from CERN's Large Hadron Collider when it runs. Researchers from the University of Johannesburg formed part of the international team that pioneered the advanced computing techniques required for this experiment.
The discovery was announced on 28 August.
Further reading:
From the editor's desk: Printing the future
February 2019, Technews Publishing (SA Instrumentation & Control) , News
3D printing – aka additive manufacturing – is the process by which material is solidified layer-on-layer to produce physical objects based on computerised models. While the idea is almost 40 years old 
...
Read more...
---
Siemens and MineSense to develop real-time ore grade measurement solution
February 2019, Siemens Digital Factory & Process Indust. & Drives , News
With ore grades declining, plus added pressures such as rising energy costs and water restrictions, it is increasingly difficult for mining companies to fulfil customer demand by delivering material on 
...
Read more...
---
ABB to power Europe's largest electric car battery factory
February 2019, ABB South Africa , News
LG Chem has selected ABB to provide a substation for Europe's largest electric car battery factory in Poland. Key equipment supplies include transformers, surge arrestors and gas insulated switchgear 
...
Read more...
---
Emerson selected as Industrial IoT company of the year
February 2019, Emerson Automation Solutions , News
Emerson has been named the 'Industrial IoT Company of the Year' by IoT Breakthrough for the second year in a row. The honour recognises Emerson's innovation and leadership in driving IIoT technologies 
...
Read more...
---
New efforts bring hope for Industry 4.0-ready SA workforce
February 2019, Reed Exhibitions , News
Industry 4.0 – smart new automation tools and technologies – are rapidly changing the face of manufacturing and industry around the world. Without a concerted effort to change industry processes and infrastructure, 
...
Read more...
---
Klaus Endress turns 70
February 2019, Endress+Hauser , News
Klaus Endress, current President of the Supervisory Board of the Endress+Hauser Group, who also served for many years as CEO, celebrated his 70th birthday on 9 December 2018. He was born in 1948, the 
...
Read more...
---
Adrian Buddingh joins Rittal South Africa as managing director
February 2019, Rittal , News
Effective as of 1 January, Rittal South Africa is pleased to welcome Adrian Buddingh as the subsidiary's new managing director. Buddingh's engineering expertise, knowledge of the industry and passion 
...
Read more...
---
IoT.nxt delivers results at schools in the USA
February 2019, IoT.nxt , News
Energy cost savings are already being realised at several schools in Florida, USA, that chose IoT.nxt's solution to deliver energy optimisation and reduce consumption. Since installation started in September, 
...
Read more...
---
IS³ - Industry Software, Solutions and Support extends portfolio to AVEVA's Engineer, Construct and Procure Software Solutions
February 2019, IS³ - Industry Software, Solutions & Support , News
IS³ has recently signed an extension to the contract with AVEVA, which now extends its portfolio to include AVEVA's Engineer, Construct and Procure Software Solutions. AVEVA is a global leader in engineering 
...
Read more...
---
Trialling of dry sorter coal-beneficiation solution targeted for 2019
February 2019 , News
Mounting stress on South Africa's water resources, combined with growing concerns about the environmental impact of mining operations, make Aury Africa's dry sorting technology ideal for environmentally-conscious 
...
Read more...
---