Pharmaceutical developer turns to TorqSense
August 2018
Sensors & Transducers

printer friendly version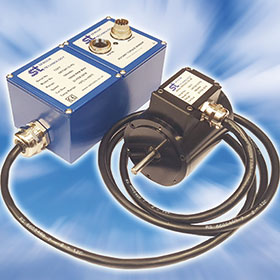 TorqSense transducers are used to ensure caps are being properly fitted to pharmaceutical bottles in a high-speed packaging line run by the Almac Group at its global headquarters in Craigavon, Northern Ireland.
The Almac Group is a pharmaceutical and biotech development and manufacturing organisation. Founded 50 years ago in Craigavon, Northern Ireland, it now has operations around the world and has just announced a major investment plan for new facilities at Dundalk, Ireland. Strict international rules apply to the manufacture and packaging of pharmaceutical products and require that the correct environment is maintained within the bottle following capping.
To this end, Regulation USP 671 provides a guide to the torque range to be used for screw type containers with varying closure diameters. By ensuring that bottle caps are successfully applied to the bottles within the required torque tolerances, the integrity of the product can be maintained.
Sensor Technology, which makes TorqSense, has worked with many OEMs to develop high-precision, high-speed capping machines for use in pharmaceutical plants and a range of other applications. One of these, Cap Coder, an Oxfordshire neighbour of Sensor Technology, incorporates TorqSense units in its CC1440 and CC1440T Bench top Cap Coder machines, both of which are used by the Almac Group.
TorqSense is wireless in that it does not need to physically contact the bottle caps or shaft of the torque head it is monitoring. Instead sensing is achieved through a radio frequency link. Attached to the surface of the transducer shaft are two Surface Acoustic Wave (SAW) devices. When torque is applied to the shaft the SAWs react to the applied strain and change their output. The SAW devices are interrogated wirelessly using an RF couple, which passes the SAW data to and from the electronics inside the body of the transducer.
"All you have to do is set up a TorqSense transducer in the capping machine and turn it on," explains Mark Ingham of Sensor Technology. "The SAW frequencies reflected back are distorted in proportion to the level of torque."
The Almac Group uses a number of Cap Coder machines, both standard designs and purpose built, at its global headquarters. Some have been in service for five years.
If a torque value outside the acceptable range is encountered, an alarm will trigger the capping machine to identify unacceptable product for immediate rejection.
Mark Ingham of Sensor Technology commented, "Fast and accurate torque measurement is becoming more and more important as all sectors of manufacturing automate their physical processes and also need to improve the recording of their production performance data. TorqSense is now used in many industries from automotive to materials handling, test and measurement, fast moving consumer goods production and power generation."
Credit(s)
Further reading:
Large German fertiliser manufacturer reduces costs thanks to SICK Automation
February 2019, SICK Automation Southern Africa , Sensors & Transducers
Available agricultural land in Europe is limited. As a result, large quantities of fertiliser are used in order to increase yields. Producing fertiliser, however, is an energy-intensive process which 
...
Read more...
---
Traceability for tobacco manufacturer
February 2019, SICK Automation Southern Africa , Sensors & Transducers
SICK Automation South Africa recently installed 120 image-based 2D barcode readers across multiple scanning stations in a South African tobacco manufacturing plant. The cigarette manufacturer was looking 
...
Read more...
---
Hygienic limit switches for processes
February 2019, Morton Controls , Sensors & Transducers
Process and storage vessels incorporate limit switches to prevent overfilling of a tank or vessel (full indicator) or dry running of a pump (empty indicator). Anderson-Negele's NCS series are ideally 
...
Read more...
---
A new standard for digital ­inclination measurement
February 2019 , Sensors & Transducers
A new standard for digital inclination measurement has been set with the latest digital protractors from Stabila. Both the Tech 500 DP and Tech 1000 DP are manufactured exclusively in Germany, the main 
...
Read more...
---
Bromide sensor for water disinfection
February 2019, ASSTech Process Electronics + Instrumentation , Sensors & Transducers
With the expansion of its product range of membrane-covered amperometric digital sensors for liquid analysis, ASSTech now has available the Jumo tec-Line Br bromide sensor for general water disinfection 
...
Read more...
---
Wenglor expands optical sensor range
February 2019, ASSTech Process Electronics + Instrumentation , Sensors & Transducers
Wenglor's PNG/smart generation of photoelectronic sensors is distinguished by a combination of performance and communication. An aligned optical axis and a balanced switching point, as well as large switching 
...
Read more...
---
Four questions to ask when ­choosing a vision solution
February 2019, Turck Banner , Sensors & Transducers
Many users find vision systems challenging and it can be difficult to know where to start, but there are some simple steps that can help to match the right vision solution to an application. This article 
...
Read more...
---
Intelligent valve sensor
February 2019, ifm Electronic RSA , Sensors & Transducers
The intelligent valve sensor for pneumatic quarter-turn actuators from ifm electronic features 360° position monitoring to allow precise and continuous scrutiny of the valve condition. Problems such as 
...
Read more...
---
Battery powered digital temperature gauges
February 2019, Instrotech , Temperature Measurement
Kobold's DTE series of digital temperature gauges offers a wide range of industrial and analytical possibilities in applications where high accuracy and clear indication is required, and where alarm control 
...
Read more...
---
Fast optical data transmission
February 2019, Countapulse Controls , Sensors & Transducers
The Leuze DDLS 500 optical data transceiver has a high optical transmission rate of 100 Mbit/s. This photoelectric sensor allows data transmission without cabling and without interference. Gerry Bryant, 
...
Read more...
---