printer friendly version
Smart irrigation system saves water and energy
Technews Industry Guide: Industrial Internet of Things & Industry 4.0
IT in Manufacturing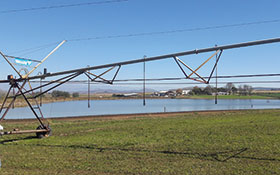 Founded in 2008, Shock Wave Engineering provides Internet of Things (IoT) solutions in the agriculture and mining industries. The company provides systems for both standard and customised development projects and is a sought-after solutions provider for its ability to addresses unique problems in specialised areas.
The challenge
In agriculture, Shock Wave Engineering focuses on reducing the water usage per unit of crops produced, as well as improving the energy efficiency and maintenance needs of the pumps used for centre pivot irrigation systems. The company had previously developed its own cloud platform to achieve this goal, but experienced serious scalability and flexibility limitations.
There are several variables influencing a pivot system's efficiency (e.g. worn pumps, incorrect pump sizes, small or blocked pipelines, and excessive pivot pressure among others). Therefore, running pivot systems sub-optimally results in high energy consumption, unnecessary water usage and increased maintenance costs. The result is a reduction in farm profitability. A broken pump or pipe, at a critical time in the growing phase, can lead to crop failure. Similarly, over or under-watering could have the same result.
The solution
To overcome the scalability and flexibility issues, as well as assist clients to optimise their water and energy usage, Shock Wave Engineering uses the PTC ThingWorx platform, supplied by 1Worx in sub-Saharan Africa. The ability to have real-time visibility into a system's performance, to identify system bottlenecks and improve operational efficiencies, is a core feature of the Shock Wave system. It also provides actionable insight through the use of real-time alerting, making it possible to respond quickly to problems, and to manage by exception, saving time, effort and money.
The result
Since implementing the ThingWorx-based Smart Connect Pivot Irrigation System, Shock Wave Engineering has been able to improve client water and energy consumption with a typical energy savings of around 40%, and a guaranteed energy savings of 15%. One of its clients saves the equivalent of a dam full of water every two years. This smart digital solution reduces the energy, water and maintenance requirements of irrigation systems in the agriculture industry, thereby reducing the cost per unit of produce.
ThingWorx platform
The ThingWorx Industrial Innovation Platform is a complete, end-to-end technology solution that enables industrial businesses to unlock the value of the IoT. It delivers the tools and technologies needed for rapid development and deployment of powerful applications and augmented reality (AR) experiences.
The platform includes compatible modules that deliver the functionality, flexibility and agility enterprises need to implement IoT apps and AR experiences. This includes industrial connectivity, analytics, application enablement, orchestration and AR authoring.
ThingWorx delivers:
• Purpose-built platform: the platform contains specific functionality designed with the scalability and security to grow as a business expands.
• Rapid development, deployment, and extensibility: platform modules come together via the ThingModel – a true digital representation of a physical object – enabling apps and experiences to be delivered quickly and easily.
• Ultimate flexibility: the platform can be deployed in the cloud, on premise, or a hybrid of the two. Apps and experiences are made available to users in multiple formats – desktop, web and mobile and AR. Integration with external data sources simplifies processes and ensures more meaningful results.
• Vibrant ecosystem: ThingWorx partner ecosystem offers one of the world's largest networks of IoT-focused companies, and ThingWorx partners offer a wide range of products and services that simplify, accelerate, or enhance processes and strategies for industrial IoT.
Industrial connectivity
The Industrial Internet of Things leverages existing technologies in industrial settings – including machine-to-machine communication and automation technologies – and incorporates newer big data and machine learning technologies to enable smart, connected machines.
Meet 1Worx
1Worx is the sole ThingWorx supplier for sub-Saharan Africa with a client base that includes companies in the mining, agricultural and manufacturing industries. 1Worx has a highly competent team of subject matter experts that includes certified ThingWorx associate developers, as well as a certified ThingWorx trainer. 1Worx prides itself on creating awareness around Industry 4.0 in South Africa through programmes at academic institutions and ThingWorx training.
Please also see:  https://www.youtube.com/watch?v=wDP_ljPAY5w
For more information contact Duan Gauché, 1Worx, +27 (0)83 327 7069, duan@1worx.co, www.1worx.co
Further reading:
Digital twin allows process simulations
December 2019, Siemens Digital Industries , IT in Manufacturing
The high-tech company Grenzebach's portfolio includes the simulation of material flow in complex plants in the glass industry, which it achieves using Siemens simulation solutions. Together, the two companies 
...
Read more...
---
Game-changing digital solutions for mines
December 2019, SKF South Africa , IT in Manufacturing
With digitalisation creeping into the mining industry and transforming day-to-day operations, this sector is enhancing its Industry 4.0 operation and process compliancy. As a preferred supplier of premium 
...
Read more...
---
Protect critical infrastructure and manufacturing plants
December 2019 , IT in Manufacturing
As manufacturers around the world analyse and embrace the importance of being more connected to the IIoT, cybersecurity experts caution that the benefits of being interconnected come with a warning, and 
...
Read more...
---
Extending analytics to EAM and operations users
December 2019 , IT in Manufacturing
Today's manufacturing operations and maintenance teams generate vast amounts of data in all forms.
Read more...
---
AI in manufacturing – revolutionary opportunity or well-trodden path?
December 2019, Absolute Perspectives , IT in Manufacturing
Artificial Intelligence (AI) has become a catchphrase used by marketers that attributes the characteristics of human intelligence to a computer system.
Read more...
---
Blockchain technology in the food and beverage industry
December 2019, Schneider Electric South Africa , IT in Manufacturing
Advances in blockchain technology could enable the food and beverage industry (F&B) to enhance traceability. In the US alone, food recalls and food-borne illnesses cost some $77 billion per annum, including 
...
Read more...
---
Navigate the fourth industrial revolution with PricewaterhouseCoopers
November 2019 , IT in Manufacturing
Using the building blocks of 4IR to transform business processes into manufacturing advantages requires a holistic approach.
Read more...
---
Artificial intelligence in manufacturing – a practical and simplified view
November 2019, Altron Bytes Systems Integration , IT in Manufacturing
Looking at and interpreting data generated during the manufacturing process to find ways to reduce waste, improve quality and increase yield is not new. However, the increased use of digital technologies 
...
Read more...
---
Intelligent data glasses support production
November 2019, Siemens Digital Industries , IT in Manufacturing
Augmented Reality (AR) has arrived in the workplace: for the last three years, a consortium of six companies and institutions chaired by Siemens has been researching the use of augmented reality (AR) 
...
Read more...
---
Siemens launches report on Dawn of Digitalisation and its Impact on Africa
October 2019, Siemens Digital Industries , IT in Manufacturing
Africa needs a digitalisation strategy to compete in the global economy.
Read more...
---