printer friendly version
Field Service Department grows with the addition of new value-added services
Technews Industry Guide: Maintenance, Reliability & Asset Optimisation 2018
Maintenance, Test & Measurement, Calibration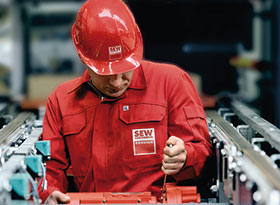 This will broaden the scope of SEW's aftermarket support significantly, Eben Pretorius comments. Heading up the Field Service Department, Pretorius himself has six years' experience in the industry. "Normally we carry out a visual inspection to determine the condition of a gearbox or power pack. Now we can pinpoint a specific bearing or gear component within the unit that is starting to fail and, in addition, identify whether or not the oil is in a usable condition."
The advantage for customers is that they are made aware of potential problems or imminent failures, and can plan corrective actions around their normal shutdown periods. This approach is less disruptive to their businesses, and more cost-effective than unscheduled or unplanned downtime. "SEW is able to work with customers to carry out preventative maintenance or supply replacement units on short notice to maximise plant uptime," Pretorius stresses. The value-added services are applicable to SEW's extensive gearedmotor and industrial gear product ranges.
While SEW-Eurodrive South Africa has already been offering such value-added services to some of its larger customers, the plan is to roll it out to all customers. In addition, SEW is in the process of incorporating these value-added services into formal service contracts for customers to ensure their maintenance and condition monitoring is performed by skilled technicians with specialist knowledge in the transmission industry.
Pretorius highlights that the Field Service Department has grown significantly in the past year. "On the electronics side, we have just completed a major project for an automotive manufacturer that has extended its plant for the assembly of its latest model. We are currently busy at another automotive manufacturer, upgrading its entire plant with innovative, safe, and energy-efficient concepts and products from our comprehensive modular system of drive elements.
"We focus on energy efficiency and safety technology in particular, with products designed specifically for this purpose, making us an ideal partner. Our Field Service Department has highly-trained technicians, and we are able to draw from our skills and knowledge globally as and when required, meaning our scope of service and benefit to the customer is unparalleled in the industry," Pretorius highlights.
The success of the Field Service Department to date indicates a clear need for skilled and knowledgeable technicians who are able to service and repair products in the field. "We are able to assist customers with field service on non-SEW geared units and the replacement of non-SEW control systems, providing customers with the advantages of our service and solutions offering, irrespective of the current products installed."
SEW-Eurodrive South Africa's Field Service Department is available 24/7, and provides support in 23 African countries. "Our large local stockholding is a key factor in our Field Service Department being able to respond quickly to breakdowns and critical situations," Pretorius points out. "In terms of future developments, we plan to continue to strengthen our market-leading position by keeping pace with the leading technology and solutions we continue to develop."
For more information contact Jana Klut, SEW-Eurodrive, +27 (0)11 248 7000, jklut@sew.co.za, www.sew-eurodrive.co.za
Credit(s)
Further reading:
All-in-one documenting process calibrators
Comtest Maintenance, Test & Measurement, Calibration
The multifunction calibrators perform sourcing, simulation and measurement of pressure, temperature and electrical signals.
Read more...
---
Five reasons for force measurement
WIKA Instruments Editor's Choice Maintenance, Test & Measurement, Calibration
Wika takes a closer look at the measured variable of force and gives five reasons to show why force measurement is of particular importance.
Read more...
---
High-quality contact lubricants
Vepac Electronics Maintenance, Test & Measurement, Calibration
CG53A is part of the CG series of contact lubricants, designed as an extension of the extremely popular 2X range. The main advantages of these products are reduced contact resistance, even on extremely 
...
Read more...
---
SEW-EURODRIVE delivers for WWTP upgrade
SEW-Eurodrive Motion Control & Drives
A wastewater treatment plant in the Western Cape is undergoing a R1,7 billion upgrade. Sales manager Willem Strydom highlights SEW-EURODRIVE's contribution to the project.
Read more...
---
Field services – beyond break-fix to invaluable organisational insight
Schneider Electric South Africa Maintenance, Test & Measurement, Calibration
An outsourced field services team can assist organisations not only during emergencies but also by providing spares, technical support and 24/7 callout availability.
Read more...
---
Pyranometer for monitoring small-scale PV installation efficiency
GHM Messtechnik SA Electrical Power & Protection Maintenance, Test & Measurement, Calibration
The device's classification level under the ISO 9060:2018 standard guarantees accuracy, reliability, precision and compliance with reference standards.
Read more...
---
SEW to assemble X.e industrial gear units in Johannesburg
SEW-Eurodrive News Motion Control & Drives
"The Johannesburg assembly lines for geared motors are designed for 7000 units per month, and we are planning to build up to 100 IG units per month, doubling our current capacity."
Read more...
---
Condition monitoring on offshore oil platforms
Beckhoff Automation Maintenance, Test & Measurement, Calibration
The steel structures of an offshore platform are exposed to extreme environmental conditions throughout their entire service lives. Difficult sea conditions ranging up to freak waves and aggressive 
...
Read more...
---
The 'P' in predictive maintenance represents progress, not pain
SMC Corporation South Africa Maintenance, Test & Measurement, Calibration
There are three main types of maintenance: reactive, preventative and predictive. But how do you make sense of these terms? Human health can provide an analogy to machine health. Take diabetes, for 
...
Read more...
---
Brickmaking plant boosted by upgrade
SEW-Eurodrive Motion Control & Drives
A local clay brick manufacturer has upgraded its brickmaking plant with the assistance of drive and control technology specialist, SEW-EURODRIVE. Using advanced digital solutions based on Maxolution for 
...
Read more...
---