Multi-well solution cuts costs for oil and gas producers
March 2018
PLCs, DCSs & Controllers

printer friendly version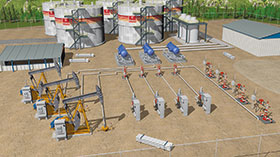 Drilling advancements have transformed oil and gas operations from simplistic single-well pad fields to more complex multi-well pads. In turn, operators and equipment builders can modify their control systems approach to optimise these changing applications. The Well Manager solution from Rockwell Automation provides oil and gas companies a single solution for all control functionality throughout a well pad, resulting in easier implementation, real-time data visibility, production efficiency, and reduced costs.
Traditionally, oil and gas companies built multi-well pads using different controls and locations throughout a single pad. The Rockwell Automation solution leverages just one controller for all well pad operations – including rod pumps and plunger lifts, electrical submersible pumps, progressing cavity pumps, natural flowing wells and more. Shifting all operations to one controller from a single vendor reduces maintenance costs, helps with revision control and streamlines training and support.
"Today's modern, multi-well pads resemble small production facilities," said Michelle Junius, marketing communications specialist, Sub-Saharan Africa, Rockwell Automation. "As such, traditional approaches for well monitoring and control using RTU technologies have become cost prohibitive and require a high level of integration effort. This makes our Well Manager solution an ideal fit for multi-well pad applications. Modular and scalable, this solution helps ease integration with existing systems and other Rockwell Automation applications, including energy management and intelligent power integration. It also helps lower costs and cut installation time for improved lifecycle management."
The Well Manager solution is delivered pre-engineered to speed integration of a multi-well pad. It is scalable and can support up to 32 wells in one location with flow management, artificial lift control, and site-wide data visibility. Because data is pulled directly from the control system, it has higher integrity than operations that leverage manual data reporting. The solution is built with expansion in mind, ready to support wells and equipment that might be added to a site years after initial implementation.
The solution also enables self-declaring wells to be automatically discovered and integrated into the production environment. This auto-discovery feature removes human interaction, reducing risk of error and dependencies on special skill sets. It also speeds the time it takes to bring a new well online to mere minutes, allowing producers to get valuable production data out of the well more quickly.
The Well Manager solution is part of the broader ConnectedProduction offering from Rockwell Automation that can help connect all existing automation systems and intelligent field equipment from the wellhead and surface processing to custody transfer. Users can select specific solutions as needed, and monitor ROI to justify scaling up for broader usage. Each added segment of the solution is purpose-built for connectivity to help transform data into useful intelligence. The offering makes use of current investments, and does not require a complete infrastructure overhaul.
For more information contact Michelle Junius, Rockwell Automation, +27 (0)11 654 9700, mjunius@ra.rockwell.com, www.rockwellautomation.co.za
Credit(s)
Further reading:
Rockwell Automation upgrades control at Mozal Aluminium
February 2019, Rockwell Automation , System Integration & Control Systems Design
Rockwell Automation has migrated the control systems at Mozal Aluminium's furnace assembly and ladle cleaning shop to its modern DCS based on the PlantPAx design standard.
Read more...
---
Rockwell Automation expands power range
February 2019, Rockwell Automation , Electrical Power & Protection
Rockwell Automation has expanded the power ranges and capabilities of TotalForce technology for its Allen-Bradley PowerFlex 755T AC drives. The drives now offer an expanded power range, helping engineers 
...
Read more...
---
ABB unveils latest DCS upgrade
February 2019, ABB South Africa , PLCs, DCSs & Controllers
Originally launched in 1994, Freelance is ABB's DCS solution for process industries. It combines the advantages of a DCS with the PLC, and is characterised by ease-of-use, scalability, flexibility and 
...
Read more...
---
Graphic terminals provide enhanced software integration
February 2019, Rockwell Automation , Operator Interfaces, Switches & Relays
End users and OEMs are seeking HMI solutions that simplify and streamline visualisation, especially in larger applications. With the new Allen-Bradley PanelView 5510 family of graphic terminals, companies 
...
Read more...
---
RS Components launches PLCnext controller
February 2019, RS Components SA , PLCs, DCSs & Controllers
RS Components has introduced the first programmable logic controller to be based upon Phoenix Contact's PLCnext Technology open control platform. Aimed at distributed modular control applications in industrial 
...
Read more...
---
Rockwell Automation drives digital transformation
January 2019, Rockwell Automation , IT in Manufacturing
New FactoryTalk InnovationSuite, powered by PTC, accelerates digital transformation strategies.
Read more...
---
Kia Slovakia reduces safety ­downtime
January 2019, Rockwell Automation , IS & Ex
Allen-Bradley GuardLogix maximises efficiency in body shop.
Read more...
---
Diversity, and the currency of ideas
December 2018, Rockwell Automation , News
How can we measure the actual business value created in organisations by diversity amongst our workforces? Rockwell Automation Sub-Saharan Africa managing director Barry Elliott discusses.
Read more...
---
Flexible tower light from Rockwell Automation
November 2018, Rockwell Automation , System Integration & Control Systems Design
Rockwell Automation has introduced the Allen-Bradley ControlTower 856T 70 mm Tower Light system to market. This new system incorporates brighter LED illumination and a broad offering of visual and sound 
...
Read more...
---
Advanced light curtain improves safety
November 2018, Rockwell Automation , IS & Ex
The rise of robots has ushered in an increased demand for light curtains that provide a safe environment between the robotic work cells and the rest of the plant. The Allen-Bradley GuardShield 450L safety 
...
Read more...
---