printer friendly version
Achieving safety during CIP
December 2017
IS & Ex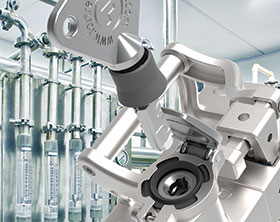 Strict health and safety standards in the food and beverage industry require all machinery used in the processing area of the plant to be thoroughly sanitised at regular intervals to keep equipment clean and eliminate the risk of bacterial contamination. This automated cleaning process is commonly known as CIP (cleaning in place) and uses a mix of chemicals, heat and water to clean machinery, vessels or pipework, without having to dismantle the line.
Because of the high pressures, harsh chemicals and high temperatures used in CIP, an adequate safety system is needed to protect personnel. This must itself be able to withstand the CIP process which can seriously damage electronic circuits and instrumentation, and cause substances such as dust and food waste to penetrate the equipment, causing it to fail. In this scenario an ingress protection (IP) rating of IP69K is usually required.
Safety interlocks
Any interlocks and safety gate switches installed on production equipment must also be IP69K-rated. Unfortunately, most interlocks currently available offer very limited flexibility, focusing solely on achieving IP69K, but failing to take into account other safety hazards manufacturers need to safeguard against.
If, for example, access to a machine subjected to CIP is required but there is a possibility that a worker could be hidden from view while inside the machine, there needs to be an effective safeguard in place to ensure the guard door cannot be locked closed and the machine restarted until the worker leaves the danger zone. The most effective method to achieve this is with a safety key which a worker takes inside the machine to prevent inadvertent start-up.
With this in mind, Fortress developed the amGardS40 range of highly robust, IP69K, stainless steel electro-mechanic safety interlocks and switches, specifically designed for this type of application. Modular in design, they allow for many different configurations to satisfy almost any safeguarding application, allowing customers to purchase modules and build up their ideal safety system over a period of time.
Each module of the amGardS40 has a slim 40 mm body allowing it to be easily fitted to a 50 mm guarding section or other areas where space is limited. The range also enables users to incorporate basic machine control functionality into their interlocking devices. All control elements, including pushbuttons, lamps, selector switches and e-stops are IP69K-rated and can tolerate extreme CIP conditions. This minimises downtime while simplifying the access procedure as 'gate release/machine restart' can be controlled at the point of entry.
As the amGardS40 IP69K range maintains optimal performance even after being repeatedly hosed down by high-pressure washers and subjected to harsh CIP chemical cleaning agents, it helps manufacturers achieve a high OEE rating. It also allows electrical engineers to rest easy, knowing that machinery will not experience constant interruptions due to electrical failures as a result of dust or food waste penetrating the casing of the safety switches.
The IP69K range of modular stainless steel safety gate switches from Fortress is an ideal choice for virtually all food and beverage applications where CIP is performed on a regular basis.
Credit(s)
Further reading:
Tube connector for Ex areas
May 2020, Parker Hannifin - Sales Company South Africa , IS & Ex
Parker Hannifin has extended its Phastite permanent instrumentation connection range, which is now available in a number of corrosion-resistant alloys (CRAs), including Alloy 825, 625 and Super Duplex, 
...
Read more...
---
SMC's static removal solutions
November 2020, SMC Corporation South Africa , IS & Ex
Around the world, SMC Corporation has a long history in assisting customers in several industries with pneumatic solutions and components. Perhaps less well known in South Africa is the SMC ioniser range, 
...
Read more...
---
Retrofit your vehicles with collision protection
November 2020, ifm - South Africa , IS & Ex
The camera-based anti-collision system from ifm automatically detects persons and obstacles in the rear area of the vehicle, warns the driver, and stops the vehicle if necessary.
Read more...
---
Safe use of Ethernet in Ex areas
November 2020, Turck Banner , IS & Ex
Turck is paving the way for the evaluation of plant data using its excom high-availability I/O system.
Read more...
---
Safety controllers with diagnostics
October 2020, Turck Banner , IS & Ex
The combination of an intuitive user interface and diagnostics makes it easy to design and troubleshoot complex safety systems in just a few clicks.
Read more...
---
Real-time location system
September 2020, Extech Safety Systems , IS & Ex
With worker safety becoming an ever-increasing focus for many businesses operating within process industries, iTAG X30 delivers a solution that allows high levels of location accuracy across their entire site.
Read more...
---
Sensor technology now in use in explosion-protected areas
September 2020, Pepperl+Fuchs , IS & Ex
Increased customer demand for hazardous areas requirements that can be met using sensor technology require sensors to be fitted in potentially hazardous locations, posing ever greater challenges.
Read more...
---
Safe operation of LNG tanks
September 2020, Endress+Hauser South Africa , IS & Ex
Endress+Hauser's innovative instrumentation and advanced inventory management solutions for LNG storage tanks ensure safe operation of plant and high levels of inventory transparency.
Read more...
---
PyroStorm protection for control equipment
September 2020, Alien Systems & Technologies , IS & Ex
If you work at a large industrial plant or mine, you may have noticed those hydraulic lubricating oil packs, or perhaps the diesel generator sets, oil store rooms, pump rooms or flammable liquids stores, 
...
Read more...
---
PyroStorm provides cost-effective fire protection for control equipment
August 2020 , IS & Ex
If you work at a large industrial plant or mine, you may have noticed those hydraulic lubricating oil packs, or perhaps the diesel generator sets, oil store rooms, pump rooms or flammable liquids stores, 
...
Read more...
---