printer friendly version
Achieving safety during CIP
December 2017
IS & Ex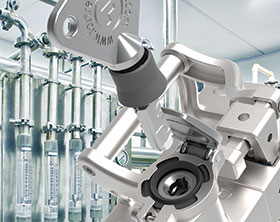 Strict health and safety standards in the food and beverage industry require all machinery used in the processing area of the plant to be thoroughly sanitised at regular intervals to keep equipment clean and eliminate the risk of bacterial contamination. This automated cleaning process is commonly known as CIP (cleaning in place) and uses a mix of chemicals, heat and water to clean machinery, vessels or pipework, without having to dismantle the line.
Because of the high pressures, harsh chemicals and high temperatures used in CIP, an adequate safety system is needed to protect personnel. This must itself be able to withstand the CIP process which can seriously damage electronic circuits and instrumentation, and cause substances such as dust and food waste to penetrate the equipment, causing it to fail. In this scenario an ingress protection (IP) rating of IP69K is usually required.
Safety interlocks
Any interlocks and safety gate switches installed on production equipment must also be IP69K-rated. Unfortunately, most interlocks currently available offer very limited flexibility, focusing solely on achieving IP69K, but failing to take into account other safety hazards manufacturers need to safeguard against.
If, for example, access to a machine subjected to CIP is required but there is a possibility that a worker could be hidden from view while inside the machine, there needs to be an effective safeguard in place to ensure the guard door cannot be locked closed and the machine restarted until the worker leaves the danger zone. The most effective method to achieve this is with a safety key which a worker takes inside the machine to prevent inadvertent start-up.
With this in mind, Fortress developed the amGardS40 range of highly robust, IP69K, stainless steel electro-mechanic safety interlocks and switches, specifically designed for this type of application. Modular in design, they allow for many different configurations to satisfy almost any safeguarding application, allowing customers to purchase modules and build up their ideal safety system over a period of time.
Each module of the amGardS40 has a slim 40 mm body allowing it to be easily fitted to a 50 mm guarding section or other areas where space is limited. The range also enables users to incorporate basic machine control functionality into their interlocking devices. All control elements, including pushbuttons, lamps, selector switches and e-stops are IP69K-rated and can tolerate extreme CIP conditions. This minimises downtime while simplifying the access procedure as 'gate release/machine restart' can be controlled at the point of entry.
As the amGardS40 IP69K range maintains optimal performance even after being repeatedly hosed down by high-pressure washers and subjected to harsh CIP chemical cleaning agents, it helps manufacturers achieve a high OEE rating. It also allows electrical engineers to rest easy, knowing that machinery will not experience constant interruptions due to electrical failures as a result of dust or food waste penetrating the casing of the safety switches.
The IP69K range of modular stainless steel safety gate switches from Fortress is an ideal choice for virtually all food and beverage applications where CIP is performed on a regular basis.
Credit(s)
Further reading:
Light grid with integrated muting
October 2019, ifm - South Africa , IS & Ex
The new generation of light grids from ifm electronic incorporates muting mode without an external junction box or a muting relay being required, as they are already integrated into the receiving element. 
...
Read more...
---
How integrated visual management and remote monitoring demystify machine safety
September 2019, Turck Banner , IS & Ex
This article shares common challenges for machine safety, and shows how combining easy-to-use safety devices with visual indication and remote monitoring capabilities can help make safety simpler and more effective.
Read more...
---
Security concerns for safety systems
September 2019, Phoenix Contact , IS & Ex
A common strategy required for the future.
Read more...
---
Taking safety to the next level
September 2019, SICK Automation Southern Africa , IS & Ex
SICK Automation is a world leading manufacturer of sensors, safety systems and automatic identification products. The next step for safety – this core idea therefore underpins the entire design of the 
...
Read more...
---
Alarm system upgrade from Omniflex
September 2019, Omniflex Remote Monitoring Specialists , IS & Ex
Fiddler's Ferry Power Station was constructed by the CEGB (Central Electricity Generating Board) in the UK and came into full operation in 1973. It has four 500 MW sets, giving a total generating capacity 
...
Read more...
---
Intrinsic safety barcode scanning from Extech Safety Systems
September 2019, Extech Safety Systems , IS & Ex
Extech Safety Systems has worked with UK-based Mobexx to develop the MobXscan mobile application for barcode scanning with mobile devices. The app has been released for Windows 10 and Android, offering 
...
Read more...
---
Smart devices for Ex areas
September 2019, Pepperl+Fuchs , IS & Ex
The Pepperl+Fuchs brand ecom has launched its next generation ATEX Zone 1/21 and Div. 1 certified, intrinsically safe 4G/LTE-Android smartphone – Smart-Ex. The Smart-Ex 02 is a complete new development 
...
Read more...
---
RS introduces safety eyewear selector tool
September 2019, RS Components SA , IS & Ex
RS Components has announced availability of a new online tool that makes it easier for customers in their selection of protective and safety eyewear for a wide range of industrial applications. Targeting 
...
Read more...
---
Safety laser scanner for outdoor ­applications
July 2019, SICK Automation Southern Africa , IS & Ex
SICK Automation has launched another global innovation: the first safety laser scanner certified to IEC 62998 for use in outdoor applications. The outdoorScan3 allows automated guided vehicle systems 
...
Read more...
---
Control and report in hazardous areas
July 2019, Pepperl+Fuchs , IS & Ex
Installers expect quick and on-demand delivery from their electrical equipment suppliers, even for apparatus for hazardous areas. The carefully considered ability to configure many housing and control 
...
Read more...
---