Achieving safety during CIP
December 2017
IS & Ex

printer friendly version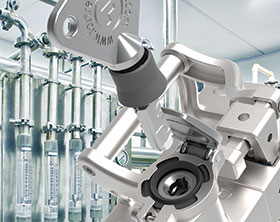 Strict health and safety standards in the food and beverage industry require all machinery used in the processing area of the plant to be thoroughly sanitised at regular intervals to keep equipment clean and eliminate the risk of bacterial contamination. This automated cleaning process is commonly known as CIP (cleaning in place) and uses a mix of chemicals, heat and water to clean machinery, vessels or pipework, without having to dismantle the line.
Because of the high pressures, harsh chemicals and high temperatures used in CIP, an adequate safety system is needed to protect personnel. This must itself be able to withstand the CIP process which can seriously damage electronic circuits and instrumentation, and cause substances such as dust and food waste to penetrate the equipment, causing it to fail. In this scenario an ingress protection (IP) rating of IP69K is usually required.
Safety interlocks
Any interlocks and safety gate switches installed on production equipment must also be IP69K-rated. Unfortunately, most interlocks currently available offer very limited flexibility, focusing solely on achieving IP69K, but failing to take into account other safety hazards manufacturers need to safeguard against.
If, for example, access to a machine subjected to CIP is required but there is a possibility that a worker could be hidden from view while inside the machine, there needs to be an effective safeguard in place to ensure the guard door cannot be locked closed and the machine restarted until the worker leaves the danger zone. The most effective method to achieve this is with a safety key which a worker takes inside the machine to prevent inadvertent start-up.
With this in mind, Fortress developed the amGardS40 range of highly robust, IP69K, stainless steel electro-mechanic safety interlocks and switches, specifically designed for this type of application. Modular in design, they allow for many different configurations to satisfy almost any safeguarding application, allowing customers to purchase modules and build up their ideal safety system over a period of time.
Each module of the amGardS40 has a slim 40 mm body allowing it to be easily fitted to a 50 mm guarding section or other areas where space is limited. The range also enables users to incorporate basic machine control functionality into their interlocking devices. All control elements, including pushbuttons, lamps, selector switches and e-stops are IP69K-rated and can tolerate extreme CIP conditions. This minimises downtime while simplifying the access procedure as 'gate release/machine restart' can be controlled at the point of entry.
As the amGardS40 IP69K range maintains optimal performance even after being repeatedly hosed down by high-pressure washers and subjected to harsh CIP chemical cleaning agents, it helps manufacturers achieve a high OEE rating. It also allows electrical engineers to rest easy, knowing that machinery will not experience constant interruptions due to electrical failures as a result of dust or food waste penetrating the casing of the safety switches.
The IP69K range of modular stainless steel safety gate switches from Fortress is an ideal choice for virtually all food and beverage applications where CIP is performed on a regular basis.
Credit(s)
Further reading:
Safety meets security
March 2019, Phoenix Contact , IS & Ex
A common strategy required for the future.
Read more...
---
Is your building safe from fire?
March 2019, Alien Systems & Technologies , IS & Ex
Correct selection of detectors is vital.
Read more...
---
Safety exhaust valve for emergency stop
March 2019, Parker Hannifin Sales Company South , IS & Ex
Parker Hannifin has introduced a new safety exhaust valve that rapidly exhausts compressed air in the event of a fault condition or when a machine has an emergency stop. The P33 is designed for two-channel 
...
Read more...
---
Ex-rated instruments for explosive atmospheres
March 2019, R&C Instrumentation , IS & Ex
In many industries, there are certain areas that are classified as hazardous or Ex areas. This is an area that contains, or may contain, combustible substances such as gas, vapour or dust. Typical hazardous 
...
Read more...
---
New generation safety controllers
March 2019, Beckhoff Automation , IS & Ex
TwinSAFE: consistently modular, scalable and distributed safety applications.
Read more...
---
LSIS obtains Ex rating for HMI range
March 2019, Ana-Digi Systems , IS & Ex
Starting with the iXP2 premium series of HMIs, in the latter half of 2018 LSIS began rolling out the Ex certification for the entire range of these exceptional products. The products carry the rating 
...
Read more...
---
Contact in to contact out over fibre optic cable
February 2019, Omniflex Remote Monitoring Specialists , IS & Ex
The Omniterm FCT and FCR modules provide the ability to send a digital contact signal up to 4 km over a single optical fibre. When the contact on the FCT transmitter module is closed, the relay output 
...
Read more...
---
Zoned approach reduces the complexity of machine safety
January 2019, ASCO , IS & Ex
This article examines a unique approach known as zoned safety, which reduces complexity in the design of redundant pneumatic safety circuits. It explains the advantages of the concept over the traditional 
...
Read more...
---
Kia Slovakia reduces safety ­downtime
January 2019, Rockwell Automation , IS & Ex
Allen-Bradley GuardLogix maximises efficiency in body shop.
Read more...
---
Setting new gas monitoring ­standards in coal mining
January 2019 , IS & Ex
The presence of methane gas in coal mining processes is highly probable, and monitoring methane levels in operational mining sections has become obligatory. Legislation calls for the installation of methane 
...
Read more...
---