printer friendly version
Valve solutions for biomass plants
June 2017
Valves, Actuators & Pump Control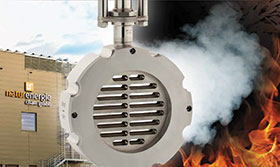 The biomass combined heat and power plant by Naturenergie Cham generates 2,8 MWh of power from woodchips. The remaining medium steam pressure of 9 bar is supplied to different energy consumers with a variety of requirements. In order to be able to serve this wide range, the steam flows have to be individually planned, controlled and if necessary finely adjusted. At the Cham plant, the sliding gate valves by Schubert & Salzer Control Systems have proven to be perfectly suitable for this purpose. In addition to the low weight, compact dimensions, good insulation capabilities, low flow noises, high control precision, quickness, minimal leakage and minimal intrinsic energy consumption, for this project the sliding gate valves were outstanding due to the fact that Kvs values can be easily adapted to new circumstances with no problem by simply changing the functional unit.
Biomass combined heat and power plants contribute to energy conversion as used by the city of Cham. Since 2012, the wood chip power plant of Naturenergie Cham has reliably supplied process steam, power and remote heat. Up to 70% of the process steam goes to three adjacent cheese plants of Goldsteig Käsereien Bayerwald. Then power is created for the municipal works and remote heating for local institutions such as schools and swimming pools.
The design of this plant was in the hands of the planning team Schmid, a 50% subsidiary of Gammel Engineering in Abensberg. The automation from the field level to the control system was developed and implemented by Kappenberger+Braun & Co. Klaus Heigl was responsible for this project. After commissioning of the power plant, he became the power plant operator and now manages the plant which he himself programmed.
Sliding gate valves are the core for need-based steam distribution
Given the different requirements for steam supply, the planning company was looking for valve solutions which meet the needs of planners and operators both in terms of flexibility, control precision but also in terms of specific plant aspects. The planning team of Schmid found this in the sliding gate valves of Schubert & Salzer Control Systems.
With its special construction of two discs which slide onto each other and seal each other, sliding gate valves are one of the few industrial valves which combine high control precision with a very low leakage rate. The central throttle organ – the two discs – is also hardly subjected to wear so that long service lives can also be achieved under extreme conditions in power plants depending on the system.
Sliding gate valves are therefore cost-effective solutions to control steam flows. However, with different materials and in combination with all conventional positioners they can be used in virtually all other industrial areas and applications. For this purpose, they are made for medium temperatures from -200°C to 530°C in the dimensions DN 15 to DN 250 for pressures to PN 100. All versions are parameterised via a PC interface using the graphic configuration software DeviceConfig, and can therefore be easily adapted to the respective application.
Particularly in steam distribution systems, very short reaction times of actuators are crucial. This requires short strokes, low moving masses and low driving forces. The sliding gate valve combines all of these properties in an ideal manner. The typical stroke between open and closed is only 7 mm.
Wear minimised
The locking and throttling of steam results in considerable vulnerabilities to scratches in traditional valves with a metallic seating. Leaks with expensive and also dangerous losses of steam are the unavoidable result. The pressure of the medium against the moving disc supports the sealing function of the valve. This functional principle ensures a self cleaning effect of the moving disc and the seal is thereby more robust.
Sliding gate valves are extremely compact, fit easily between two flanges and are easy to handle – a DN 150 is just 17 kg including its actuator. This means that it can be installed and disassembled by one person.
Modern valve solutions for biomass combined heat and power plant
Approximately 70% of the process steam which occurs at the Cham biomass combined heat and power plant at 9 bar is provided to the Goldsteig cheese dairies. In order to serve this important process steam safely, and be able to prevent a pressure decrease in the medium pressure part of the power plant, the planning company used a large sliding gate valve DN 200 at the transfer point.
During the commissioning, it was decided due to fluctuations in the compressed air network to design the sliding gate valve with its electro-pneumatic positioner to be fail open and to secure it with stop valves. A special feature of the sliding gate valve becomes particularly beneficial here: a conversion from fail open to fail closed only requires a 180° rotation of the moving disc and thus very short time and no cost. This prominent characteristic has proven to be a major advantage.
Heigl was extremely satisfied with the solution: "The sliding gate valves operate precisely and quickly. I do not know any other valve solution which reacts that quickly and thereby ensures the highest possible energy yield."
Variable Kvs values make changes possible without problems
Plant changes often mean that the calculated and required steam quantities are no longer being achieved. However, with sliding gate valves providing a simple opportunity to change the valve characteristics as well as flow coefficients (Kvs valve) in almost any way, this problem becomes obsolete.
The Kvs value of 16, originally planned for DN 40 valves, was recalculated by the Schubert & Salzer valve specialists and could then quickly be changed by switching to a Kvs of 26. The Kvs value adjustment within one nominal size is a change in the free slot areas. This means that the sliding gate valve can be adapted easily and with only minimal cost, to meet new steam consumption requirements. This capability enables planners and plant operators to react to changes of the required steam quantities – even after the changes occur.
For more information contact Rowan Blomquist, Macsteel Fluid Control, +27 (0)11 383 4000, rowan.blomquist@macfluid.co.za, www.macsteel.co.za
Credit(s)
Further reading:
Wireless communication and control of electro-pneumatic manifolds and IO
SMC Corporation South Africa Valves, Actuators & Pump Control
SMC analysed the control of manifolds-in-motion, where the physical removal of communications cables is desirable. Applications include manifolds mounted on robot gripper assemblies or rotating tables. 
...
Read more...
---
Valves for motorised open/close functions
Valves, Actuators & Pump Control
The valves' robust, self-locking linear actuator has a safety switch-off function with overload protection, a manual override and an optical position indicator.
Read more...
---
Abrasive Flow Solutions celebrates 1st anniversary
News Valves, Actuators & Pump Control
The company specialises in the design and manufacture of slurry-related valves, and works closely with sister company, BMG.
Read more...
---
Actuator retrofit gives Indian airport critical performance data
Valves, Actuators & Pump Control
Since a reduction in downtime was of critical concern, the customer signed up to a service agreement as part of Rotork's Lifetime Management programme.
Read more...
---
Rotork actuators installed at Beijing's second international airport
Valves, Actuators & Pump Control
The pump room, oil tanks, oil station and landing field ground wells use the company's actuators to operate a variety of valve types.
Read more...
---
Festo campaign highlights process automation solutions
Festo South Africa Valves, Actuators & Pump Control
Festo aims to aid its process automation customers to thrive even during unpredictable periods, by continually analysing the value-creation chain and communicating with its customers to understand their needs.
Read more...
---
Silencer to help protect workers from gas process noise
Emerson Automation Solutions Valves, Actuators & Pump Control
Fisher WhisperTube modal attenuator provides noise reduction in compressible fluid service to improve worker safety, with no impact to process flow.
Read more...
---
Flow control at US water resource recovery facility
Valves, Actuators & Pump Control
Rotork IQT part-turn electric actuators have been specified for use at the Water Resource Recovery Facility (WRRF) in Michigan, USA.
Read more...
---
New sustainable technologies to couple with renewable energy production
Neles South Africa Valves, Actuators & Pump Control
You may have noticed the buzz phrase, 'Power-to-X' in the press. It refers to hydrogen technology to store or convert surplus electricity, generated preferably from renewable energy sources.
Read more...
---
Automated solution for pump protection valve manufacturer
Valve & Automation Valves, Actuators & Pump Control
Over 50 drawings of various components served as the basis for the automation solution developed by EWM for pump protection valve manufacturer, Schroeder Valves. All of the leading specialist's components 
...
Read more...
---